Alex Munoz, an incoming sophomore at Chicago's Holy Trinity High School, aspires to become a professional soccer player or a pediatrician, but as a backup plan, he's considering the PR field. A few months ago, Munoz didn't even know PR existed as a term, much less a possible career path, so his interest in the industry speaks volumes about the Midtown Center for Boys summer apprenticeship in public relations and communications.
While the program's communications focus isn't new – this is the sixth consecutive year participants produced a weekly newspaper for the Midtown community – support from the PRSA Foundation invigorated the program. Midtown, which offers enrichment opportunities for minority youth, partnered with DePaul University to secure the $25,000 grant. The funding facilitated the integration of PR skills development and content into the curriculum.
Notwithstanding their stellar academic records, the 13 young men enrolled in the program represent a demographic that doesn't typically enter the PR profession. "Midtown's students come from low-income families and economically distressed neighborhoods," says PR veteran Ron Culp, professional director of DePaul's Public Relations and Advertising (PRAD) master's program. "There's a need to increase the recruitment, retention, and advancement of under-represented groups in PR. We saw this partnership as a step in the right direction."
Lead instructor Aaron Westbrook, a 2014 graduate of the PRAD master's program and the recipient of the prestigious Ketchum Excellence in Public Relations Research Award, postponed the award's 10-week internship at Ketchum's New York City office to teach at Midtown.
"The opportunity to impact students both academically and personally was too inspiring and motivating to give up," he says. "Most of the students had never heard of PR or its function, so the biggest challenge was educating them about PR and sustaining that engagement throughout a seven-week course."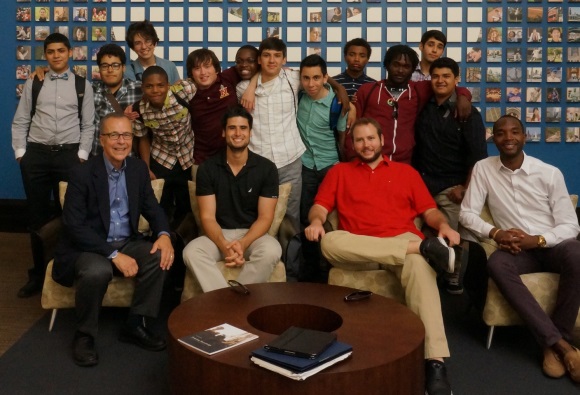 Recently, the students visited two PR agencies, Edelman and the San Jose Group, which brought the industry to life. "I knew PR had to do with writing and reading, but what I learned is that you have to build a relationship with your audience," shares 15-year-old Baltazar Aguirre. "At Edelman, they were talking about social media and how you can find out in minutes, instead of weeks or days, what people think about your products."
His classmate Olajuwon Osinaike admires the industry's complexity. "It involves a lot more than I thought," he says. "You have to recruit people, make and revise a plan, and find your story." Throughout the program, Osinaike has focused on this latter piece. "At first, it was hard to come up with ideas, but now I can find something interesting and fun to say even if I don't like the topic," he notes.
Guest speakers offer an insider's look at the industry, while Westbrook provides plenty of opportunities for students to develop their own skills as PR practitioners. Classroom and take-home activities include impromptu speechwriting exercises, team brainstorming and breakout sessions, case study analyses, and various other communication assignments.
While the students agree that they draw inspiration from Westbrook's dedication to the craft, their admiration goes deeper than that. "I'm just glad he's spending his free time on us," Munoz says. "I've learned a lot. I know it's going to be useful in the future."