ColorComm: Women of Color in Communications hosted its first conference at the Ritz Carlton Key Biscayne in Miami, Florida, last week.
The idea for ColorComm was conceptualized in 2011 as a quarterly luncheon series to bring together mid-level to executive-level women in communications to create new networking experiences. By 2012, the quarterly luncheon series grew to a national membership organization. In 2014, the group was in Miami for its first conference, and it is safe to say the organization has truly come full circle.
What made C2 different than many other conferences is that the women in attendance had a safe platform to discuss real issues on diversity, promotions, negotiations, finances, and other topics. Speakers actually participated in the conference, as many of them were friends or colleagues. No solicitation was allowed.
Below is a brief overview of C2.
Day 1
C2 opened with the ColorComm Circle Awards, which honor the changing face of the communications industry. Their purpose was to honor real women who are making an impact in communications. So often people don't know where to find women of color to speak on panels, to be nominated for awards, or to hire. We wanted to show that there are real women within our industry, women who are breaking ground and leading us on a path that we can one day follow. Veteran journalist Soledad O'Brien served as the keynote speaker for the evening. Honorees had a chance to connect and celebrate at the After Glow sponsored by BET Networks featuring celebrity DJ MC Lyte.
ColorComm was proud to honor: Ana Roca-Castro, founder of Latinos In Social Media (LATISM); Monica Lozano, former CEO of impreMedia and chair of the board of US Hispanic Media; Yvette Miley, SVP and executive editor of MSNBC; Lakshmi Singh, news anchor at NPR; Trisch Smith, EVP at Edelman; Nita Song, CEO of IW Group; Sandra Sims-Williams, chief diversity officer at Publicis Groupe; and Terrie Williams, founder of the Terrie Williams Agency.
Day 2
The second day of C2 was jammed packed. It opened with speaker Gloria Mayfield Banks who left the audience feeling inspired and empowered. One key takeaway was "never take advice from someone you would not want to trade places with, in that moment."
Another key session was the difference between mentors, sponsors, and godmothers. Mentors guide your career, sponsors advocate for you when you're not in the room, and "godmothers" – a new term coined by ColorComm – are the people who point you in a direction that will save you 10 years. Do you have godmothers in your life, and if not, how do you get them? This topic was addressed heavily throughout the conference.
Attendees had the rare opportunity to hear from a panel of all men who addressed the perception of women of color in business. Speakers who joined the panel included Michael Lee, chief of communications for HP, former CNN contributor and TV One host Roland Martin, and many more.
The day ended with a Mexican buffet hosted by Edelman, which included a discussion on "How to Balance it All." Edelman EVP Trisch Smith, Chief Talent Officer Claudia Patton, and GM of digital Liz Lee were a part of the discussion.
Weber Shandwick's Go Live platform captured the interview and live footage from the conference, which allowed viewers at home to feel like they were in the room.
Day 3
The third day concluded with how the organization got started, with sessions on "How to Build an Award-Winning Agency" and Wealth Building by Wells Fargo, among others. The sessions led to the signature event, the ColorComm Luncheon. It featured Desiree Rogers, former White House social secretary and CEO of Johnson Publishing, which includes Ebony, Jet, and Fashion Fair.
One takeaway from Rogers' keynote was to "seek an opportunity that speaks not just to your intellect, but also to your heart." She received a standing ovation, and groups of people waited in line to take photos and selfies.
To check out photos from the conference, visit the event's Facebook page. Save the date for July 29-31, 2015, at the Ritz Carlton in Key Biscayne.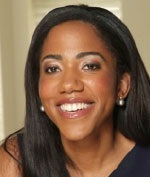 Lauren Wesley Wilson is a communications strategist at Qorvis MSLGroup. She is the founder of ColorComm.