Morning ritual
Eyes wide open at 6:30am. Then I scan news, triage email, and caffeinate, followed by eating breakfast with the kids.
After this, from 7:15am to 8:15am, I ride my folding bike to work through the streets of Manhattan while reflecting on the previous day, the day ahead, and life in general.
Proudest career achievement
Before I left for New York, the firm's Seattle office threw me a going away party.
As I made my way around the office saying my goodbyes, I came to the intern area. There was a plaque on the wall with the inscription: "Tim Fry Memorial Intern Bar." I had made my mark.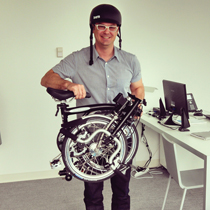 Daily required reading
All of my clients and prospective clients start their day with The Wall Street Journal, so I do, too. I'm still getting to know New York, so I find myself reading Gothamist throughout the day. And I am a sucker for Business Insider, and PRWeek, of course.
Best career advice
The advice I find myself repeating most frequently is something my leadership coach of 16 years, Debra Bond, says to me: "Sometimes you have to slow down to go faster."
First PR job
I didn't realize it was a PR job at the time, but my stint as a barista on the observation deck of the Space Needle was excellent training for a career in PR. It was there I met many of the travel and entertainment journalists who have become life-long friends.
First app or website checked in the morning
The Weather Channel app to see if I wear a T-shirt or a rain slicker on my bike ride.
Biggest surprise on your iPhone/iPod
I'm always surprised by the notifications of what my seven-year-old has bought on Amazon while playing games on my phone.
Guilty TV pleasure
The fact that I don't have one. I always find myself saying, I should watch more TV.
Most distinct aspect of your personal office
I'm the only person in an office of 400 people who has a folding bike sitting in the middle of his personal office. It generates the same questions as those asked in the elevator.