Greenpeace has chosen the toy company as the latest target of its campaign over Shell's drilling in the Arctic because of a long-term partnership between the companies, raising questions about its association with activities that Greenpeace claim are unethical.
The tactic of lobbying companies that have links with the target of a campaign has been used frequently by Greenpeace and other campaign groups.
While companies have always been big targets, the web has amplified the power to hit brands hard by offering low-cost, accessible creative tools to a wide range of groups, according to Change.org communications director John Coventry.
"This is the big challenge for brands – the web has opened up activism and campaigning to everyone and made it part of everyday life," he says. "Companies are having to get smarter and sharper at responding, and they are ultimately good targets. Targeting MPs around legislation is a long and dry process. Brands are more vulnerable to short, sharp attacks that are visible to consumers."
Lego's response
The latest stage of the Greenpeace campaign saw it attempt to deliver a petition, for which it has collected 115,000 signatures, to Lego's UK HQ in Slough. The organisation claims that the campaigners, who were dressed as Lego people and danced to the theme tune from the Lego Movie outside the building, were refused entry to the reception and were not allowed to hand over the petition. The following day a similar protest took place at Lego's HQ in Denmark.
A Lego spokeswoman confirmed to PRWeek that campaigners had been to Lego HQ, but declined to comment further on the incidents. Lego also declined to comment on the campaign or how the company is handling its response.
Lego issued a response quickly when Greenpeace started its campaign, releasing a statement from group CEO Jørgen Vig Knudstorp on 1 July, the first day of the campaign, in which he said the matter was one for Shell and Greenpeace to handle, expressed regret at the use of the Lego brand in the dispute and said Lego intended to live up to its long-term contract with Shell.
The company has not responded further, and has not met with Greenpeace, prompting the organisation to claim Lego's response has been to "bolt the doors".
"There aren't many companies that would attempt to weather the PR crisis facing Lego," argues Greenpeace Arctic campaigner Ian Duff. "People expect a lot from Lego so this kind of old-school PR clampdown just won't wash."
Targeting companies
Greenpeace has in the past had some success with this approach, such as a campaign against Unilever in 2008 over its use of palm oil. Greenpeace claims the company agreed to meet within 24 hours of the launch and within 10 days had agreed a commitment to end the use of palm oil from illegal deforestation in Indonesia.
However, it is not uncommon for companies to keep engagement with the campaigners to a minimum, as experienced by the No More Page 3 campaign, which has targeted companies advertising in The Sun and supermarkets over the way the newspapers are displayed.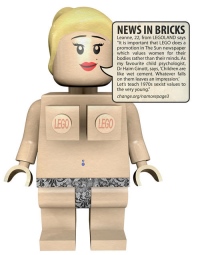 The aim of the campaign (left) is for The Sun newspaper to drop Page 3, but campaigner Stephanie Davies-Arai explains there is potentially much to be gained by targeting these other companies.
"If the supermarkets moved the paper to the top shelf, sales would drop and it would send the message that it's not a family paper. That might be the thing that changes the paper's mind."
The campaign has taken issue with advertisers in the paper including Lego targeting children. Davies-Arai recalls that Lego was "difficult to get hold of" and while the decision taken by Lego not to renew a two-year promotional deal was hailed as a victory, there was no admission that the pressure from the campaign had guided its decision.
The supermarkets have also kept their dealings with the campaign to a minimum, with Morrisons meeting up once and the others being even less open to discussion.
Reputation management
John Mahony, group CEO of Reputation Inc, a specialist international reputation management consultancy, suggests that companies make strategic decisions about which battles they can win.
Lego may have decided it is never going to win with Greenpeace, and that it is better not to fan the flames. He adds that most companies apply rigorous reputation due diligence in managing the reputation risks and opportunities of all commercial partnerships.
"If this is not the case then having a compelling story to tell, being appropriately responsive, demonstrating leadership and connecting and reassuring their key stakeholders – particularly their consumers – will be critical as they navigate these issues," he says.
He adds that while Lego may have publicly said this is a matter for Shell and Greenpeace, in a world where reputation is now "business critical" all commercial partnerships have to be aligned with company purpose, values and ethos.
"If this partnership has fallen short of the mark and consumer sentiment changes significantly Lego will have to act and quickly."
Greenpeace claims that the support for its petition and a mounting number of posts on Lego's Facebook page suggest consumer sentiment is already shifting. The organisation has no plans to give up, meaning that the pressure on Lego is unlikely to ease any time soon.