Virgin Media has used engagement marketing to create an interactive experience called 'Race Bolt', which opens on Thursday on Glasgow Green and runs throughout the games.
Participants will race a virtual version of the world's fastest man, Usain Bolt, over 30 metres on a professional athletics track against a three-metre high LED screen and infrared sensors will record the fastest times on a leader board.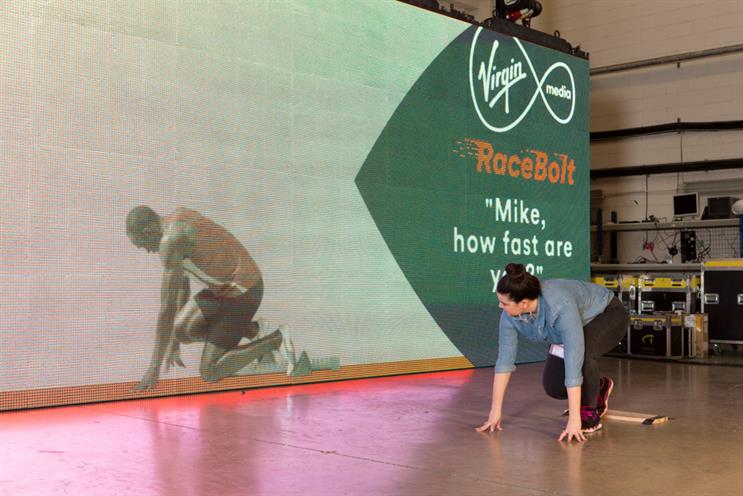 Luke Southern, programme director for Glasgow 2014 at Virgin Media, said: "Race Bolt is the embodiment of Virgin Media – championing speed and excellence. Usain is known for pacing himself at the start of his race before picking up speed after the 30 metre mark so there will definitely be a few contenders for that winning place on the podium."
Additionally, Virgin Media has created several legacy ventures for Glasgow that launched earlier this month.
The legacy work is aimed at narrowing Glasgow's digital divide because it is the UK city with the highest number of people who are not yet online.
To counter this, Virgin Media's 'enabling inclusion' programme will create a network of digital coaches to deliver face-to-face, jargon-free online skills via sports and community clubs in the city.
Virgin Media has also created Scotland's first 'digital making space' in the city's Mitchell Library, filled with laptops and coding gear, which Glasgow people can access for free.
The digital making space will be one of 20 'dojos' across the UK, developed in partnership with Coderdojo, to help people learn coding skills.
Meanwhile, ScotRail has rebranded a clutch of its train station names in time for the opening of the games and used social media to build interest.
Stations with revamped names include 'Cambuslangjump', 'Polevault' and 'Sprintburn', which have seen ScotRail trending on Twitter in Glasgow and Edinburgh and which have been featured on BBC and STV.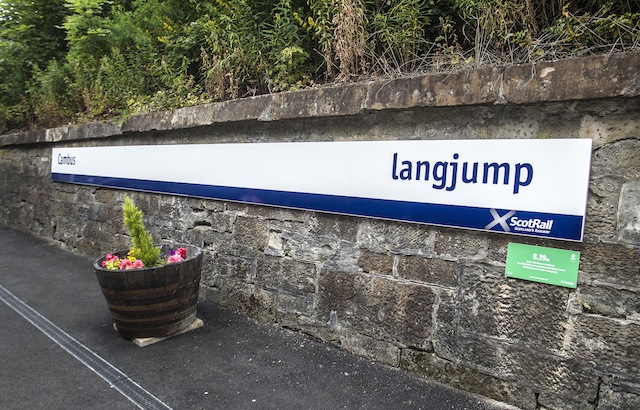 Other activity, launched prior to the games, included outdoor billboards featuring ScotRail staff "In training for Glasgow 2014", backed by a second billboard campaign launched last week with the message "Let the Games begin".
The billboard campaign was supported by press ads in local and national newspapers as well as a community engagement programme.
Not to be outdone, AG Barr, the makers of IRN-BRU, the official soft drink of the games, has launched an advert that will run throughout July on STV and Channel 4, called 'Born To Support'.
The advert aims to tap into the sporting pride felt by Scots and encourage them to take part in the event as fans.
Adrian Troy, head of marketing for AG Barr, said: "'Born to Support' is the perfect descriptor for Scottish fans across the world – and is particularly appropriate during Glasgow 2014. The pride and passion in the advert will make the hairs on the back of your neck stand on end, but delivered with typical IRN-BRU humour."
The company has also created an IRN-BRU branded pop-up shop made from shipping containers in Glasgow's Merchant City district, which opened last week and sells IRN-BRU merchandise including key rings and hoodies.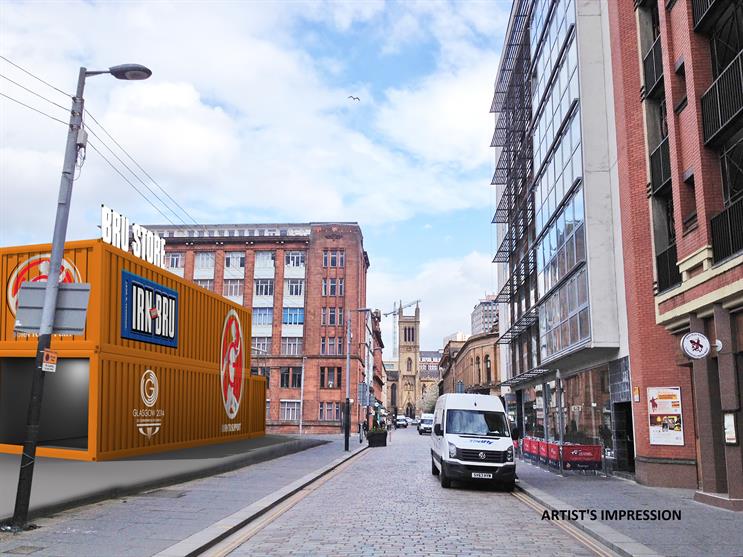 The company hopes to connect with Scottish shoppers and boost sales of IRN-BRU.
Finally, Harper Macleod is the official legal adviser to the games as well as a sponsor, which, it said, was a "risky and ambitious" move in terms of tying its reputation to the event.
It has used the three years since agreeing the sponsorship to align its brand with Glasgow 2014 and differentiate itself from competitors in the legal marketplace.
The law firm has activated an integrated marketing and PR game plan in time for the event that will continue beyond the closing ceremonies.
James Friel, PR and comms manager at Harper Macleod, said: "For Harper Macleod it's all about credibility and capability – our most recent campaign has been around the theme that 'Greatness Begins Behind the Scenes'. Up until now we've used the association to raise our profile, and the firm has continued to grow impressively over that time. From now, we'll be maximising the legacy benefits of our extensive and specific role in the preparations for a successful games, which is something none of our competitors can say."