MINNEAPOLIS: Meet Minneapolis Convention & Visitors Association and Spong PR have launched a social media command center to engage visitors to the city during Major League Baseball All-Star Week.
The command center, which went live on July 11 and will operate through the morning of July 16, allows visitors using the hashtag #askMPLS to ask questions about places to go while they are in town.
Tourism and social media experts from both Spong and Meet Minneapolis are responding to the questions in real time from the @MeetMinneapolis Twitter handle. Local influencers and professionals from businesses in the area, such as the Mall of America and the Minnesota Zoo, are also getting involved with some of the responses, said Julie Batliner, MD at Spong. Minneapolis Mayor Betsy Hodges visited the command center on Sunday night and responded to tweets for about an hour.
So far, more than 1,500 people have asked questions, and the effort has already garnered 12 million social media impressions, added Batliner, who is a Meet Minneapolis board member. People have used the hashtag for a wide range of inquiries, such as where to find vegan food, where to get pizza in the morning, and how to get a tow truck for a stranded car on the side of the road, she said.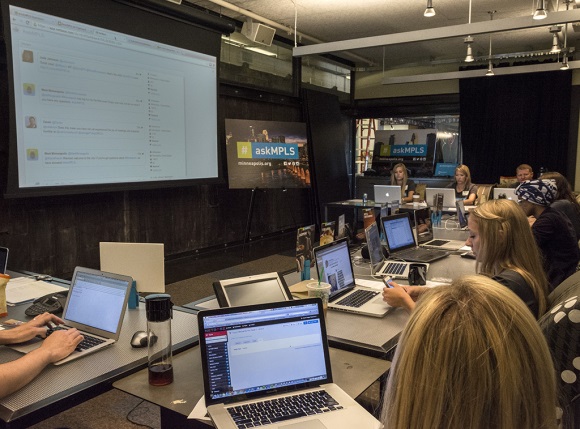 Spong, which has worked with Meet Minneapolis on some social listening initiatives in the past, volunteered to create and manage the command center to show the agency's "passion" for the city where it is headquartered, said Batliner.
The #askMPLS Social Media Command Center is located in Spong's Minneapolis office, which is across the street from the All-Star game activities at Target Field.
Throughout MLB All-Star week, more than 160,000 visitors are expected to be in the city, increasing the population by nearly 60%, according to statistics from Meet Minneapolis. Also, about $75 million in additional revenue is expected to be gained during the week.
While the command center will shut down on July 16, Meet Minneapolis plans on using the hashtag #askMPLS for future events to continue enhancing the experiences of visitors coming to the city, explained Batliner.