It may not have felt like it but the past decade has been a golden era in the history of the PR industry. All the evidence points to a period of almost meteoric growth across pretty much every market and every sector.
Bouncing out of the slowdown that followed the dotcom crash of 2000, the turnover of the top 150 PR firms in the UK hit a value of £650m in 2005. By last year, it had reached £925m, an increase of 41 per cent.
Even the worst economic crisis in 80 years failed to make a serious dent in its progress. The UK PR industry dipped by five per cent in 2009 and then came roaring back in 2010 with double-digit growth. It will almost certainly exceed the billion-pound mark within a year or two.
While reliable time series data for the industry globally are hard to come by, the figures that do exist suggest that the UK's sparkling performance placed it only in the lower reaches of the world growth league. Statistics from the International Communications Consultancy Organisation show that turnover of the PR industry globally grew 22 per cent between 2010 and 2012.
That concealed a range of variations. While the global economy grew about 8.5 per cent between 2008 and 2010, the value of PR services sold in Brazil, for instance, grew 63 per cent in that period. PR in Russia grew 56 per cent between 2007 and 2010, while in contrast Italy's industry grew just 12 per cent over the same period.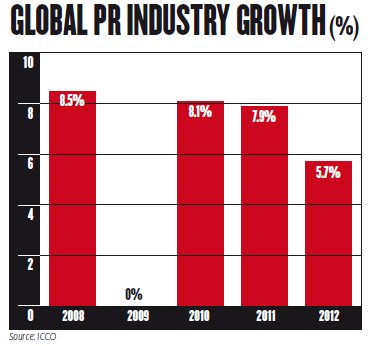 Variable growth
The figures illustrate the variable nature of PR industry growth; huge in the developing world – albeit off a low base; solid in the two largest markets the UK and US; respectable in the Nordic countries and lacklustre in the becalmed economies of Southern Europe.
Expansion has been so rapid, so explosive, that it has the air of a one-off, a freak combination of circumstances that may never be repeated again.
But according to City analysts the next decade could be nearly as productive for the PR industry worldwide as the last. The first source of growth, especially in the developed world, will be the
economic cycle, predicts Paul Richards, media analyst at investment banking and broking group Numis Securities: "PR is a cyclical business. It grows perhaps a year later in the cycle than advertising. Even Western Europe advertising revenue has returned, so we should expect PR to follow soon."
He sees no reason why PR will not perform at least as well as the economy and that an annual growth rate of three or four per cent worldwide is quite realistic. Overall he predicts that the PR
industry will grow by between 20 and 25 per cent over the course of the next economic cycle. Alex DeGroot, media analyst at broker Peel Hunt, is more bullish. He thinks the annual growth rate could be as high as five per cent in the UK.
The expanding middle
Where will that growth globally come from in terms of industry segments? Recent figures from ICCO show that the market share globally of the big five holding companies declined from roughly 50 per cent three years ago to 45 per cent last year (although it could be as low as 40 per cent). It says that organic PR growth of the big five holding companies averaged three per cent in 2012, compared with eight per cent for the industry as a whole.
Explanations depend on where you stand. Larger companies blame the boutique effect. "Smaller and mid-sized firms tend to enjoy name identification associated with high-profile personnel coming from the worlds of politics and the media, which can give them a big boost. They also tend to be more local or regional, which affords them strong relationship contacts that help them drive new business," says Burson-Marsteller Worldwide chair Donald Baer.
Some say the big networks were more exposed to 'difficult' markets, e.g. Europe. Others that there are simply fewer global briefs, perhaps ref­lecting a swing to more intimate and tailored comms. A third camp argues that the very large agencies are too big to grow easily and perhaps too sclerotic to be able to react to rapid change.
Whatever the explanation, even WPP CEO Sir Martin Sorrell agrees that the biggest growth in turnover and market share in the near future will come from medium-sized agencies. Speaking at Cannes last month he said: "We have seen a situation in the past few years, obviously coming out of the recession, where it's been difficult for all types of agencies. It seems to have been particularly difficult for the PR firms at WPP to return to the double-digit growth that some of them were experiencing before the recession. There are companies that do that [double-digit growth]. They tend to be less the global companies and more the smaller specialist companies."
Uneven regional growth
Geographically growth is likely to follow the pattern of the recent past, predict agency chiefs. "South East Asia, Latin America and parts of Eastern Europe," says Donna Imperato, president and CEO of Cohn & Wolfe. Baer agrees. "It is important to establish strong positions in those markets that show significant upside potential," he says. "These include the BRICS and the Next Eleven, which have the potential to join the BRICS as the world's largest economies in the 21st century. We remain very bullish on Africa and anticipate growth in public affairs across Latin America."
Technology and health
When it comes to which market sectors will offer most growth, there is a similar consensus. According to a UK-only survey by the PRCA last year, the technology sector is most likely to inc­rease its investment in PR over the next two years, with 81 per cent of PRs stating that this will be a growth area. Pete Pedersen, global CEO of Grayling, agrees, although he points out that the business effects of technology go way beyond its bailiwick: "Technology [will grow], but in the sense that technology has transcended its own sector and is now rapidly disrupting every other sector: healthcare, travel and tourism, manufacturing, energy, retail, food/agriculture and more."

With a rapidly growing population in the developing world and a rapidly ageing population in developed markets, it is hardly surprising that the health sector is the other area of potential growth. Sixty-four per cent questioned for the PRCA poll predicted it would grow.
The PRCA research chimes with PRWeek's questioning of global chief executives. Rob Flaherty, CEO of the Ketchum network, reflects general sentiment when he says: "In addition to continued growth in food, consumer packaged goods, healthcare and technology, we see above-average growth in energy, financial services, automotive, government, travel, change management and financial communications."
Silos are redundant
However, the most significant medium-term opp­ortunity for growth cuts rudely across geography, industry segment, client markets and client marketing silos. Its implications are profound, meaning that the PR industry will grow only by ceasing to be PR in the traditional sense.
It is the area around digital, social media and content. This is the real battleground, partly for market share within the PR industry, but also to grow the industry's share of client budgets.
This seems an entirely reasonable ambition given a recent study by Weber Shandwick that looked at the changes client companies are organising. It found client communication chiefs who have oversight of marketing increased from 26 per cent in 2012 to 35 per cent in 2014 (in Europe 50 per cent of CCOs have marketing oversight).
It also found social media are expected to have the greatest impact on the CCO's job over the next few years. An overwhelming 91 per cent of CCOs expected social media to increase in importance more than other comms responsibilities. The finding was consistent across every region in the study, including North America, Europe, Asia Pacific and Latin America. Globally, CCOs expected mobile (73 per cent) and video production (69 per cent) to also increase the most in importance.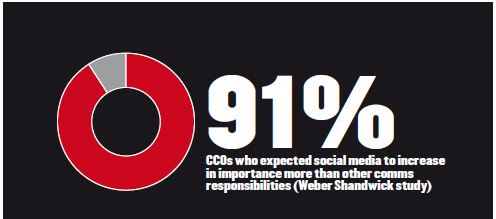 As a report by WPP-owned research firm Kantar said: "In 2014, silos will continue their decline into obsolescence. As the marketing and PR disciplines converge, so will the roles within them – and the pioneers of this evolution will need new ways to model and measure all of the communication channels available to them."
One of the features of the digital revolution is that it throws up unexpected opportunities. The field of reputation management has been an unexpected beneficiary. A recent poll by the UK Chartered Institute of Marketing found that 51 per cent questioned agreed that social media had great potential to grow their business. However 50 per cent also agreed that it had the power to damage their business. Clearly social media are a two-edged sword that needs to be managed.
Similarly tiny changes in technology or even rules of media owners can create new sectors of opportunity. Several agencies say that while they have always done earned media and owned
media, they have stumbled into paid-for media almost by accident. "We do it to support social media campaigns. Without paid-for Facebook is pointless these days because otherwise you go to the bottom of the feed," says one agency chief.
Digital budgets are sexier
It is hard to quantify the size of this opportunity, although Edelman president and CEO Richard Edelman, in his interview, estimates that the land grab in the area of digital, content and social media could increase the size of client budgets that could be spent through PR agencies (in the US at least) by as much as 50 per cent.
Matt Neale, president, international at Golin, illustrates the point with an anecdote that suggests Edelman's figure may even be an underestimate: "One brand we represent spends about £250,000 a year through us on traditional PR. We pitched and won its digital work recently and that was worth £1m a year."
But to get a chance to pitch for that juicy new income stream, agencies will have to reinvent themselves. "Everyone is saying the same thing," says Flaherty. "Social media and content are the place to be." But the devil is in the detail. "This is a massive executional exercise in change management. Growth will only go to those who make it happen. The old account man was a soloist. Now he is a leader of a team of specialists. It needs extensive re-education, bringing in people from a wide range of fields."
Golin illustrates the magnitude of the changes the industry faces. "Two years ago 85 per cent of our business was classic PR. Now it is 60 per cent and in two years it will be less than 50 per cent," says Neale. "We have rebranded as a communications agency. Now 40 of the 150 people who work here have never worked in PR. They have backgrounds in computer science, or coding or design."
Agencies have clearly started reconfiguring to take advantage of growth opportunities. Baer says: "The best news of all about all this change is that it means the old walls between marketing, advertising and public relations are breaking down at a dramatic pace. This means that we are living in what we like to think is the most exciting time ever to be in public relations. There are no artificial boundaries in terms of how far our creativity can take us when it comes to the services we can provide to our clients."
The next wave
If new forms of creativity are the current disruption, much harder, much more buttoned-down skill-sets will provide the next wave of innovation, say agency chiefs – although they cannot agree on exactly what it might be. Flaherty thinks that it may well be data analysis: "The next disruption is big data for one-to-one targeting, special offers and personalised commun­ications."
Baer suggests the Internet of Things will be significant: "It offers previously unimaginable levels of connectivity and relationships among devices. It will provide both enormous challenges and opportunities for communications. There are expected to be 50 billion connected devices by 2025. The change is coming, and we want to be ready for it." In other words agencies should be thinking about adding hard technological and analytic skills to future proof their businesses.
The conclusion is there is a massive prize for PR firms that successfully transform into silo-less comms agencies. And, even though it was denied by the agency chiefs PRWeek spoke to, they will not be PR agencies. At least not in the sense we know them.