A campaign by Mischief PR, entitled 'You'd have to be Gaga to rip the heart out of Smithfield', saw 100 protesters dressed as Lady Gaga march on Parliament to protest against the potential demolition of the market.
The historic market is at risk of being turned into office blocks with Eric Pickles, the Secretary of State for Communities and Local Government, expected to make a decision about the site in August.
Mischief came up with the idea on behalf of the Save Campaign, working with the Victorian Society and the market specialist Urban Space Management and supported by the regeneration specialists Cathedral Group.
And by Monday afternoon, the campaign hashtag had gained traction on Twitter before being noticed by Lady Gaga herself, who retweeted some of the pictures.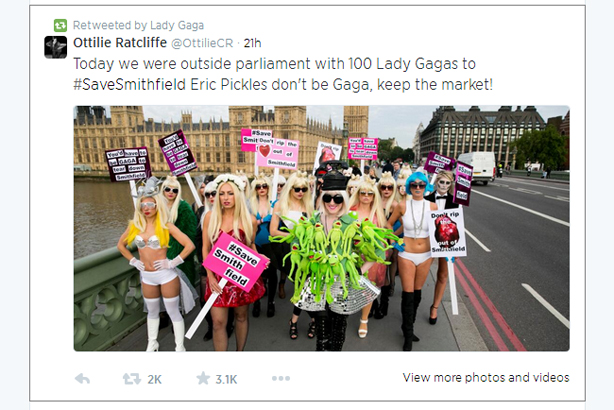 The Gaga group bore placards which read "Don't rip the heart out of Smithfield" along with the hashtag "SaveSmithfield" to build support for the campaign and pressure the secretary of state to consider alternative plans for the site.
Commuters and local people in Farringdon were also urged to support the campaign on social media with market traders taking to the streets to raise awareness of the threat to Smithfield.
Celebrities, including Alan Bennett and Kristin Scott Thomas, have also called for the building to be saved.
Bennett said: "If you go to St Bartholomew's and then walk through Smithfield, it is like walking from one cathedral to another. You wouldn't pull down St Bartholomew's, nor should you pull down Smithfield. Smithfield was the scene of many martyrdoms – this would be another."
An alternative scheme by the campaigners proposes to keep Smithfield's architecture and restore the historic market buildings, with a mix of markets, restaurants, event spaces and office space.