Client: Undz (Montreal)
Agency: Factory PR (New York)
Campaign: Penis Insurance
Duration: March 15 – March 25
Budget: $7,000
Giving away penis insurance policies helped Canadian men's underwear brand Undz gain some traction in the US.
"Our primary goal was to do something unique to raise awareness in the US," says Undz owner Bertrand Dore. "I didn't have any target sales number. Once we make some noise and get noticed in the US, sales will come."
Factory PR, which was hired as AOR just ahead of this campaign, helped devise and drive the effort.
Strategy
If an Undz penis insurance policy holder loses his penis, he receives $50,000 compensation.
Journalists, celebrities, and other influencers were given policies. Customers who purchased three or more pairs of Undz also got free policies.
"The key was identifying influential people who would shape consumer thought about Undz," says Genevieve Ascencio, the agency's senior director of digital. "The underwear category is crowded, and since this was the first time targeting US consumers we wanted to do it in a splashy way to get people's attention."
The team ran into a snag when the original insurer, Lloyd's of London, backed out of the deal after the stories hit in Details and on Huffington Post. A new policy deal was quickly made with IA Insurance Group and La Capitale France.
"The Lloyd's of London syndicate we bought the policies from didn't get permission from corporate marketing," Dore explains. "The company launched a family-oriented marketing strategy in the US in 2014, and penis insurance wasn't something they wanted to be associated with in the US."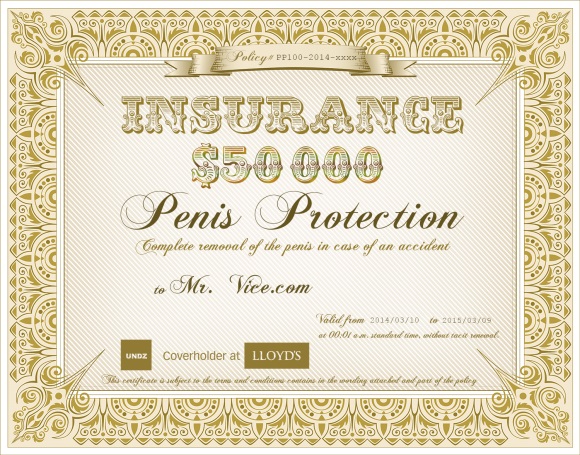 Tactics
Branded hotdog packages and free insurance policies were sent to 80 influencers. They included Anderson Cooper, Jimmy Fallon, and Justin Beiber, as well as journalists from outlets such as Huffington Post, Esquire, Maxim, and GQ.
A very graphic video was posted to the penis Insurance page on Undz.org and to the brand's YouTube channel. It wasn't pitched to media, though many outlets picked it up from the website and YouTube.
"We wanted different tools," Dore says. "The website and the insurance certificate were both less explicit. That content was meant to be shared more commonly. The video was way more explicit and edgy. Even Playboy TV couldn't show the entire video."
Results
Undz sold about 83,000 pairs of underwear in 14 days (80% in the US). Dore says sales average about 11,000 pairs in a typical 14-day time frame.
Six thousand penis insurance policies were distributed (5,000 were expected).
Between March 15 and 25 average daily website traffic was up 2000% compared to average daily traffic prior to the campaign.
The age-restricted video got more than 21,000 YouTube views.
About 50 stories ran in outlets including Details, Jezebel, and Cosmopolitan.
Future
Upcoming plans include a promotion around National Underwear Day in August.