"There are great opportunities in today's new Myanmar to create your brand, promote your products and services, and manage your reputation, but few people with the PR abilities to make this happen," claims Stephen Kyaw, former TV presenter and now managing director and CEO of The Blink Agency. The young agency head has just taken office space in a building with a fresh coat of paint near Chinatown in the downtown heritage area. He works from a common table that doubles as a tennis table in the evenings.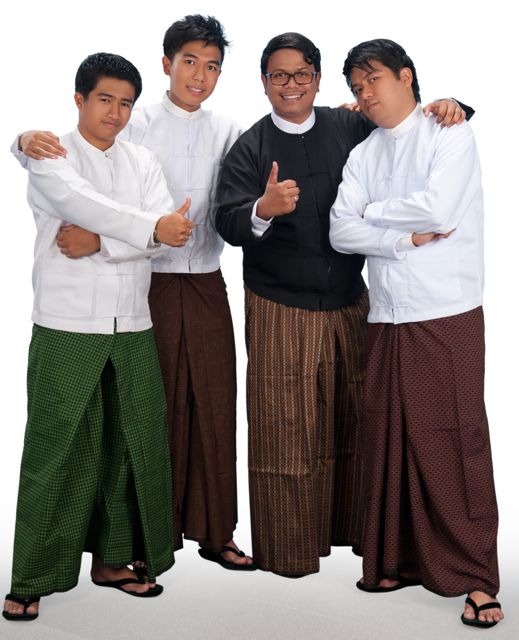 (from left) The Blink team: Alexander Aung, Erik Oo, Stephen Kyaw and Michael Myo Swe

Coming in from the cold
After years of isolation Myanmar, also known as Burma, is finally coming in from the cold. It recorded a growth rate of 6.5 percent in 2013 and according to the World Bank Foreign Direct Investment (FDI) rose to $2.7 billion last year, up from $1.9 billion in 2012. Increased natural gas exports from Shwe and Zawtika gas fields, the opening of the 2000 km Myanmar-China gas pipeline and the announcement that 30 offshore blocks will come on-line in early 2014, means that the energy sector will continue to play a key role in driving growth, which the Asian Development Bank (ADB) forecasts to touch 6.8 percent this year.
Retail and construction sectors are expanding with hotels, shopping malls and apartment buildings being erected throughout Yangon, Mandalay and capital Nay Pyi Daw. More can be expected from agriculture, telecoms, finance and mining. Prospects for economic growth are improving as the country's modernisation continues apace. Although questions still remain about the government's commitment to reforms and its will to fight corruption, foreign participation in the economy is on the rise. In May this year Canada's Manulife insurance returned to Myanmar after 70 years of absence by opening a representative office in Yangon. "Economic activity in the country is moving faster than expected", Paulius Kuncinas, Regional Editor, OBG told PRWeek.
Blink is the latest to join the herd of agencies and media firms that have opened shop in Myanmar recently. In 2013 TNS became the first international research consultancy to open office. According to the Directorate of Investment and Company Administration more than 5,000 new businesses have officially registered in Myanmar since the beginning of 2011. This includes 1,300 foreign companies opening branch or representative offices in the country for the first time.
On the cusp of change
In 2013 Myanmar awarded license to two foreign telecom operators: Qatar's Ooredoo and Norway's Telenor. The opening of the telecom sector has been widely regarded as a litmus test for the government's reform programme. It also signals a major milestone in the country's modernisation efforts. According to OBG mobile penetration rates in the country are likely to reach 85 percent in less than five years.
"The Myanmar government wanted to do within two years what our countries did in 15 years," Sigve Brekke, managing director of Telenor Asia told OBG "In other words, they want to do data, 2G, 3G and 4G services in one go."
"A mobile SIM card in 2010 cost $2000. Today it is down to $120," Rajeev Merchant, managing director, Asia Advisory Group told PRWeek. That is still beyond the reach of ordinary Burmese. But the arrival of two world-class mobile service providers promises to bring down costs and boost mobile penetration rate, which at 10 percent, remains dismal.
Betting on digital
Blink has placed its bet on the growth of digital media. There are now more than 2.6 million people with access to the Internet, with over 1.8 million of them using GSM mobile networks, according to Myanmar Posts and Telecommunications (MPT). The country is seeing an increase of 70,000 to 80,000 of mobile Internet users each month. According to MPT some 100,000 users access the internet through the WCDMA network, 350,000 through CDMA 800 and 330,000 through CDMA 800.
A spectator films a traditional lion dance performance on his smartphone in Yangon (2013). Myanmar is entering the digital age.
"Whether at home, at work or on the move, Myanmar people are starting to adopt digital lifestyles," observes Erik Oo, COO of Anthem Asia, an independent investment and advisory firm that is funding Blink. But embracing a digital lifestyle is not easy in a country where connectivity is a problem and power cuts frequent. Your editor discovered this firsthand when he found it difficult to have an uninterrupted conversation with his interlocutors in Yangon on Skype. "The big problem, as for everyone, is ensuring the Internet is stable and the power stays on," admits Kyaw.
Facebook is the country's social platform of choice but has only 1.4 million accounts here. Internet penetration rate is less than 2 percent and with bandwidth low, platforms such as YouTube, Twitter, and Instagram are not widely used. But Kyaw is bullish about the future. "Myanmar is about to jump into the digital world from zero as two new foreign-run mobile networks roll out nationwide and existing incumbents upgrade," he says. With a population of 60 million, Myanmar does indeed represent a virgin frontier market. And with the financial inclusion of millions of new customers yet waiting to happen (most likely through mobile money) opportunity for both paid and earned media are tantalizing. "We see opportunities in businesses, like Blink, that serve fast-growing consumer and domestic demand," explains Peter Witton, Director at Anthem Asia on the firm's decision to fund Blink. One of its first projects was to run a Thingyan (Burmese New Year) digital outreach campaign for the Chinese networking and telecommunications giant Huawei.
Dividends of engagement
Myanmar was long considered a pariah and stood alongside North Korea and Cuba in the global roll call of isolated states with appalling human-rights records. The generals who ran the country shunned foreign investments and made it very difficult for anyone to do business with the country. But after a nominally civilian government led by President Thein Sein, a former army general, was installed in March 2011, winds of change finally began to improve the business and political climate of the country. Pro-democracy leader Aung San Suu Kyi and her National League for Democracy (NLD) party swept the parliamentary by-elections a year later, western sanctions were lifted and investors began to return once again.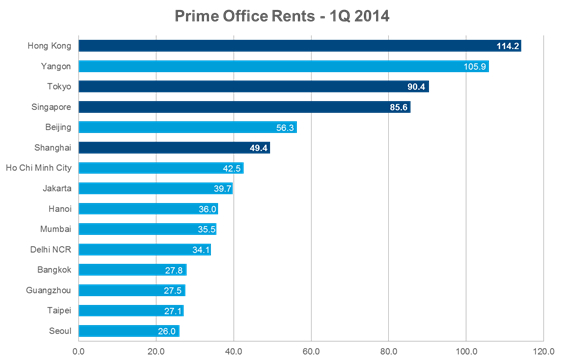 But the dividends from this re-engagement with the rest of the world have been something of a mixed blessing for new investors. While the Yangon skyline is dotted with cranes and scaffoldings as hotels, malls and apartment buildings come up to keep pace with rising demand, office rents have been soaring.
"When I first arrived in Yangon a couple of years ago the hotel rooms were anything between $60 and $80. The same room today will cost you $250 to $300," says Merchant. According to Karlo Pobre, research manager at Colliers International, Yangon currently has the "highest" average prime monthly rent in the region—a shocking 21 percent higher than Singapore's. Rents can be anything between "$20 to $39 per square meter a month" he told PRWeek. In the first quarter, average office rents in Yangon grew by 3.7 percent as compared to the same period last year. That makes it difficult for cash-flow-dependent agencies to budget for the long term and can throw operating costs out of gear. A local agency boss told PRWeek that his landlord had raised the rent of his office space twice last year.
Traditional media
"Any company preparing to launch in Myanmar needs to take a long-term view," says Brian Griffin, managing director of Vero. He set up an office in January 2013 and has now carved a niche in PR consultancy and public affairs.
"Since early 2013, the demand for PR has risen due to the entry of multinationals [in Myanmar]," Rose Swe, managing director of the local PR firm Mangosteen, told PRWeek. "Relaxing media rules and also providing daily newspaper publishing license to private publication houses also support the demand of PR service."
Traditional media is still the most commonly used channel for PR outreach. Far from lagging behind, the publishing industry has in fact seen something of a rennaisance in Myanmar ever since the quasi-civilian government began easing controls. In April 2013 four private dailies hit the newsstands for the first time in almost 50 years and 12 others were granted license. A vibrant array of newspapers and magazines has appeared since then, making Myanmar a far more exciting place for PR agencies. A draft print and publishing law is under revision and various media freedom activists and non-governmental organisations (NGOs) are involved in the shaping of the bill.
According to Swe the media landscape in Myanmar right now consists of 15 newspapers, three state-run national TV networks, three private broadcast networks and three pay channels. Kyodo News opened its office in Yangon last year after the government permitted foreign news bureaus to set up operations.
Public affairs and CSR
Public affairs has emerged as a critical area of demand from big global investors as Myanmar opens sectors such as mining, agriculture and telecom. As concerns mount over land grab, displacement and environmental degradation, there is a growing consensus among investors about making corporate social responsibility (CSR) a component of market entry.
"Entering Myanmar with a strong CSR campaign helps companies meet key local stakeholders in the public and private sectors, build infrastructure, and collect insights about the business environment," says Griffin.
In Myanmar, CSR is not a mandate—as it is in India, where companies are required to set aside two percent of profits for social investments. But CSR in Myanmar does offer a unique opportunity to make a big impact. Tom Evrard, managing director, FTI consulting told PRWeek his client, Ooredoo, has coordinated a range of CSR activities since the announcement of its bid win in June last year. It has partnered with the Cherie Blair Foundation for Women to train 30,000 Burmese women as Ooredoo mobile retail agents. Even small and medium enterprises (SME) have jumped on the CSR bandwagon.
"Our business model is predicated on sustainable tourism," Josephine Price, cofounder and owner of Thahara, a company that offers unique accommodation and experiences in Myanmar, told PRWeek. "Using local materials, encouraging organic agriculture, recycling waste and water, keeping as much tourist money in the community as possible, and creating jobs, all while protecting the environment."
For most agencies the real PR action, however, is in the public-affairs domain where building trust and fostering a healthy working relationship between the investors and government officials still remains the single most critical void that remains to be filled.
The challenge

Investors say language and talent are the most difficult hurdles to overcome. The country's long isolation from the international community means that few global trotting marketing directors have real experience doing business in the country.
Its language and culture are unique and as Unilever recently discovered foreign firms can often find themselves blindsided by local conditions. The consumer products giant scrambled earlier this month to remove advertising banners from shops in the restive Rakhine province that prominently displayed the symbol of a Buddhist extremist movement blamed for a wave of bloody attacks on minority Muslims. Although expatriate Burmese are returning back to kick-start businesses they have been, for most part, out of touch with their homeland and hiring them can be an expensive proposition. The little local talent that exists is so highly valued that it is quickly snapped by competition. Wages, although still affordable, are rising quickly and while growth justifies increased investment in talent ensuring consistent quality of service will remain a challenge for some time to come.