By the time England captain Steven Gerrard triumphantly raises the World Cup trophy in the Maracanã stadium on 13 July following England's 5-0 thrashing of hosts Brazil in the final, a cumulative audience of eight billion will have tuned into the world's most popular sporting tournament (figure from Futures Sport +Entertainment).
One of the great joys of the World Cup has always been its ability to create a sense of connection through shared experience. It is a social event at heart. But the 20th FIFA World Cup, which kicks off this week in São Paulo, is set to elevate notions of connectedness and shared experience to new levels.
Despite reports of civil unrest and yet more allegations about FIFA's moral bankruptcy, most experts are predicting that it will be not only the most 'social' World Cup to date, but the most social event to date, far outstripping the last World Cup in 2010 in South Africa, the 2012 London Olympics and this year's Winter Olympics in Sochi.
"It's live, it's public and it's controversial so we are set up to expect this to be possibly the biggest Twitter event in history," says Lewis Wiltshire, head of global partnerships at Twitter UK – although he cannot make a direct comparison with the 2010 World Cup because its measurement systems have changed.
The growth has obviously been fuelled by the explosion of social media in recent years, says Steve Martin, CEO at M&C Saatchi Sport & Entertainment. "Social media are in a steep early growth phase. There are more platforms and many more people on them than ever before, so it is hardly surprising that the reach and therefore the usefulness of social media to brands is greater than before."
But there is another factor at play – increasing budgets. According to FIFA secretary general Jerome Valcke, FIFA will earn $4bn (£2.3bn) in revenue from this tournament – ten per cent more than last time. About $1.4bn (£837m) will come from sponsorship deals, the balance from TV rights.
This is very good news for the PR industry. As a rule of thumb, sponsors generally spend one pound on amplification for every pound of sponsorship. So increased investment means that the 22 sponsors will have to spend more leveraging their investments this time round.
Much of that increased investment will go into content and social media. "They will certainly continue to use conventional paid-for media, but owned and earned media are occupying a larger share of the communications mix as brands increasingly become publishers in their own right during major cultural moments," says Martin.
The array of creative ideas and devices for engagement on display is dazzling – although having viewed much of the content, one does have to wonder how long brands can continue to sustain their sponsorships on a diet of keepy-uppy, freestyle and trick shots.
Some estimates put the total spend of the bigger sponsors at up to a quarter of a billion dollars – or more once the sponsorship itself, the TV sponsorship, ad campaigns and all the activations are accounted for.
But it will not be only the sponsors turning to social media like never before. "Other stakeholders will be using them to have a voice, deepen understanding of their positions and create a connection," says Raymond Boyle, professor of communications at the Centre for Cultural Policy Research, University of Glasgow. FIFA, players, the media, the FA and other national associations, and of course brands with no contractual relationship with the World Cup, will all be working their social media networks for all they are worth.
Nike and Pepsi take the lead

Nike is already trouncing official sponsor adidas in this area. Its 'Winner Stays' ad, the second in its 'Risk Everything' 2014 football campaign, has attracted more than 70 million YouTube hits so far. The company has 35 million Facebook page likes and 1.8 million Twitter followers. Adidas, in contrast, has just 17 million Facebook likes and one million Twitter followers.
Pepsi, meanwhile, is not going to let Coke have the World Cup unchallenged. It too is transforming itself into a global publisher for the World Cup. Kristin Patrick, Pepsi's global chief marketing officer, told Bloomberg in April: "It's the first time we've rolled out a global football campaign to this magnitude. It's in 130 countries, and we have a large body of content from television, short films and digital content. We have events happening every single month leading to up to the summer."
A feature common to many of the sponsors is brand 'war rooms' or news rooms (see below). Not only do they allow brands to engage with the public in real-time with a schedule of planned posts on their chosen social media channels, they also allow brands to mount rapid rebuttal on critics who can themselves harness the power of social media to hijack their hashtags and subvert their posts.
While they are not new, the scale of them is. Adidas, for instance, promises to have 50 people in its Rio war room located at the home of Flamengo FC. "Our target is to be the most talked about brand at the World Cup," says Rob Hughes, senior global football PR manager, adidas global football. "We will have our legal, marketing and FIFA teams to help expedite approvals, to ensure we are best placed to publish content and drive media spend, no matter what the time, day or time zone."
As might be expected, most of the companies are a little shy when it comes to justifying their huge investments. However Castrol's global sponsorship manager Paul Goodmaker says: "We do have a dashboard looking at reach, engagement and brand impact." Those are longer-term brand measures, but he does say there is definitely a shorter-term sales effect too. "Social media allow us to engage more deeply with customers so we make more sales," he says. But he admits that it is difficult to isolate effects of complex multi-disciplinary programmes.
ROI on content

So one cannot help wondering, is it worth brands becoming content producers for events like the World Cup? Opinion seems split. BJ Mendelson, author of Social Media Is Bullshit, has his doubts: "There's a lot of anecdotal stuff. I know a bunch of social media experts who will go crazy and show you links to their case studies that show what they're calling evidence, but a lot of it is just sort of vague and doesn't account for external factors."
Is that to say there are no benefits? "Absolutely not. I think if you do social media right, in conjunction with a unified PR, advertising and marketing push, you can certainly see results. The problem is that we've always presented social media as a standalone thing, and so we look for 'results' in that matter. Although there certainly are a few cases out there of sales success, there are not as many as you'd think, and often the number of sales made doesn't justify the amount of time, money and resources that were invested to get them."
Nancy Smith, president and CEO of New York-based marketing consultancy Analytic Partners, says her company has examined billions of dollars of marketing spend and has come to very different conclusions. She says: 'Budgets are increasingly stretched and social media are a very good way to extend those dollars. It is clear that owned and earned media are a must. We have found that owned and earned engagement has boosted incremental sales from paid marketing by two to six per cent. The average is about five per cent, although we have seen effects from social media for smaller niche companies as high as four hundred per cent.'
However just talking to consumers is not particularly effective in itself, she says: "Talk is rarely impactful while engagement nearly always is." But it is the level of engagement that determines the size of the effect: "The biggest driver of effectiveness is the quality of the content and the brand's ability to link meaningfully to that content."
While brands have long been publishers in one way or another, the latest iteration of brand publishing using social media to engage and magnify the content is really only now coming to maturity. There is even a tenuous strain of thought that suggests the 2014 World Cup could mark the high tide of this approach.
"Social media is the latest staging post in the way we make meanings of global events like this. But there is a tension, a battle between the integrity of the sport and the needs of business," says Boyle. "There is the real danger of corporate overkill. And social media is such a sharp tool that there is always the possibility of small groups mobilising to mount a counter-narrative."
While Boyle claims he has not seen any evidence of consumer fatigue with social media, Smith thinks there are signs that the social media/content bandwagon is becoming a little crowded: "First movers got great ROI. Undoubtedly some returns will go down over time as this approach becomes more widely adopted. But you can see that effectiveness is beginning to decline already on some Facebook channels." The 20th World Cup could prove the most social to date, but also mark a peak before a decline.


---
Cooking up a storm in the war room
Andy Porteous of @andyporteous consulting, former senior vice-president, digital, Unilever Foods says:

War rooms or news rooms as buzz words sound new and exciting, but the principles for running a war room have hardly changed from when we used to manage live promotions 20 years ago. The key is to assemble all the skills you need in one place, have a strong creative idea and thorough planning to ensure that you remain in charge of the conversation. What has changed is the speed and connectivity that digital and social media bring.
Last year I was involved with a war room for World Baking Day. Unilever has a raft of baking brands, and this was an opportunity to encourage cake lovers to get in the kitchen and bake. Our war room was nicknamed 'The Oven' and – appropriately enough – was a small, hot room in the offices of our digital agency Lean Mean Fighting Machine (LMFM). The event was on a Sunday and as the weekend approached, we ramped up our activities and social media monitoring.
For much of the time there were between two and six people in The Oven; at peak times, twice that. These were a mix of clients, agencies and specialists. We had people from the global brand team there – the editors, if you like. Of course we had the guys from LMFM, feeding in creative ideas to build public participation in the baking itself and in conversations about it across social media. And we had a wall of screens, allowing us to see what responses our activities were stimulating.
Although the event was a long one, most of what happened was the result of preparation and planning. You need to have a good idea of the outcome you want and get as much as possible ready ahead of time. For example, we had developed cake recipes, and these were shared through bloggers and cake-friendly celebs like Nigella Lawson and Lorraine Pascale. Home bakers were encouraged to send photos and stories of their cakes, too.
As the day dawned, the first tweets, Facebook and Instagram posts were launched. These were followed by a stream of encouraging tweets showing bakers in the act of creation. The aim was to encourage more and more people to participate and to realise what a pleasure a home baked cake could be.
Some of this content was pre-baked (poor joke, sorry). But of course the team was building on any news that could be linked to baking across the build-up period and on the day, and getting content out in real-time.
To get that right, and to move fast, you need a clear understanding of what is legally permissible, and what is on brand – you don't want to have a long debate every time you tweet.
For all their novelty, the basics of good PR hold true. Plotting out your scenarios with a detailed Q&A is good practice. For most campaigns there will be people who don't like what you are doing, and they can be loud and forthright on social media. But the principles of how one deals with these people remain important. Know your brand and your message; and if it's appropriate to, respond with openness and integrity –and disarming wit if you can.
Social media are part of how marketing and relationships with consumers work today and for major campaigns, war rooms are part of it. To do their jobs well, brand managers will need expert help, but knowing how to use these tools is part of knowing one's craft in marketing.
---
The sponsors' social strategies
Every sponsor is adopting some variant or permutation of the same approach based around the creation of high quality content blended with some kind of device to encourage engagement (usually a celeb) through social media.
Coca-Cola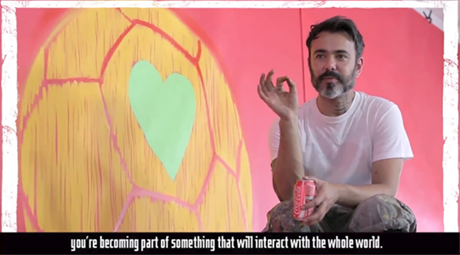 Coca-Cola has launched its biggest ever marketing campaign around FIFA 2014 with a social theme at its heart. 'The World's Cup' campaign invites the world to celebrate football as a social good. "Coca-Cola plans to create unrivalled access, participation, empowerment and conversation with the goal of delivering the most inclusive FIFA World Cup ever," says the company. It has created a series of short documentary films under the banner 'Where Will Happiness Strike Next?'. With its 'Happiness Flag', it created the largest photomosaic ever using fan faces and messages. In addition, its global 'Moments of Happiness' campaign invites consumers around the world to submit video clips capturing their happy moments for 'The World is Ours', Coca-Cola's 2014 World Cup campaign anthem.
Castrol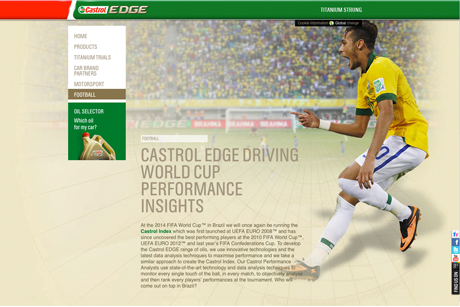 Castrol has invested tens of millions of pounds in leveraging its World Cup sponsorship. "The emphasis this time round is on creating content and using social media," says Paul Goodmaker, Castrol's global sponsorship manager. "We are experts in using technology and data, so we have created official player performance rankings by analysing every touch, tackle, shot and pass." In addition the company has created what Goodmaker claims is the most shared World Cup ad of all time, featuring Brazil star Neymar and professional rally driver Ken Block.
Budweiser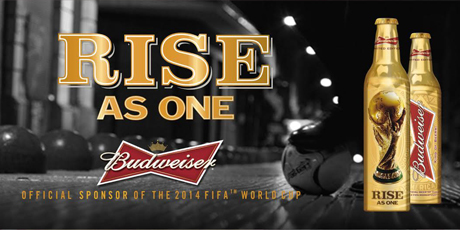 Budweiser has created a campaign it calls 'Rise As One' which it describes as "a holistic creative platform under the Rise As One thematic". It celebrates the moments that unite and inspire football fans around the world. Entry to Budweiser's platform is via an app, its YouTube channel and Facebook page.
Moy Park
Moy Park, the Northern Irish meat packaging company, is the World Cup's surprise package. Acquired recently by Brazilian meat giant Marfrig, it is piggybacking on its parent's sponsorship deal to join the big boys. There will be World Cup-themed products and promotions. "All drive consumers online where we are using social media in new ways to engage our audience," says the company.
McDonald's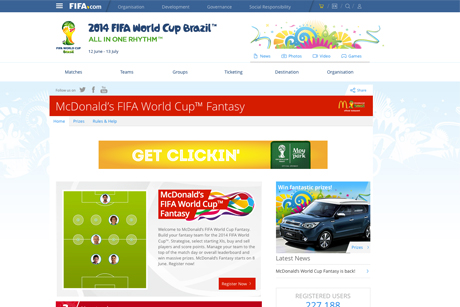 McDonald's has created a World Cup fantasy football game and an augmented reality app that allows people to play finger-flick football on their phones.
Johnson&Johnson
Johnson&Johnson's 'Care Inspires Care' campaign invited people to share their own Champions' stories and nominate them as Champions of Care.
Sony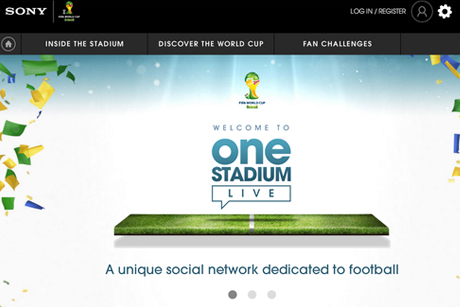 Sony has constructed its own social network. The 'One stadium Live' network curates social media content on football topics across six languages from Twitter, Facebook and Google+.
Adidas
Adidas has shot more than 100 films to be released on social media to support its 'All In or Nothing' sponsorship campaign. It has also assembled what is probably the biggest brand war room to date.