In a smooth piece of work by The Sun's PR operation, today's Page 3 girl is pictured with the megaphone-shaped gong, which Sun editor David Dinsmore and CoppaFeel founder Kris Hallenga accepted with pride at Westbourne's awards bash last night.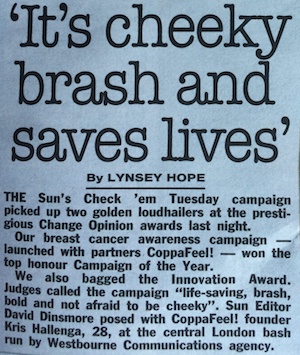 Dinsmore told the crowd that he responds to raised eyebrows over the Check 'Em Tuesday campaign by telling people that "if we hadn't done it with Page 3 no-one would have seen it".

The judging dinner was rather spicy by all accounts – the party was abuzz with talk of a spectacular bust-up resulting in Lord Palumbo walking out at the start after words with Daily Mail journalist Andrew Pierce.

Adding to Westbourne founder James Bethell's chagrin, the judges awarded the politics category to Ed Miliband's energy price freeze (to which, blowing our own trumpet, PRWeek awarded its much-coveted Top of the Month a while back).

While Labour's top brass didn't turn up to accept the award in person, the skateboarders of London's South Bank were there to pick up the engagement award for their campaign against redevelopment plans that would do away with their treasured undercroft space.

PRWeek doubts it will witness skater dudes, Greenpeace, Breitbart News, Guido Fawkes, No More Page 3 (yes, they were there) and The Sun ever quaffing Champagne on the same rooftop again.

And before someone accuses the skateboarders of selling out, they didn't nominate themselves for the award and they say they agonised over whether to turn up.

In the end, they used the opportunity to appeal for further assistance for their campaign, which isn't yet won, so PRWeek is happy to send any PRs keen to relive their 180 ollie and frontside flip days in the direction of Long Live Southbank.