It is exactly a year since major international fashion brands found themselves scrambling to protect their reputation when it emerged that a decrepit garment factory in Bangladesh, which produced some of their merchandise had collapsed and killed 1135 workers. It was the worst industrial disaster in the nation's history. The media storm that followed forced many of them to look critically at their supply chain and commit themselves to holding their suppliers to higher workplace standards. The anniversary of the Rana Plaza collapse is a vivid reminder of the risks attached to corporate reputation.
As the global economy recovers from an economic downturn, MSLGROUP says, protecting corporate reputation has become a top priority for CEOs around the world. As businesses begin to revisit their communications strategies a "huge opportunity" may be opening up for the PR industry, says the agency's India CEO Jaideep Shergill in a new research publication, 'The Future of Reputation'. The timely 122-page report is a compilation of 14 articles, authored by the agency's own in-house experts from around the world.
While organisations are "rightly focused" on risk mitigation there is growing opportunity to increasingly "centre corporate communications around reputation projection, as a means to deliver greater competitive advantage," claims MSLGROUP's Chief Strategy Office, Pascal Beucler.
The Shift
MSLGROUP has identified three shifts that have boosted reputation as the number one strategic risk facing corporations today (according to a Forbes-Deloitte study that it often quotes in the report). Stakeholders have become empowered; corporate ethics has moved from the notion of social responsibility to "citizenship"; and consumer purchase decisions have shifted from buying a product to buying a "purpose", it says. "People across the world are realising the power of social networks, valuing social performance ahead of financial performance," observes Beuclar.
New Stakeholders
A new set of stakeholders have emerged, says MSLGROUP. These are employees; influential and opinionated members of the public – a group the agency refers to as 'external influencers' and a new generation of 'millennials' - those born between 1980 and 2000. According to Beuclar they represent a "huge untapped potential" that companies "must engage with". Trust in "all institutions" is at an "all-time low across the world," he claims. "Today, with the explosion of social media, reputation can be enhanced or damaged in the blink of an eye. Most corporations are in the risk zone, where a low level of public trust meets a high level of people's empowerment."
Social media has indeed made it seemingly impossible for organisations to control public conversation about their product, service or brand image. A single tweet from a former employee or a disgruntled customer can very quickly go viral, influence customer response and, if left unchecked, even affect stock prices. The 'Future of Reputation' illustrates this with a number of recent examples.
India and China
According to Par Uhlin, Vice Chair, MSLGROUP China, the Chinese society is suffering from what he calls 'a trust crisis'. "This is partly due to recurring scandals over the last decades, where companies, government and even the media themselves have tried to cover up the truth," he says. "Chinese people seem to be asking themselves: is there anyone left to trust, apart from my family and closest friends?"
Citizens have become better informed, and tend to be more critical and questioning than they were just 10 years ago, he observes. This is partly thanks to increased openness and transparency from the government itself, but also due to the emergence of social media. "Rumours are being spread and believed, as people do not trust official sources of information the way they used to," says Uhlin. "Against this background, building a strong corporate reputation in China is more important than ever."
Given the lack of trust in the mainstream media MSLGROUP advises brands to keep a strong presence on the social media and groom its employees in China as ambassadors.
As for India, Shergill says corporations are discovering that traditional models of reputation models are "crumbling." He has noticed that a corporate communication teams are spending more time with CEOs in India.
"Communications plans are being aligned with business calendars and discussed against a set of corporate objectives. Media relations are being used to ensure traction and long-term loyalty from various stakeholders rather than merely for exposure," he says. Yet the country's PR industry has been slow to catch up with the change. "Our inability to project ourselves into the bigger picture is primarily why bigger budgets have eluded us." He says PR consultants must initiate a constructive "education campaign" within the client organisation.
Recommendation
MSLGROUP makes three recommendations for corporate leaders to turn reputation into a competitive advantage.
First, it says organisations must try and "unleash" the "power of content" by encouraging employees and external influencers such as bloggers and customers to create content.
Second, it must use Big Data to monitor social media conversation and gather information on who is saying what about the company. "Big Data can help you prevent crises from happening," says Frederike Den Ottelander, head of digital and social, Netherlands. "Any fire starting in even in the darkest corner of the internet can now be found and handled before it turns into a crisis," she claims. "Collecting data on how your stakeholders feel about you has never been easier." According to Ottelander firms need to do 'real-time' reputation monitoring.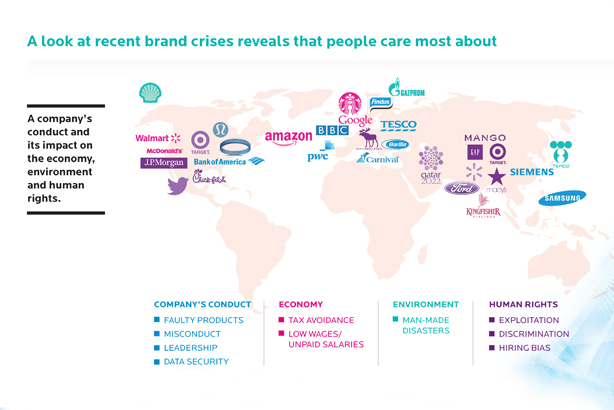 Third, MSLGROUP calls for the establishment of a 'Reputation Committee' which would have responsibility for reporting back to the Board on the status of an organisation's reputation, along with an assessment of emerging reputational risks. "By elevating reputation oversight to the Board of Directors, leaders will begin to grasp the existential importance of reputation," says Brad Wilks, MD, Midwest, North America.
Lack of Asian case studies
Although the articles are sharp, succinct and well researched, the overwhelming body of evidence presented in The Future of Reputation is Western. There are very few case studies from Asia. Only one article contributed by senior manager, Insights, Nidhi Makhija maps recent PR incidents in the region that are reasonably noteworthy. This includes the 2013 Rana Plaza collapse. More than 150 apparel manufacturers around the world have since signed a legally binding agreement to make all garment factories in Bangladesh safe places to work. But activists in London and other western capitals continue to pressure international labels to contribute to a $40 million compensation fund for victims.
Although the report makes a very compelling argument in favour of putting reputation management at the centre of a corporate communication strategy and provides some actionable advice on how to engage stakeholders in the age of social media, it fails to conclusively establish that reputation management has indeed moved beyond the realm of risk mitigation.