Best Social Media Presence 2014
Winner: Human Rights Campaign
Campaign Name: Turning the Internet Red
Judges loved this exceptionally strong campaign that achieved a very tangible outcome.

In December 2012, the United States Supreme Court decided to hear two landmark marriage equality cases that would determine the rights of same-sex couples to marry.

The Human Rights Campaign recognized this historic moment and developed and led a multifaceted national campaign aimed at elevating the conversation around marriage equality and changing hearts and minds to the side of equality.

The effort is best remembered for a stunningly simple visual as the organization produced a red and pink version of its iconic logo, which soon went viral as it was shared and adopted by users on social networks to show their support for same-sex marriage.

"What was most compelling was the campaign's simplicity,"said one judge,"but that is the genius of this effort, which drove meaningful advocacy in support of marriage equality."

Within 24 hours of the logo being uploaded on Facebook, the post received 189,177 shares, 95,725 likes, and 18 million newsfeed appearances.

The social media push led traffic back to the organization's website. The result was an increase of 700,000 visitors in 24 hours and Facebook followers grew by more than 200,000.

Celebrities such as Ellen DeGeneres and Beyonce´ led the way in adopting the logo on social channels and were soon followed by brands ranging from Bud Light to Marc Jacobs. Facebook recorded a 120% increase in profile photo updates and deemed it the most successful campaign in the site's history.


Best Real-Time Marketing Campaign 2014
Winner:
MSLGroup, Procter & Gamble/Scope
Campaign Name:
For Breath That Sizzles! Scope Bacon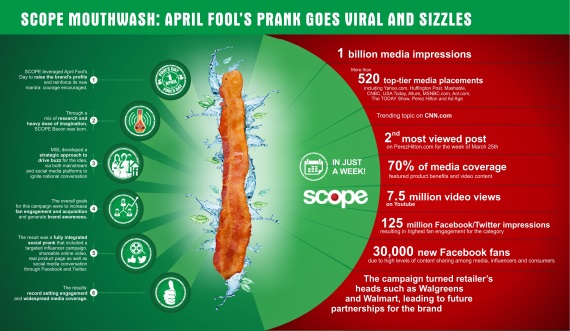 Mouthwash brand Scope was struggling to connect with consumers and keep social media engagement high, so it charged MSLGroup with constructing a fresh campaign that would make the product top of mind for customers in that category.
The agency developed a campaign that leveraged April Fools' Day and tapped into popular culture to drive awareness, engagement, and buzz around the brand.
Using a tight-knit strategy that involved key timing, media outreach, and a commercial promising that Scope Bacon would taste "just like bacon when you swish, but leave your mouth minty fresh," the campaign launched on March 28 via the brand's social media channels and other influencer networks.
Within hours, the conversation spread from Scope's social media pages to traditional media outlets. In the first 72 hours, more than 50% of targeted traditional outlets – such as The Today Show and CNBC – shared information via their own social channels.
The firm also created Mr. Scope Bacon – a giant bacon character serving as the campaign symbol – who hit the road to tease the campaign, including visits to Times Square.
An April 1 exclusive with USA Today revealed that the new flavor was a hoax. Social channels further spread the word about the April Fools' Day joke.
Overwhelming responses poured in with fans' reactions ranging from disbelief to disappointment. Scope rewarded some fans with bacon-themed gift packages.
Results were hugely impressive. The effort garnered more than 1 billion impressions – 840 million of which were completely earned – and 125 million Facebook and Twitter impressions. In just one week, the brand had 7.5 million video views on YouTube, and Facebook followers increased 316%.
Best Digital Agency 2014
Winner:
Huge
Campaign Name:
Huge in 2013: Defining the Future Agency Model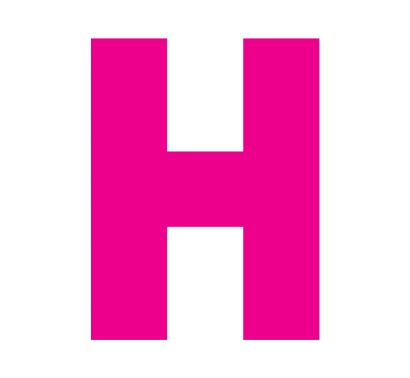 As some of the world's largest companies shifted their strategies in 2013 to integrate marketing operations with technology, Huge lived up to its name as the agency helped some of the biggest brand marketers embrace digital tech.
In the past 12 months, the agency has partnered with 111 major brands on 500 digital business, marketing, and technology projects.
New business was signed at a rate of more than one major new account each week, including work with 15 of the world's largest enterprises for the first time. Revenue grew exponentially, up by about 40% to $120 million in the US.
The majority of this revenue – 40% – is organic and comes from the company's nine offices in New York, London, Los Angeles, San Francisco, Portland, Washington, DC, Atlanta, Rio, and the recently opened Barcelona outpost.
In 2013, the firm hired about 200 new staffers, bringing its global employee base to 725.
Huge has also continued to invest in a collection of new disciplines. Business consulting, planning, research and analytics, studio and content production, integrated marketing, social media management, and sitecore and CQ development all became a core part of its service offering.
Huge Labs, which is the firm's own incubator, continued to evolve in 2013 into the marketplace's first home for enterprise marketing-oriented software startups, including Honey and Togather.
With an eye on further growth, Huge has also continued to invest in training and education programs for its employees, clients, and the next generation of talent.
Best Integrated Campaign 2014
Winner:
Weber Shandwick and Milk Processor Education Program (MilkPEP)
Campaign Name:
Milk Tackles Breakfast at Super Bowl XLVII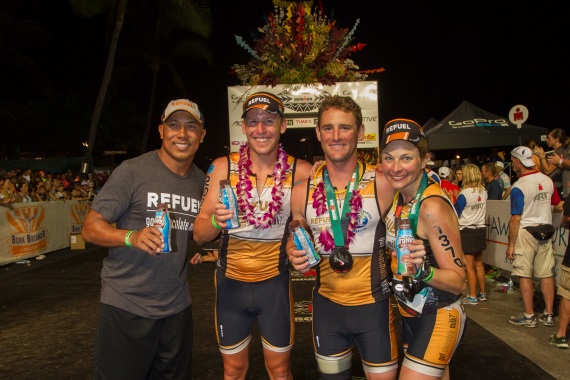 The iconic 'Got Milk?' Campaign, driven by the Milk Processor Education Program (MilkPEP), has a longstanding history with the Super Bowl – developing milk mustache print ads featuring players from each team for the past 17 years.
But in 2013, the program unveiled a Super Bowl commercial featuring Hollywood actor and WWE wrestler Dwayne 'The Rock' Johnson to highlight the powerful role milk's high-quality protein plays in the morning meal.
PR agency Weber Shandwick was tasked with raising protein awareness and consumer engagement, as well as increasing milk sales.
In the weeks prior to the big game, the team actively engaged fans in real time on Twitter, launched two activations, and joined Twitter's #AdScrimmage competition, in which the campaign placed second in a consumer voting contest for best Super Bowl commercial.

Strategic partnerships were developed with Dairy Management, Fuel Up to Play 60, and parent influencer groups such as The Motherhood and Dad 2.0 conference, to further drive messaging on social channels.

This initiative managed to break through the Super Bowl clutter as Weber's team successfully leveraged social media outreach to great effect.

With 440 million earned media impressions, this was the largest and most efficient MilkPEP program to date. Social results were terrific as the ad was viewed 2.1 million times online, and garnered more than 231 million social media impressions, 55,000 Facebook interactions, and about 3,000 mentions on Twitter.

Finally, and most importantly, the program resulted in 988,000 gallons of incremental milk sales.
Influencer of the Year 2014 - Brand
Winner: The Coca-Cola Company
Campaign Name: Coca-Cola Journey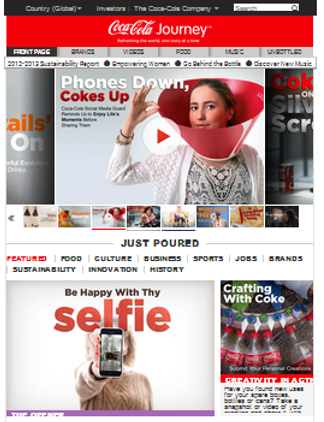 The decision to tear down its corporate website and rebrand it as a digital magazine was an enormous risk, but one that has paid huge dividends for Coca-Cola.

In 2012, the soft-drinks giant recognized a sudden shift in the digital landscape as consumers searched for ways to engage companies via digital platforms.

Coke spotted this gap in the market and went about transforming it's old-school corporate website into a modern-day, engaging digital magazine filled with brand-created stories that resonate with audiences and compelling, shareable news that underscored Coke's values and business goals.

Since its launch in late 2012, Coca-Cola Journey's editorial team has published more than 1,200 articles from over 350 different authors, launched nine content verticals and editorial packages, featured 6,800 videos driving more than 330,000 views, and posted more than 11,000 images to help tell Coke's story.

The new site has been a major hit with consumers as data shows readers voted for more Coke-focused stories than unbranded content and gravitated to stories that focused on the company's rich heritage, innovation, careers, and marketing programs.

Results have been staggering. The website recorded a 15% increase in unique visitors and a 140% uptick in video page views.

By listening to consumer responses, the website has also been updated and the team recently launched The Opener, an exclusive, invite-only contributor network that brings the best food, culture, and innovation writing to the site.

Social results have also been impressive. Journey content is syndicated through Coke's corporate social networks, which are growing at greater than 100% year over year.

Click here to see a full list of The Hubbies winners on The Hub.