As the dizzying popularity of the gaming app Candy Crush Saga attests, mobile gaming is having its moment, as consumers spend an increasing portion of their time being entertained by smartphones and tablets.
In the two years since Zynga's IPO, the investment community has honed in on the sector once again. King, the publisher behind the highly addictive candy puzzle game, unveiled plans to go public. Kabam, a newer player in the video game market, is also considering an IPO and is racking up column inches as it enjoys rapid growth.
For Steve Swasey, Kabam's VP and head of global corporate communications, the company was a promising prospect to land at following his time in a corporate communications role at Netflix.
2012-present
Kabam, VP, head of global corporate communications
2005-2012
Netflix, VP, corporate communications
1999-2005
PeopleSoft, director of corporate communications
1996-1999
Tri Valley Growers, director of PR and public affairs
1995-1996
E & J Gallo Winery, director of PR
1987-1995
Ketchum, VP, management supervisor
Kabam makes high-quality strategy games that can be played across multiple platforms, including iOS, Android, and Facebook. It targets the same audience of gamers as console makers, rather than casual ones who play FarmVille or Candy Crush.
Kingdoms of Camelot, which is now a $250 million franchise, is the most successful game in Kabam's repertoire, riding high at the top of the iTunes and Android app charts. Kabam also produces games based on major movies, such as The Hobbit, through licensing deals with movie studios.
Like King, Kabam's business is built on a freemium model that allows users to play games for free or pay to upgrade.
Swasey says building awareness and an understanding of Kabam's business model among investors and the media is one of the greatest challenges he faces.
"Whenever I explain it, I say that Kabam is not unlike LinkedIn, Dropbox, or Skype, which are all freemium models," he says.
He also uses a comparison to major league sports, explaining that sports fans can watch or listen to their team play on TV or radio for free, or chose to buy a season ticket or upgrade to a luxury box. Because fans control how much money they choose to spend, the notion of "you get what you pay for" is turned on its head, Swasey adds.
"Free now has value," he explains.
Launching Fast & Furious
Kabam introduced its Fast and Furious 6 game at the movie's world premier in London in May 2013.
Swasey sat at a kiosk at the front door of the movie theater with the game playing on a big screen TV for attendees to play through iPads. "It was a seminal moment for us, merging a movie and game and to be at the world premiere," he says.
Cast members played it, including actress Gina Carano. NBCUniversal vice chairman Ron Meyer also checked it out.
"Everybody just loved it – they thought it was a console game at first because the graphics were so good," he recalls. The game is also one of Swasey's favorites.
Sustainable growth?
News of King's IPO, and that it made $1.88 billion in 2013 with $568 million in profits, has led pundits to question whether this growth will be sustainable.
"King has got a good model and has been around for a long time," says Swasey, who adds Kabam is paying "close attention" to King's forthcoming IPO.
Kabam's user base is more than 60 million in about 100 countries. Swasey says one-in-10 Kabam users pay for games, but declined to reveal the average spend or range.
While Swasey is bullish on the company's growth, the gaming industry has proven to be extremely volatile in recent years, as played out by Zynga, the social gaming company behind the wildly popular FarmVille and Mafia Wars. After listing at the end of 2011, Zynga's revenue fell and last year it was forced to reduce its workforce by 18% to pre-IPO levels.
Kabam, like Zynga, started out making games purely for Facebook, but rapidly diversified its platforms and now generates 70% of its revenue outside Facebook.
"Other companies create games that rise and fall," Swasey says. "That is the huge difference between a company like Kabam and a hits-driven company – our games have a deeper level of engagement that are played over time repeatedly. The industry focuses on Zynga because it is the only compare, so when King goes public that will be another data point investors have."
While Kabam's board is "seriously considering" an IPO, it has not indicated a timeframe. Swasey says the framework for listing is based on these factors being aligned: market, investor, and company readiness.
Despite being private, Swasey lobbied for Kabam to reveal its revenues to the public. It made $360 million in gross revenue in 2013, doubling results from the previous year. In 2012, revenue grew 70%.
"I was astonished at the progress of the company," he explains, "so why not announce revenues if we wanted to be perceived as a leading company?"
A report in The Wall Street Journal in January revealed that the news of Kabam's figures even caused Zynga's stock to bounce.
"I walked into the COO's office and said, 'This is a leading company because we have caused a public company's valuation to increase,'" says Swasey. "That was a pivotal moment for Kabam and me personally."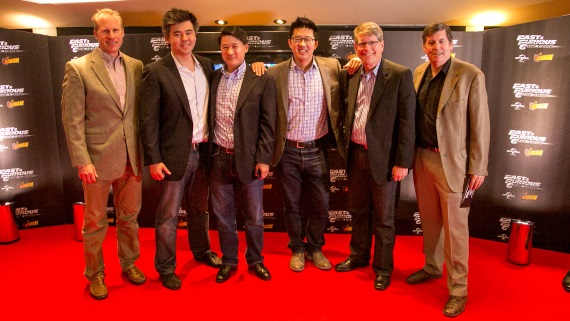 Versatile comms team
Swasey runs a lean communications operation. The 750-person company is mainly comprised of engineers and corporate communications is a team of three. Swasey, who reports to the COO and sits on the C-team, draws comparisons to the early days of Netflix, which he joined in 2005 as the second hire on the corporate communications team, before the brand had risen to prominence.
"What we did at Netflix is very similar to what I am doing here because the company is similar. It is a consumer service that is enjoyed over the Internet," he says. "So we have to influence the influencers to tell the narrative of the brand."
Swasey's communications strategy uses thought leadership and media outreach to help tell the story.
"We don't have a lot of money or the luxury of time, so we have to focus on the most strategic opinion-leading media," he adds. These include The New York Times, The Wall Street Journal, and the Associated Press, among others on the corporate side, as well as consumer gaming press.
Kabam's cofounder and CEO Kevin Chou is "outstanding" with the media, enthuses Swasey. Chou and Swasey have already completed media tours together in London and Asia, working with Bite Communications on a project basis.
Chou "absolutely nailed it," says Swasey.
The CEO notes Swasey's "highly effective" thought-leadership program, which has seen Chou become a frequent contributor to Fortune, Wired, and Forbes.
"Steve's strategic focus from the start was to establish the company's reputation as a disruptor and leader in the entertainment industry, even when Kabam was little known," explains Chou. "He has hired smart managers and contractors to implement his vision for communications."
Before Swasey came across Kabam, he was on the lookout for a tech CEO building something unique. He wanted to work at a company where communications had a central role and a close strategic relationship with the CEO, as he had with Reed Hastings at Netflix. This made Kabam the perfect fit.
Plus, he is a bona fide gamer himself, owning "every console known to man."
Ken Ross, former head of corporate communications at Netflix, hired Swasey and built the brand with him.
"Steve is the Clark Kent of PR – beneath that mild-mannered exterior is the heart and ferocity of a superhero," says Ross. "He's smart, sees the big picture, and he's indefatigable. Steve helped usher Netflix into the big leagues, and I expect he will be instrumental in the same regard at Kabam."
In 2011, Netflix hit a rough patch, when the company experienced consumer backlash and a drop in user numbers due to price changes. Swasey said his role after that became about defending, responding, and maintaining the brand. The move to Kabam meant getting back to brand building.
During this "turbulent time" Swasey learned an important lesson in crisis communications: "Tell the truth and quickly."
In effect, Netflix is a competitor of Kabam, since Kabam is also an entertainment company that demands consumers' time. While the company publishes high-end games, console titans – Sony, Nintendo, and Microsoft's Xbox – pose less of a threat. In fact, Swasey believes the eighth generation of consoles will be the last.
"My son has an Xbox, a PS3, and a Wii, but he is on his iPhone playing free-to-play strategy games four times as much as on his consoles," says Swasey. "That is indicative of consumers buying smartphones that have as much processing power and graphics as good as consoles. The added benefit of smartphones is that they are with you all the time. You can't play your console on the bus."
Last December, Kabam announced it would sponsor the field at the California Memorial Stadium at the University of California at Berkeley, in a 15-year deal reported to be worth $18 million, making it the largest-field naming rights deal in the history of US college sports.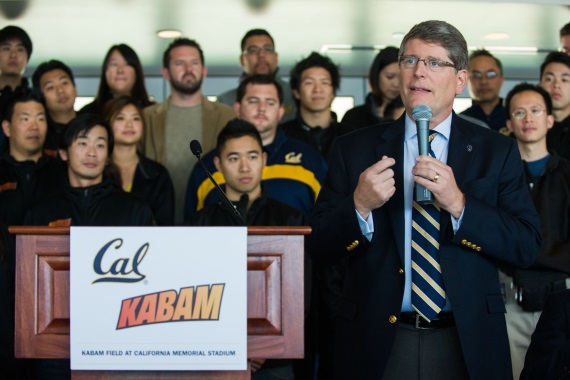 "It was a good opportunity to partner with the world's leading public university, from which Kabam's cofounders and 10% of its San Francisco-based staffers earned degrees," says Swasey.
The Cal-Kabam partnership is about more than putting the Kabam logo on the 25-yard-line, he explains. It includes an intern program for Cal students, executive speaking engagements, and a contribution to the university library, among others.
Developments in Asia
As well as developing its own – and movie game – franchise, another pillar of Kabam's business is in third-party games publishing, driven mainly out of China.
Kabam has 250 people in its Beijing studio where it makes most of its games, but is actively engaging the developer community in Asia. The company will also open an office in Seoul, South Korea in April.
"Japan and China are rife with tremendous developers, but they don't tend to make their games available to Western audiences," he says. "We're partnering with Asian companies to bring their games here."
Since Kabam does not advertise, the publishing and business development teams in the region rely on communications to get the message out through media outreach.
Next on the agenda for Swasey will be the rollout of a new logo, which is part of a rebrand. He also plans to build social media, which currently does not have a function.
While the gaming industry has proven turbulent in recent years, consumer appetite is not abating and Swasey is passionate about using communications to spur the business on as it heads toward an IPO.
"The big thing is to make an impact and make the company a success," he says. "Like great leaders – you need to live in the future and pull people into it."