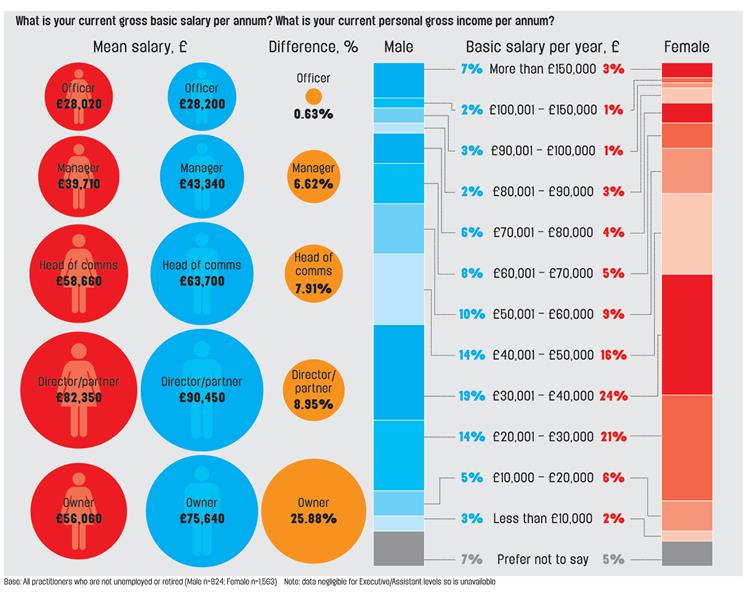 The CIPR State of the Profession survey found the mean salary for a male PR practitioner is £56,840, dropping to £44,450 for females - meaning the average PR wage for men is a worrying 28 per cent higher than women in the industry receive.
There are obviously mitigating factors to those averages, primarily that a far higher proportion of women in the industry work in more junior roles. Women's pay is more focused than men's in both the £20-30k bracket (21 per cent compared with 14 per cent) and £30k-£40k (24 per cent compared with 19 per cent).
But the unavoidable truth remains that men earn more than women in equivalent positions and this trend intensifies the higher up the industry you go.
At the highest end of the pay scale, men are more than twice as likely as women to earn more than £150,000 (seven per cent compared with three per cent respectively) and male owners of businesses are typically paid over 25 per cent more than their female counterparts.
Once again, there are a few equivocations to take into account. Firstly, it is encouraging that the pay gap at a junior level is negligible, suggesting there is now little endemic gender bias in terms of entry-level pay.
Secondly, there is no doubt the gender split is not equal across PR sectors and men disproportionately dominate the typically highest paying areas of the industry such as City PR. This trend is clearly a problem in itself, but it means comparing a financial
PR director's pay with a consumer director is not comparing like with like.
And obviously any study like this is impacted by life choices and the higher proportion of females who take time out of the industry for family reasons.
Nevertheless, disparities in pay at director of comms level has to be a concern – it is particularly dispiriting that the pay disparity is clear in an industry which is, in terms of pure numbers, dominated by females.
It might well be that women are not necessarily attracted to the industry's highest paying roles, but the industry must ask itself why this continues to be the case.
PRWmentoring14