Any of us applying for a British passport will be familiar with the list of trustworthy professions in which an honourable soul can countersign documents.
Lawyers, accountants, teachers, chiropodists, funeral directors and even journalists are deemed of such social standing that committing a falsehood would be inconceivable to them.
This is what the outside world sees as the UK's true professional callings. And public relations does not make the cut.
So what, then, does that make PR and comms? A trade, perhaps? An endeavour? An art?
Does anyone really care whether PR is a profession or not? It seems from the responses to the CIPR's industry-wide State of the Profession survey that the answer is a resounding "yes".
In total, 94 per cent of the 2,531 PR operators quizzed said being considered a professional was important to them, with a huge 72 per cent of those asked saying they felt strongly about the issue.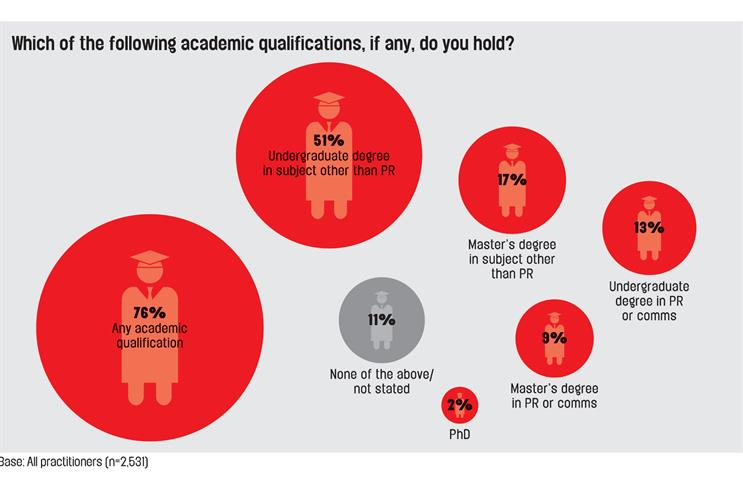 Identity crisis
There is little doubt PR has grown up as an industry in recent years – in terms of its influence within boardrooms, the breadth of the industry's services and reach and the sheer size of the market.
The trouble is that the industry seems less sure what it is actually growing into.
It appears that PR is gripped by a cognitive dissonance – industry participants desperately want to be seen as professionals, but their actions, practices and philosophies show little connection to what typically constitutes professionalism.
Definitions of professionalism vary widely, but generally speaking professions are characterised by specialist formal qualifications that are certified by a recognised body.
In other words, true professions have barriers to entry.
However, what we find in PR are fairly low levels of specialist qualifications, moderate levels of general qualifications and an industry that prioritises experience over training at almost every level.
Fewer than half of respondents to the CIPR's study (which includes around 30 per cent of non-CIPR members) had any kind of professional qualification, while only around three-quarters had any academic qualification at all.
This lack of emphasis on certified qualifications is clearly evidenced by the qualities listed by res­pondents as most important for PR professionals to have. Experience was judged the most important factor by 68 per cent, while just 12 per cent said the same for professional qualifications.
Such qualifications were generally prioritised above other academic achievements, but can an industry where fewer than half are qualified practitioners truly be a profession?
There would probably be fewer willing entrants to the operating theatre if the odds of getting a qualified surgeon were slightly worse than tossing a coin. Even football managers are required to pass courses before they can run a team these days.
What is more, this lack of the trappings of professionalism is exacerbated by recruitment practices across all levels of the industry.
Respondents said their organisations demanded PR experience for both junior and senior positions (45 per cent and 64 per cent respectively), but just 23 per cent said their organisation required professional qualifications for senior roles and only eight per cent said the same for junior positions.
Similarly, fewer than one in five said their firm required membership of a professional body when recruiting senior operators, dropping to just five per cent for junior roles.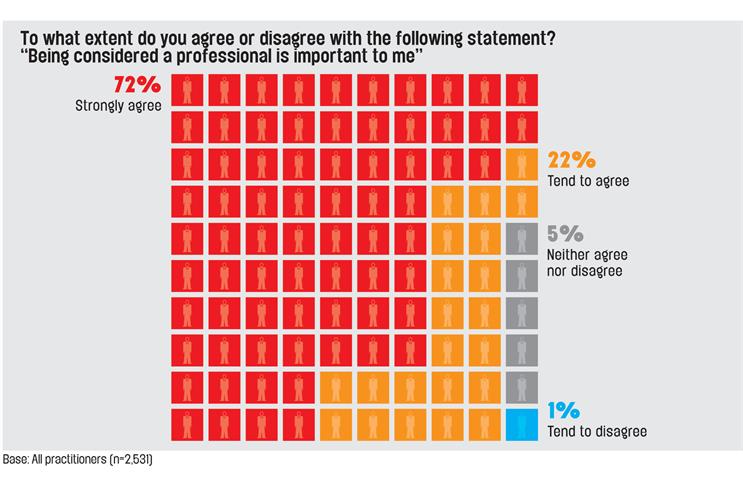 Also potentially of concern is that only 35 per cent of respondents said they saw PR as a job for life. These results need to be treated with some caution, given that some other responses (such as the 18 per cent who wanted to run their own company) do not preclude remaining in the industry. But the proportion committed to PR for the rest of their careers seems lower than you would expect to find in other professional walks of life.
The obvious response to all this may well be "so what?" But if people in the industry want to be considered professionals, they need to act as professionals. It may be that by 'professional', they mean to be seen as competent and ethical. In that case, however, recognised industry standards and adh­ering to a widely accepted code of conduct is still a vital step – and a step that many have yet to take.
Additionally, external views of the gravitas of the industry do matter for those who look to offer businesses senior advisory services to sit alongside the other professional services.
If reputation advisers are to sit comfortably alongside those offering management consultancy, tax, legal or risk management services, being viewed as a gifted amateur relying on good instincts and contacts is not going to
There is, though, a flipside to any drive to professionalise the industry. PR cannot be a true profession without erecting barriers to entry, and barriers cannot be erected without potentially impacting efforts to increase the breadth of backgrounds of candidates attracted to the industry.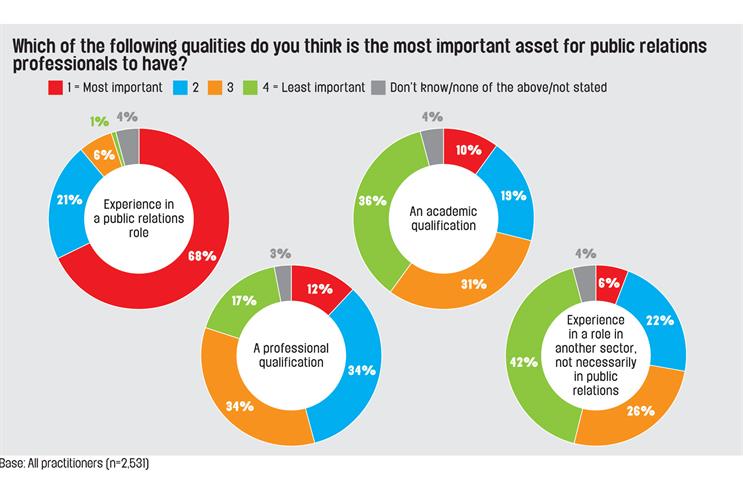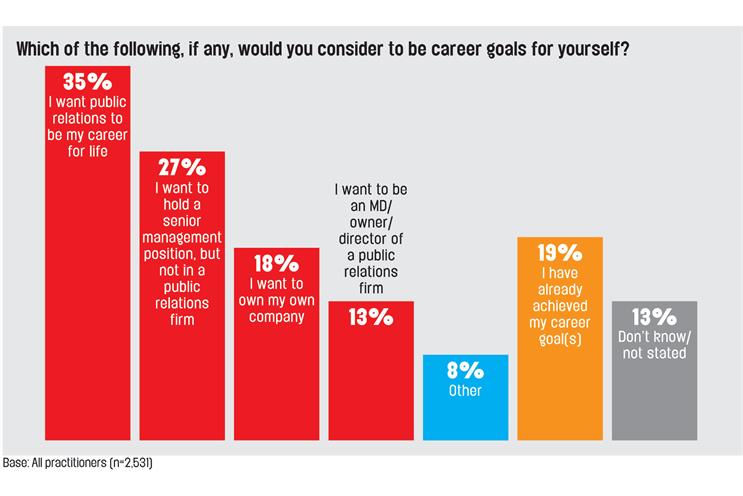 The diversity dilemma
Both the CIPR research and the recent PRCA/PRWeek PR Census found significant under-representation in terms of ethnicity and social diversity. It must be a genuine concern that taking a more regimented view of recruitment and candidates' capabilities could put off the very people the industry is desperate to attract (incidentally, that only half of the industry felt campaigns could be more successful if teams were ethnically diverse does not bode well for addressing this imbalance).
With creativity becoming one of the great battlegrounds both within the industry and in terms of PR's standing against the other marketing disciplines, perhaps the more structured world of traditional professions is not what PR should be aping. Many of the industry's top practitioners recount almost falling into PR because they found they had a particular aptitude for it – very few people 'fall into' law or accountancy – and some forcefully argue the PR industry is better for it.
Ultimately, the future of PR's position in business and society is yet to be written. PR is rising as a discipline, while external views of the industry often remain less than flattering. The direction of the industry is in the hands of those who practise it. Those in senior roles have the opportunity to mandate certain standards, and those newer to the industry can ensure they are relentlessly focused on professional improvement. If PR wants to be taken seriously, it needs to start taking itself seriously.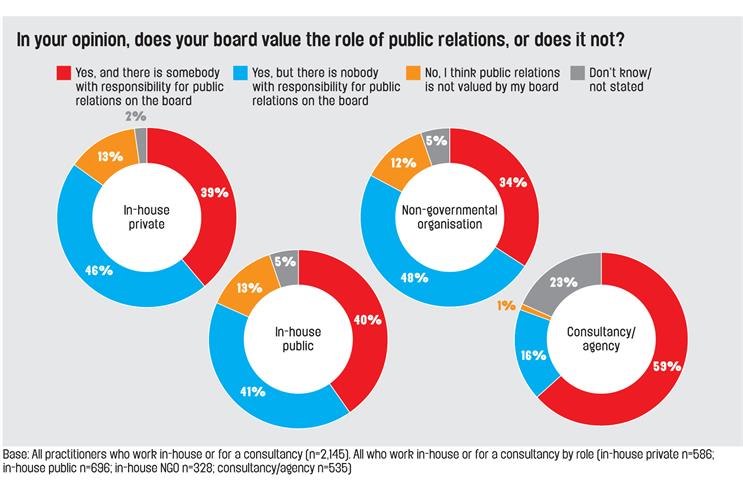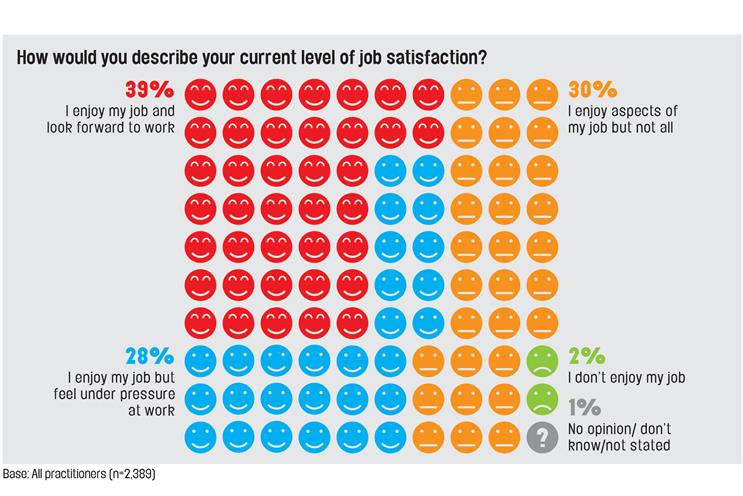 A challenge and an opportunity for us to professionalise PR
By Stephen Waddington, CIPR president
This is a great story for the future of the profession. There is a terrific opportunity in the PR business for anyone willing to embrace change.
More than nine out of ten of you say being considered a professional is important. My challenge to you is: how serious are you about putting this into practice?
Professionalism is more than box ticking and abiding by a code of practice. In this business, as skills continue to change, and our responsibilities continue to grow, each and every individual must accept responsibility for their own professional development.
These results show CIPR members who have a positive attitude to self-improvement and proactively manage their careers are ahead at every stage.
I can show a direct and ongoing correlation between my skills and income. To me, there is no clearer value in pursuing this agenda.
As social forms of media and comms impact upon every department within an organisation, we must grab the opportunity to lead that dialogue.
In this climate, developing our own set of rigorous professional standards has never been more important, but we need wholesale commitment for this to succeed.
Embracing all facets of professionalism will also bring about a fundamental change in how PR practitioners are perceived.
Without a shift to professionalism, the reputation of PR will continue to suffer. We're all judged at a bar set by the lowest common denominator, often by those without any foundation knowledge. This must change. We must accept that in order to be considered as a contender for the board, PR must be practised by those who candidly embrace principles of ethics and morality, as well as technical skill.
Only by taking this agenda seriously will we develop an identity and thrive as a professional discipline of our own.
For a breakdown of industry pay differentials between men and women in PR, click here.
The 2014 CIPR State of the Profession report methodology:
ComRes interviewed 2,531 PR professionals online between 25 October and 6 December 2013. ComRes is a member of the British Polling Council and abides by its rules. The survey was conducted according to the Code of Conduct of the Market Research Society.
Not all percentages add up to 100 due to rounding up or down