It's just a shame the photographer had to capture the moment when the baked beans on toast she had for breakfast came back with a vengeance. Guess which way the wind is blowing? Despicable, Sophia, despicable...
Culinary competitiveness at Cirkle PR took to new levels as staff at the agency launched their own version of the Great British Bake Off. An early scrap involving spatulas aside, all was going well until, in an effort to impress, one over-zealous account director staged an audacious group kidnap of the programme's judges. 15 Victoria sponges later, and there were signs of cracking and more than one soggy bottom. Just smile and keep on eating guys, S&E will break you free somehow...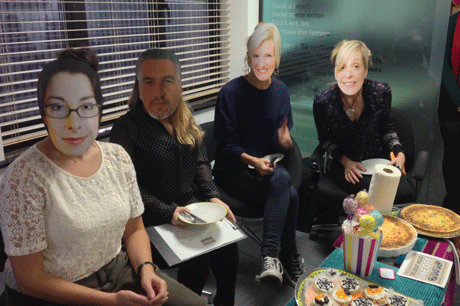 Tilting their heads back and laughing manically in the face of Movember, the guys at Bump PR donned taches just because they could, thereby inadvertently creating Moanuary. The name may not exactly roll off the tongue, but expect it to spawn further imitators. Basically, in a few months time moustache-sporting will be permanent and enforceable by law. You have been warned.