If the UK's largest men's cancer charity has any luck, you will already know about its new Men United campaign before reading this piece.
If you do, it is probably a result of the efforts of its six-strong and mainly female PR team, which ran an embargoed press launch yesterday (below) and a broadcast drive this morning.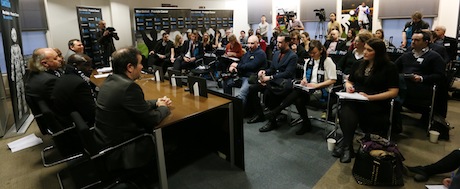 And if you do not, expect to soon, as Francis has marshalled an extensive advertising campaign featuring Bill Bailey that hits TV tomorrow.

Existing supporters will recognise the "part troll" comedian from last year's 'Sledgehammer' campaign, which was an early milestone for the charity following its creation through a merger in 2012.

Bailey was at the launch yesterday and you can read his thoughts about being the charity's spokesman, fielding PR approaches and Twitter problems here.

It is clear the PR team feels lucky to have such a frontman – who, Francis hopes, may well be employed in a digital pub quiz fundraising effort later this year. But he is not the charity's only asset.

The ranks of celebrity supporters are growing, with Sir Michael Parkinson signing up last week in addition to 'Homeland' actor Damian Lewis.

Such momentum gives Francis grounds to be confident as she contemplates the target of adding 30,000 new supporters in the first 12 months of the two-year Men United campaign.

The base she is building from is 10,000 volunteers, regular givers and ambassadors, but with partners such as the Football League (which hosted the launch) she is enthusiastic rather than daunted.

She also has a "healthy-sized" team of 25 people covering PR, marketing, design and digital and a not too shabby overall budget, which after probing she admits is "a few million pounds annually - less than five and more than two".

A little defensively, she explains: "The charity does believe in investing in communications because we have such a massive job to do."

According to its statistics the disease is killing 10,000 men in the UK every year and is on course to become the most common form of cancer by 2030.

However, it claims survival rates are below the European average and research is a decade behind other common cancers.

For Francis, this suggestion of injustice is the reason why prostate cancer is, or should be, a good story for journalists.

"PR is a hugely important part of what we do," she says, with the perspective of more than five years at the charity and its predecessor, which included the role of head of PR and media.

The charity's prompted awareness levels have climbed from seven per cent before the merger to 30 per cent. As a comparison, Breakthrough Breast Cancer, perhaps the closest equivalent, is on 44 per cent.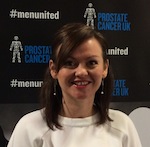 Francis (right) is now putting the accent on "proper engagement", ie converting awareness to donors, fundraisers, advocates and volunteers.

"We have a set advertising spend but PR provides the amplification that gets dialogue started and adds credibility."

As the Men United name indicates, sport is the direction in which the charity is going, although, Francis is careful to say, not exclusively.
It recently hired a sports PR manager, Gary Haines, to build relationships with sport and sports media platforms. And the campaign's link between beating cancer and a sporting contest is clear in its tagline 'Men United vs prostate cancer. We can win this'.

Not by coincidence, the launch featured football-style scarves and appearances from ex-sportsmen Luther Blissett and Gladstone Small and the ad was filmed at Millwall FC.

The veterans have been called in not because the young bucks are too shy, but because the most at-risk age group is the over-50s.

Moreover, black men face double the risk. Alive to the power of soaps, the charity has talked to supporter Rudolph Walker, who plays Patrick Trueman in EastEnders, about the idea of a prostate cancer storyline, though nothing is in train yet.

Nevertheless, it is a reasonable bet that the growing public awareness of the disease's prevalence will produce one soon, and the charity is in the right position to engage with it.

Such is the assurance it now has in its relevance to men that Francis boldly claims: "In terms of communications we're almost in a unique position… we could expand into men's health if we wanted to."