Turnover is vanity, profit is sanity, so the saying goes. And when it comes to measuring agency performance, it seems the PR industry is vainer than most. Agencies are widely compared by revenue growth and new business is breathlessly talked of in terms of bumper fees.
But rarely does the conversation centre on how much money is actually made. So why isn't profitability and profit margin – the ratio of profit to turnover – at the heart of debate about performance?
Maybe it is because margin is such a tricky area in which to get accurate data at an agency level and what data there is can be wildly divergent.
In PRWeek's pages last month Agency People's Richard Houghton put average industry margins at just over ten per cent – drastically down on the 15 to 20 per cent margin a well-run agency should have.
But previous studies by the PRCA and CIPR put margins in the high teens and PRWeek's study of the profit data supplied by a number of PRWeek's Top 150 agencies in June 2013 put average weighted margins at 17 per cent. The picture is confused.
Perhaps the most reliable guide to profitability across the industry is filed accounts at Companies House, which accountancy firm Kingston Smith W1 has examined for its November 2013 report on the performance of the top 40 PR consultancies.
Even here there are comparative difficulties. For instance the UK arms of large groups can legitimately have their Companies House results somewhat distorted by group-level accounting measures.
"Accounting is an art as much as a science at times," notes RealWire CEO Adam Parker. "The profit that a company files can be impacted by a number of factors such as expectation of future events or areas like tax planning."
Also talk of average profit margins can be misleading given the vast disparities between agencies. The Kingston Smith data (primarily looking at filed accounts for year end 2012) ranges between margins of almost 45 per cent (consumer agency Frank) and minus 24 per cent (corporate and financial agency Kreab Gavin Anderson).
But the Kingston Smith trend data going back over a decade does point to recovery after the recession. Average margins rose to more than 16 per cent pre-recession, before falling to 12.5 per cent and now continuing an upwards curve to 14.2 per cent.
Kingston Smith W1 partner Esther Carder says that the pre-recession peak can now be considered "an anomaly", though some of the factors that drove that margin growth, such as PR agencies moving up the food chain with clients, still exist.
Carder says that the upwards trajectory since 2011 has been "mostly driven by agencies getting more efficient" and that most agencies had "spent post-2008 trimming back as much as they can".
Cutting overheads is one thing; cutting back staffing costs is quite another. "We've been in a period where revenue growth has struggled, so cost is the key element," says Bobby Morse, senior partner at WPP-owned City agency Buchanan, which has maintained 20 per cent margins. "As the recession has bitten we have all had to take a bit of pain to ensure costs haven't risen."
Although few agencies have embarked on wholesale redundancy programmes, costs have been constrained by not replacing departing staff, managed downscaling and constraints on executive pay.
Kingston Smith found that overall staffing costs rose by just 2.3 per cent in 2012, but that was impacted by a 10.7 per cent drop in directors' pay. Perhaps we are all in it together after all.
It is clear staff costs are crucial – there is an obvious correlation between agencies that have kept a rein on their wages to turnover ratio and those that have maintained strong margins.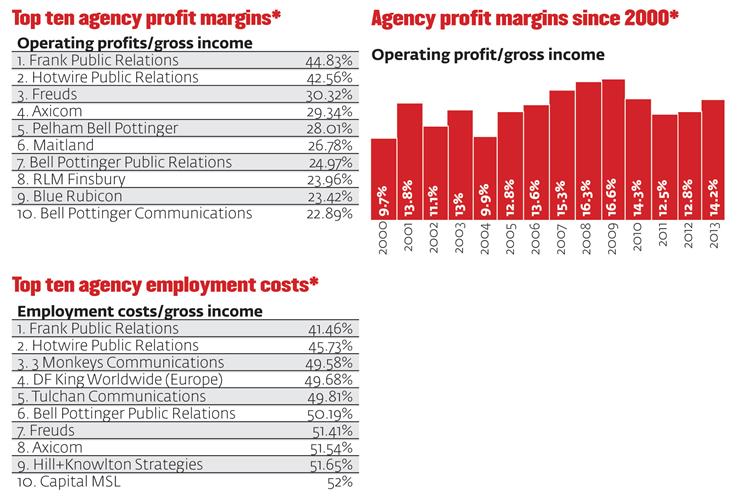 Much like in another people business, the football industry, those that let their wage bills spin out of control can achieve plenty of victories, but they will never make any money while doing it. Also like football, too many PR agencies (more than half in the Kingston Smith sample) are on the wrong side of the 60 per cent wages/turnover watermark.
''You've got a perfect storm," says Matt Neale, international president of GolinHarris. "There is fierce competition in the market and salary costs are going higher for the best people; meanwhile procurement is growing in strength so you're having to work harder for fees. It's probably been one of the more challenging environments in years."
So how to stand up to these intensifying pressures? Frank chairman Graham Goodkind nods towards the interminable industry issue of over-servicing (explored in PRWeek's November 2013 edition) when identifying business model inefficiency as a prime culprit.
Arguing that many agencies could strip out "25 per cent of admin time" by streamlining overcomplicated agency processes and overly tiered structures, he also lays into the "time sheet-based running of businesses" as encouraging inefficiency.
"Over-servicing is the bane of the industry," he says. "As long as you exceed client expectation why do they care if the work has taken ten hours or 100 hours? It should always be about the results."
Another key factor in boosting margins is not to become a volume business and instead concentrate on adding value – whether that be creativity or senior counsel. Morse notes that Buchanan has concentrated on shifting its client base to "larger, better and more international clients prepared to pay market rate" rather than a high volume of smaller companies.
It is largely due to this ability to work for large companies and offer consultancy services to the boardroom (therefore bypassing the dreaded procurement) that the top of margin lists is dominated by City agencies and others that offer strategic counsel rather than more commoditised work.
Agencies are also facing downward pressure on retainer fees and an increase in project work. While this trend is not helpful for financial planning, Goodkind argues that agencies can embrace more project-based work to benefit margins: "Retained client work is nice and safe, but from a profitability point of view clients will usually pay more when they have an urgent need for a short-term project."
He also argues that the increasingly competitive market for talent can be mitigated by investing in young people and growing your own talent: "Alan Hansen said you win nothing with kids – I disagree. If they're good enough, they're old enough."
However, it is important to note that maximising profitability is not necessarily a priority for all businesses as different firms have very different business plans.
Some of the businesses with the healthiest margins are understood to be in earn-out periods after a sale, were leading up to a sale event in 2012 (including Blue Rubicon and Bell Pottinger) or are still rumoured to be open to sale.
"The figures tell a certain story depending on the objective of the business," says GolinHarris' Neale. "An agency with a long-term growth strategy might be quite happy to invest in infrastructure or staff with a view to building a decent margin in five years."
Indeed he notes that the idea of the higher the margin the better can also be flawed: "You don't want to have a margin that is unsustainable at the bottom end or the top end. A high margin achieved by killing your staff or screwing over your clients just isn't going to lead to sustainable growth."
The "perfect storm" to which Neale refers shows little sign of abating. In fact the pressure on margins may be intensifying.
WPP and Hunstworth both split out their PR performance in their results announcements, and both have seen tightening margins in 2013 compared with 2012 – WPP saw first-half PR margins drop to 13 per cent from 13.5 per cent year-on-year, while Hunstworth saw margins down to 14 per cent from 15.5 per cent. Though these results are global (the UK is said to be only behind the US in terms of margin), they suggest it is not getting any easier to make money.
"The industry will have done well to hold margins at 14 per cent in 2013," Carder says, pointing to the post-recession talent shortage and digital revolution putting pressure on wages, and rising property prices. "It is a new and more difficult world we live in and it will be like this for a long time, if not ever."
There will, though, continue to be huge disparities in profitability with some adapting to this new world more successfully than others. This points to a dynamic marketplace with a fierce battle for market share. Those who have not adapted their business models to service higher margin work since 2008 will inevitably get left behind.
The recession may be over, but the need for belt tightening certainly isn't.
*Figures from Kingston Smith W1's Financial Performance of Marketing Services Companies annual survey