"Any idiot could make money, and did make money," recalls one senior City PR player of the heady pre-crash period when the deals flowed as freely as the Champagne with which they were toasted.
The UK's financial PR agencies rode this wave of debt-driven deal-making to build globally renowned businesses, with margins, growth and salaries dwarfing the rest of the industry.
Then came the crash and five barren years of sporadic to non-existent M&A and new listings, depriving the sector of the lifeblood underpinning its business models. By some estimates City firms relied on deal-related project fees for up to 75 per cent of revenues – a stream that collapsed almost overnight in 2008.
Now, it seems, the deals are coming back. New listings in London so far this year have raised more than £17bn (compared with under £3bn in the whole of 2012) and global M&A was up around 13 per cent year-on-year in the first half of this year.
So back to business as usual? Unfortunately not.
That's not to say transaction-related projects are any less lucrative. Since changes to UK takeover rules in 2011, deals targeting UK-listed companies have had to disclose PR fees for the buying firm and selling firm, and evidence suggests fees have held up.
While significant disparity exists, PR firms can still earn large six-figure fees for big ticket deals. Earlier this year RLM Finsbury picked up £400,000 working on Schneider Electric's acquisition of UK firm Invensys, while FTI Consulting also made £400,000 from the takeover of UK-listed miner Eurasian Natural Resources Corporation.
Those deals were largely uncontested, but for a more complex situation the fees can escalate still further. Xstrata's 2012 merger with Glencore is a case in point, with Xstrata paying StockWell and Aura Financial "between £800k and £2.8m" as investors initially resisted the deal.
But agencies are no longer able to base their business models on these bumper fees, and margins and revenues have shrunk accordingly across the industry.
An exhaustive comparison of City PR performance is problematic (not least as the largest, Brunswick, is based in the US state of Delaware), but recent performances suggest life remains tough. For example, Citigate Dewe Rogerson recorded an 18.7 per cent revenue drop in 2012 (32 per cent below 2007 revenues), while RLM Finsbury saw a four per cent revenue decline in 2012 (ten per cent down on 2007).
Although the capital markets are dramatically improved this year, UK-related M&A remains a fraction of what it was during the pre-crisis era (see chart below).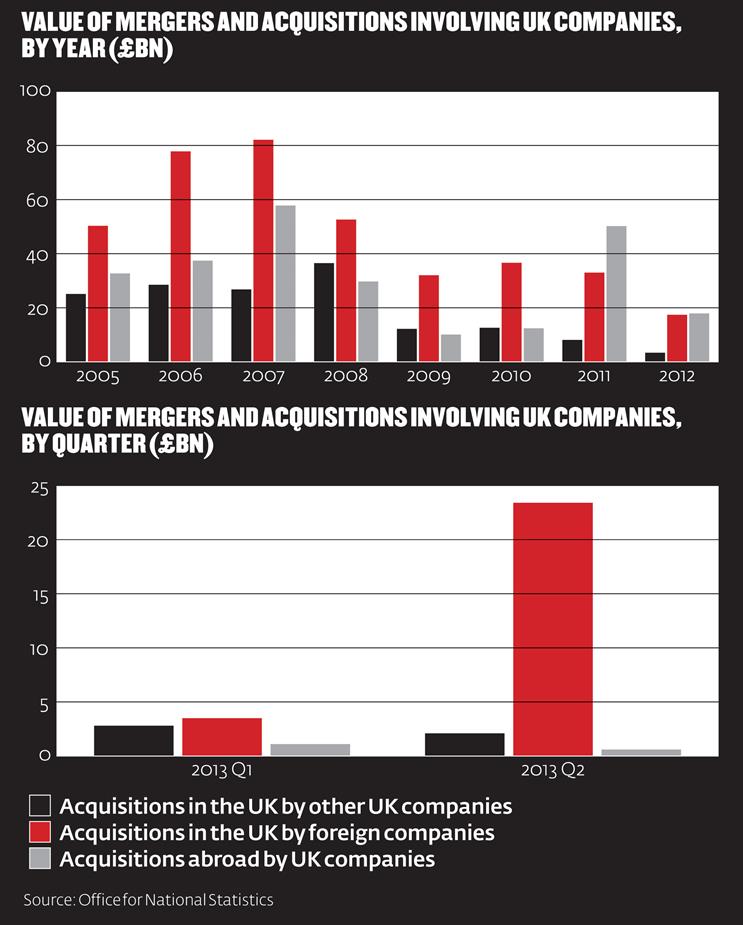 But more importantly, the very nature of financial PR work has changed since 2008 as clients are demanding a broader, more integrated offer.
"The days of financial PR firms just handling traditional financial calendar work and a few media meetings are long gone," says James Murgatroyd, managing partner of RLM Finsbury, one of London's two dominant City firms with Brunswick. "Businesses have moved on and the financial PR model has changed to become more about reputation management in the wider sense."
James Henderson, CEO of Bell Pottinger Private and founder of its financial arm Pelham, concurs: "CEOs no longer differentiate between financial PR and the overall reputational needs of their companies. Large FTSE businesses will still pay retainers, but they increasingly demand strategic advice across the whole spectrum of communications."
There is still a living to be made serving the traditional financial PR needs of smaller listed firms, but at the top of the industry clients want much more.
One of the key drivers of this trend is how the financial crisis turned business into front-page news that resonates far beyond the financial and investor community. "CEOs are now public figures who are publicly accountable," Henderson notes.
Secondly, the knowledge and seniority of in-house comms functions have risen significantly, with many firms taking consultancy talent in-house as the concept of reputation management becomes much more pressing.
"As in-house resources of big corporates get increasingly soph­isticated, the industry is having to reinvent itself all the time," says John Waples, head of FTI Consulting's strategic comms business in the UK.
Though retainers have come under pressure because of this boosted in-house resource, companies facing a time of particular stress still place significant financial value on reputation. "Some aspects of the business have become commoditised, but companies have never paid so much for valued comms advice," Waples notes.
Most of the truly lucrative comms projects undertaken over the past five years have been on these broader special situation issues – Brunswick's work on BP's Deepwater Horizon leak or Powers­court's support of News International through the hacking crisis, for example.
There are huge changes coming and the direction is now clear

Andrew Grant, founder, Tulchan comms
But many of these projects still have a "capital markets imperative" rather than work that calls for the targeting of the whole spectrum of stakeholders, as Lansons Communications founder Tony Langham points out.
Financial agencies are more likely to branch out on to the turf of public and governmental affairs, as the lines between politics and business continue to blur.
FTI, for example, was close to buying Portland before its eventual sale to Omnicom last year. Indeed, prweek.com reported last month that FTI was in advanced negotiations to acquire public affairs and thought leadership specialists TLG Partners (8 November). Meanwhile, Maitland integrated with Euro RSCG Apex Communications to launch Maitland Political in 2011.
''Increasingly the work we're seeing is either capital markets-based or politics-based," says Tulchan Communications' founder Andrew Grant, who last month hired his first regulatory affairs head. "CEOs are hugely sensitive to the prospect of appearing in front of a Treasury select committee, which is often car crash TV."
As well as beefing up political off­erings, agencies will continue to expand internationally. UK-founded City PR agencies now dominate the international scene, with Brunswick and FTI in particular boasting truly global networks. But even those agencies without boots on the ground in a multitude of jurisdictions are increasingly thinking globally, reflecting the internationalisation of global capital markets.
Since the downturn, a host of typically UK City stalwarts have spread their wings, notably Finsbury's merger with US agency RLM, and Pelham and Tulchan opening businesses in Singapore.
Traditional financial PR also remains highly valued by international firms that want to access UK investors and media, also suggesting international work will make up a higher proportion of City revenues in the future.
The elephant in the room for the City PR industry remains digital – and digital is the next great challenge with which the industry is yet to truly get to grips. The explosion of digital media has already changed the business by hugely accelerating the news cycle and broadening the reach of conversation around business issues, but there is broad agreement that financial comms has yet to fully embrace digital (as JPMorgan's recent Twitter debacle demonstrates).
"I don't think the industry has wreathed itself in glory when it comes to digital," says Philip Gawith, who co-founded StockWell to tap into the demand for strategic counsel. "There's no doubt it is an area of great insecurity for corporate affairs directors, but I am not sure they are getting all the comfort and advice they might want – and need."
The industry has, in part, been held back by the regulatory requirements and restrictions placed on financial disclosure. However, that could be set to change after the US Securities and Exchange Commission ruled earlier this year that social media were an appropriate method of investor communication, suggesting a step-change in investor comms is just around the corner.
"There are huge changes coming and the direction is now clear," Grant asserts. "Digital signals the death knell of the analyst presentation. We are going to start seeing more direct presentations and webcasts to a far wider audience using more video... We are all going to have a much broader set of relationships."
The era of financial PR relying on deal flows and having good relationships with journalists on the Sunday papers is well and truly over. The market is still changing, particularly in terms of digital channels and analytics. The winners over the next few years will be those that can demonstrate they add value through the depth and breadth of their offer, with digital set to be the new battleground.