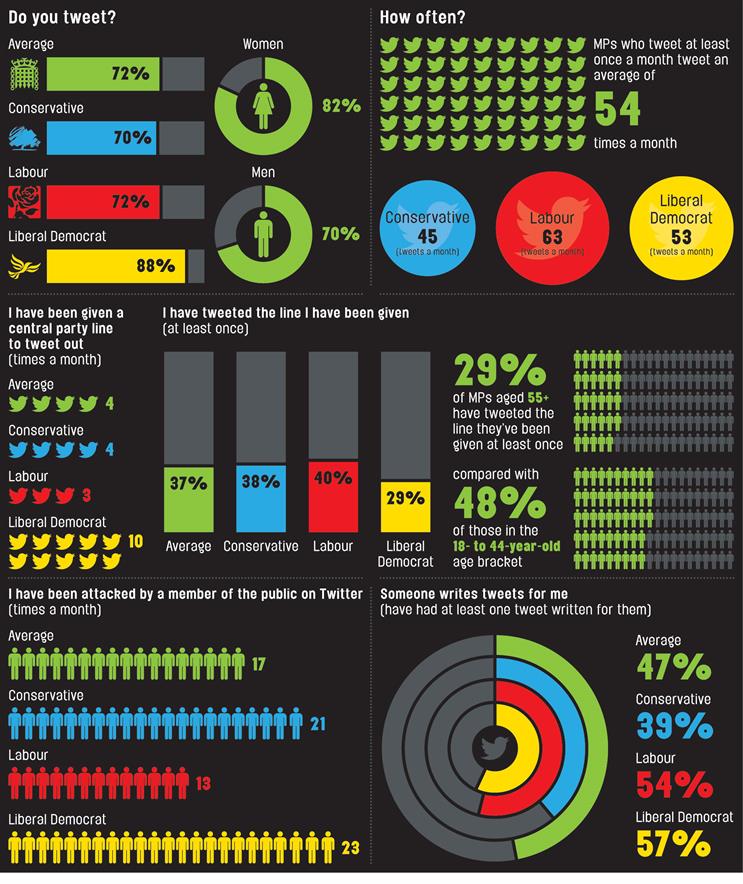 The Lib Dems have thrown themselves into the Twitter maelstrom - and have got the bruises to prove it. A survey by Populus sampling the habits of 132 MPs over the course of a month paints a picture in which centralised messaging is meeting resistance from increasingly social media-savvy politicians.
But while recent comms hires have seen Labour and the Conservatives strengthen their digital clout, the coalition's junior partners are pushiest when it comes to getting their parliamentarians tweeting.
Proportionally more Lib Dems use the social network. Of the party's sampled MPs, 88 per cent have been encouraged to tweet – 37 percentage points more than their closest rivals, the Tories.
The conflict between the party's idealist past and its pragmatic present is illustrated by the fact that the Lib Dems take the biggest kicking from the public.
The online abuse surpasses that aimed at the Tories, whose MPs seem to follow David Cameron's theory that "too many tweets might make a twat".
The Conservatives score lowest across most levels of Twitter engagement, despite the party's supposed influx of bright young things entering Parliament in 2010.
Could this be a sign that Labour, whose MPs tweet most often, may get traction on perpetuating the stereotype of the Tories as old school and aloof?
It remains to be seen. But it is safe to say the tension between the central party machine and MPs unwilling to toe the party line will ratchet up as the 2015 general election approaches.