PRWeek presents the key findings of the most up to date research on the UK PR industry.
The PR sector has not just survived recession and its unconfident, penny-pinching aftermath, it has positively thrived. Turnover has increased by a staggering 28 per cent since the last PRWeek/PRCA Census published in 2011, up from £7.5bn to £9.62bn.
Headcount is up from 61,600 to 62,000, which in context means that productivity per head has rocketed from £121,753, which was pretty impressive, to £155,162 per head. Meanwhile salaries have increased to an industry average of just under £54,000, up some £5,500 on two years ago.
Overall PR people are confident of an upturn in revenues and staffing numbers over the next two years, with 77 per cent of agency staff forecasting increased revenues and 76 per cent expecting a rise in head count, against 47 per cent of in-house PR professionals predicting revenue increases and 32 per cent expecting greater staff.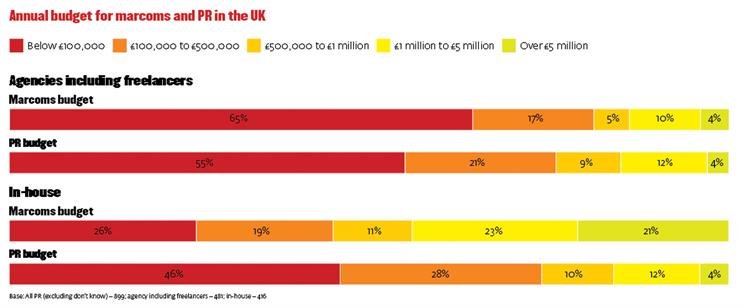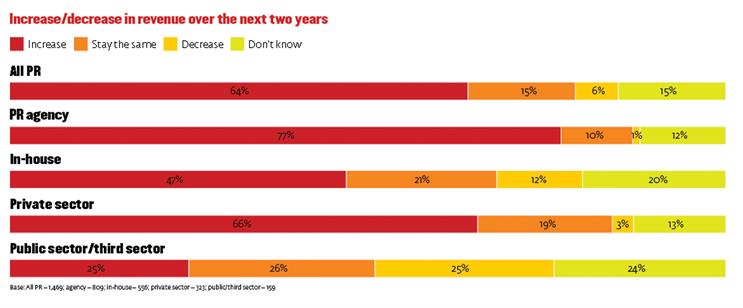 There's no doubt that the headlines are good, but beneath the top line there are issues – some of them serious in terms of the industry's future health.
The PR profession remains overwhelmingly white (91 per cent) and British (90 per cent); women significantly outnumber men in the rank and file (63 per cent female), but are massively outnumbered when it comes to board level gigs (29 per cent male/13 per cent female) and comms director jobs (12 per cent male/five per cent female).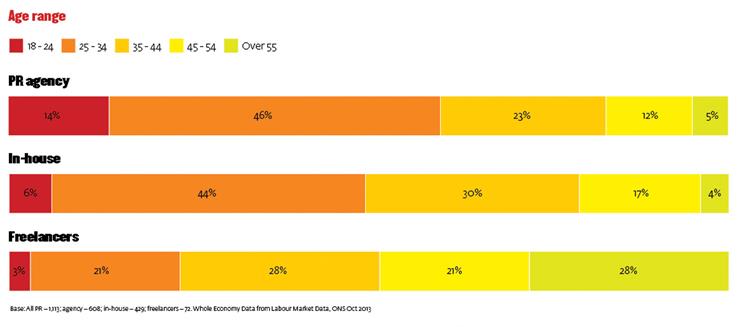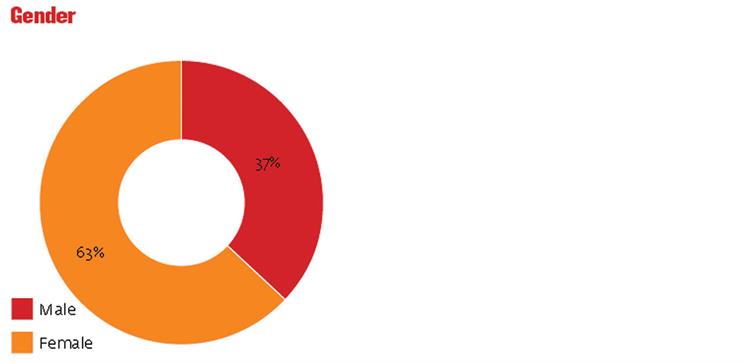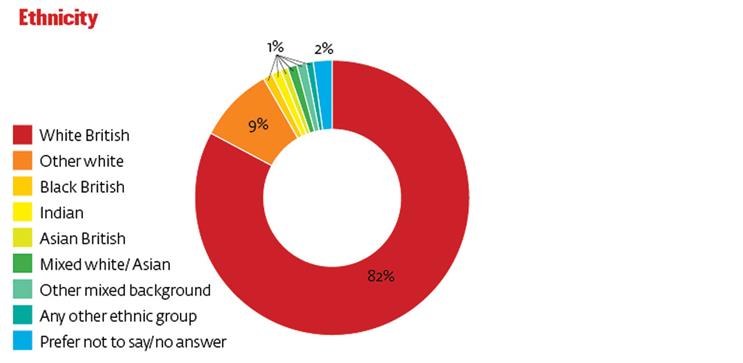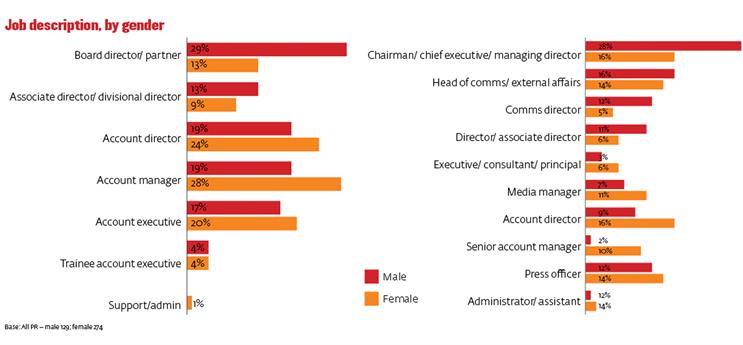 Those at board level have trousered huge salary increases (around £30,000 per annum) while the most junior in the profession are earning less than two years ago (£546 less per annum).
Then there's work/life balance – or lack thereof. Long hours are a given, with 41 per cent working 49 to 79 hours a week and 84 per cent of PR professionals making work-related calls or sending emails out of hours at least two days a week (54 per cent have to do it every day).
And pity the PR people in tech: four per cent work more than 79 hours a week. Yes, agency board directors are pretty well paid (mean of £105,545), but they have to graft for it with 71 per cent working at least 49 hours a week.
We may live in an always-on society – just the other day a senior industry figure was boasting that out of office messages are so outdated because "we're always on" – but that does not make it desirable, doable or sustainable in the long term. People with lives outside the office tend to perform better when they're inside it.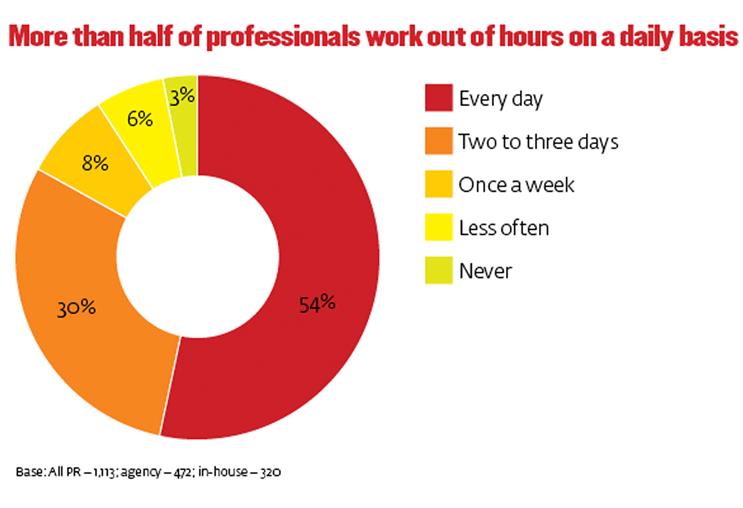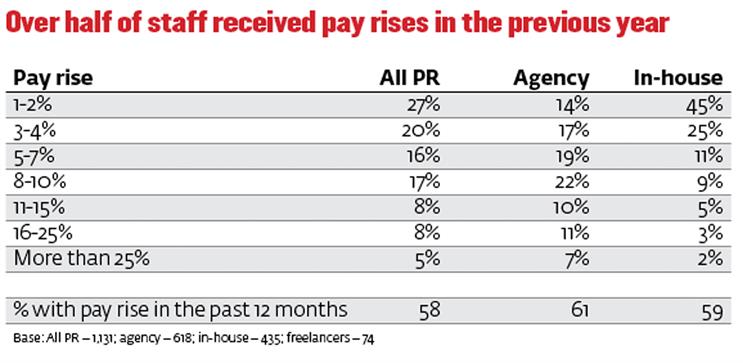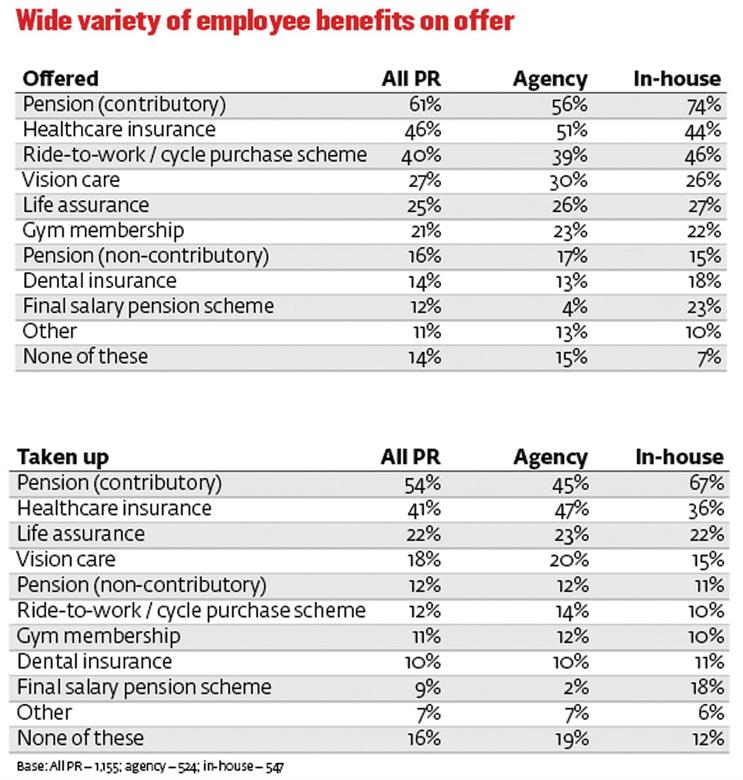 The same applies to diversity: how can the business possibly hope to understand the agenda of the broader populace if almost everyone is white, well educated (90 per cent educated to degree level or above) and, let's face it, middle class?
The broader the range of people working in PR, the better able the discipline is to engage with its many and varied audiences.
And another thing: a mere 35 per cent of the profession believes that there are adequate tools in place to measure the effectiveness of PR in terms of return on investment.
PR people tend to be a pretty upbeat lot – putting a positive spin on things is after all meat and drink to them – and there is much to be pleased about reading through the census results.
More than three-quarters of comms people attest that PR has grown in importance as part of the marketing mix, a conviction held more strongly agency side than client side. A further 56 per cent say the industry has gained in importance and credibility in the past five years, but only 40 per cent are happy with the business' reputation in the marketing community.
And there is a clear disparity between agency and in-house views on the question of how much value organisations attribute to PR, which suggests that gaining recognition remains a challenge for in-house PR professionals.
Headcount has risen over the past two years for 42 per cent of the profession, while 37 per cent have seen staffing decreases.
Agencies fared better than their in-house counterparts, with 53 per cent reporting headcount rises versus 23 per cent for in-house teams, which are statistically more likely to have seen numbers shrink – 38 per cent in-house versus a mere ten per cent agency side.
Looking forward, 57 per cent of all PR professionals expect PR employee numbers to grow in the next two years. When split, the ever-ebullient agency sector is extremely optimistic, with 76 per cent anticipating growth, whereas 44 per cent of in-house staff expect no change and 32 per cent expect an increase.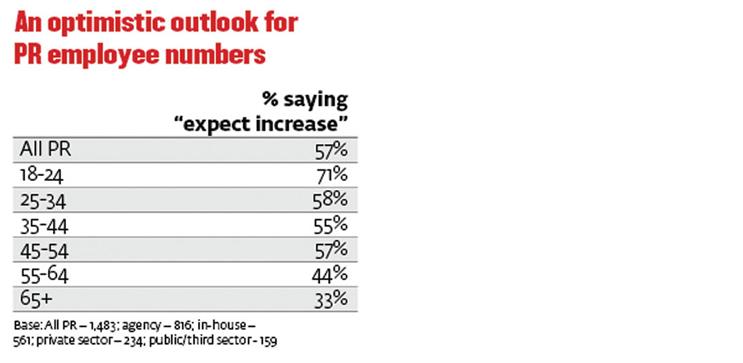 Of the PR people who believe headcount will rise, the majority believe it will be by eight to ten per cent, which is less than the actual growth of the past two years.
Just over a third of in-house professionals believe their marcoms budget will increase over the next two years in real terms, while 28 per cent believe it will fall. Only a quarter of those in-house believe PR budgets will grow over the next two years, while 37 per cent say it will remain the same.




On average agency staff earn more than their in-house counterparts – £54,311 against £50,438 for client-side PR people.
This takes into account the modest salaries at the bottom of the food chain. Freelancers, on the other hand, earn a mean salary of £73,322, which in part reflects the greater experience and seniority of freelancers.
The pay disparity between in-house and agency PR professionals is stark when you strip it back to job titles. For instance, the average annual salary of a comms director is £82,091 versus a board account director or partner on £105,545.
Some 58 per cent of PR people have had a pay rise or rises in the past two years, although most likely modest rises, particularly in-house. The modesty of those increases should be seen against a backdrop of 56 per cent receiving bonus payments. Although bonuses are more prevalent in agencies – 67 per cent versus 48 per cent – the bonuses are significant, with a mean average of £11,400.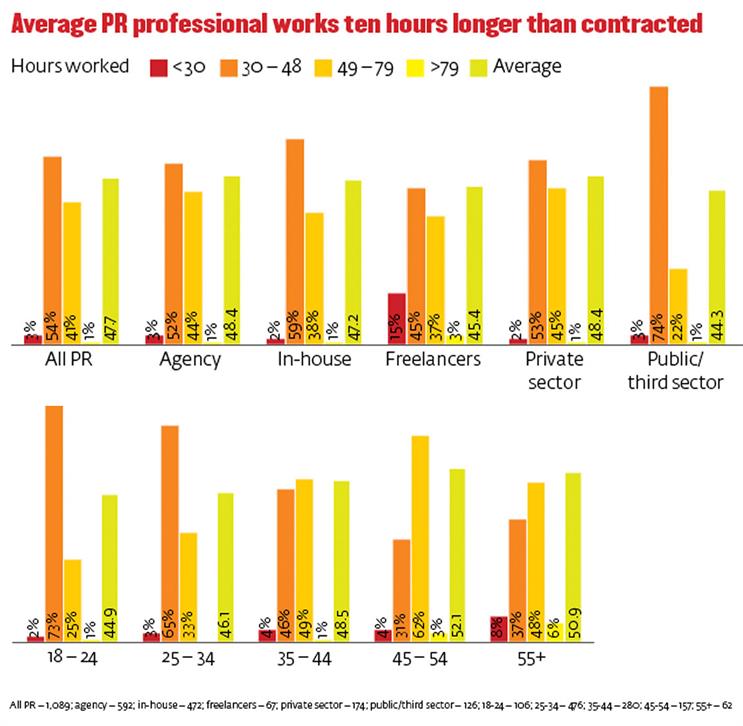 Given the way the world is moving, it is not surprising that 93 per cent of PR professionals state that digital tasks have grown in importance in the past two years, 92 per cent say the same of online comms and 72 per cent mention SEO.
All three of those areas are predicted to assume greater importance in the next two years, having been highlighted by 89 per cent of the sample for digital and online, and 66 per cent for SEO.
However, it is worth pointing out that the traditional craft skills in PR are far from redundant.
General media relations is still the predominant task for 80 per cent of all PR people. Media relations strategy planning is slightly more important in agencies than in-house (81 per cent versus 78 per cent). Online comms is the third most widespread activity, followed by comms strategy development and writing articles and newsletters.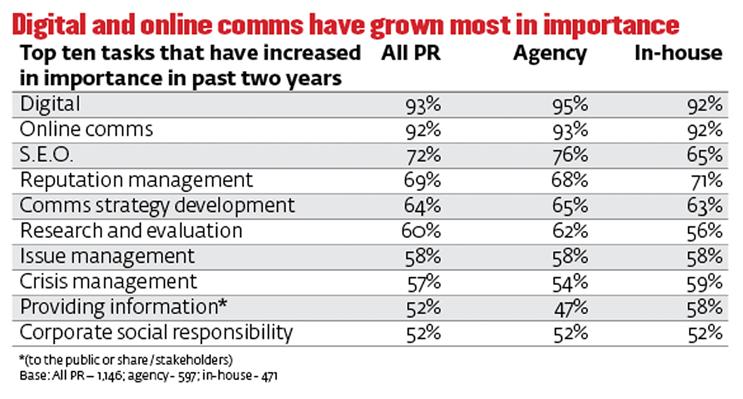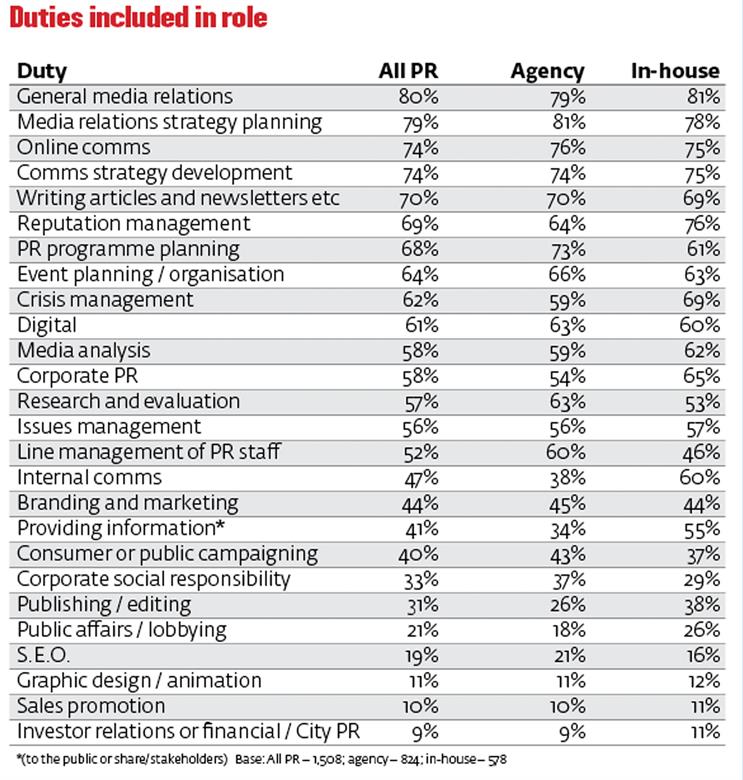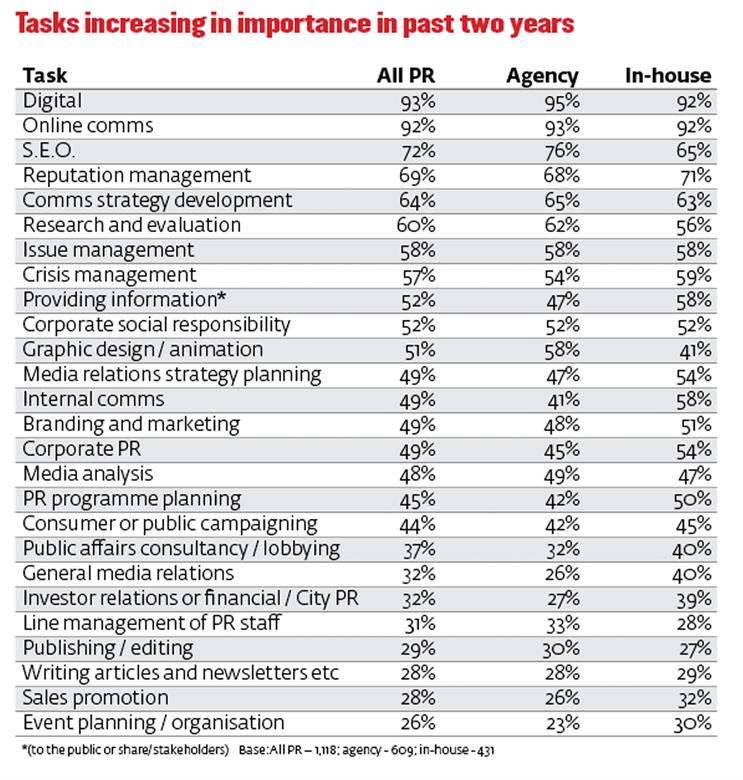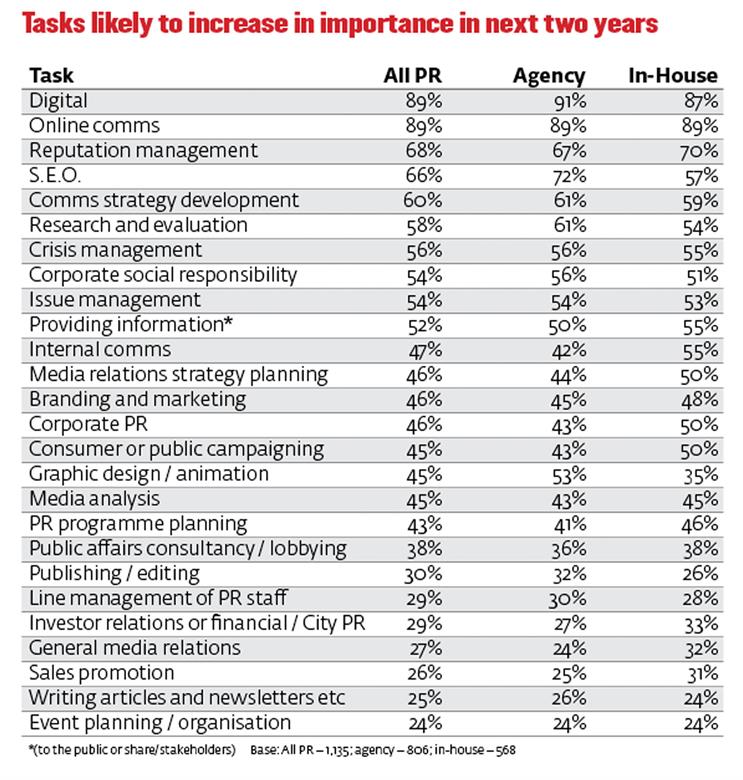 The activities at the bottom of the list in part reflect the specialised nature of lobbying and investor relations, but the standout stat is SEO with just 19 per cent.
Although 72 per cent say that SEO has increased in importance significantly as a task in the past two years, it should be borne in mind that few engage in it as a mainstream activity.
Yes, it is important. Yes, it is going to get more important. But, no, for goodness sake, don't ignore the importance of being able to write well, speak engagingly and charm your audiences through whatever means necessary.
And just to add flesh to that thought, while no one would deny the role of online communication, general media relations remains the most important main duty, with online coming in joint 14th place along with event planning and organisation, crisis management, research and evaluation, sales promotion, media analysis and issues management.
Conversely the activities that have decreased in importance and are forecast to continue that downward spiral are in several instances mainstream activities that remain important in the grand scheme of things.
So sales promotion, event planning and organising and writing articles and newsletters may be the top three tipped for decline, but 70 per cent of PR professionals still write and 64 per cent still organise. Sales promotion, admittedly, seems to belong to a bygone era.
Technology will clearly continue to influence the future of the industry, not least because a sizeable portion of its revenue is derived from the sector.
Technology clients account for the biggest business sector for agencies, followed by consumer services, marketing and media; food, beverages and tobacco; business services; and health and pharmaceutical.
PR people believe that the tech sector is most likely to increase its investment in PR over the next two years – 81 per cent – followed by health and finance/financial services on 64 and 61 per cent respectively.
It will surprise no one in PR that it is a London-centric business and that in the capital city pressure cooker the best salaries and the best bonuses are on offer, matched by the most insane hours.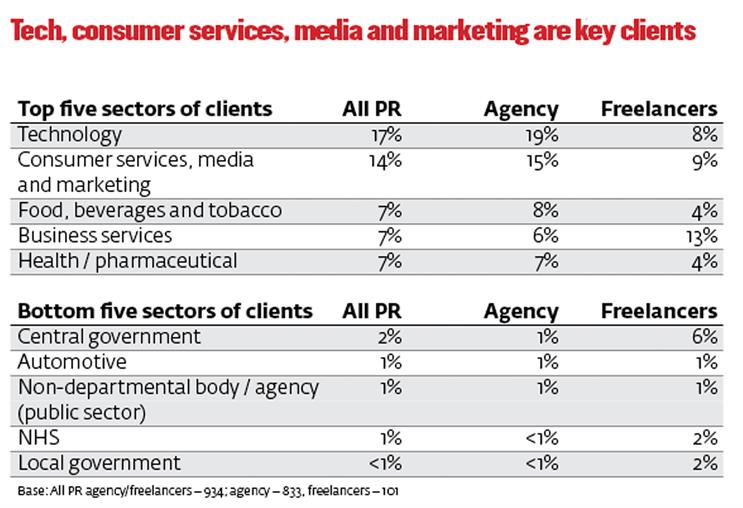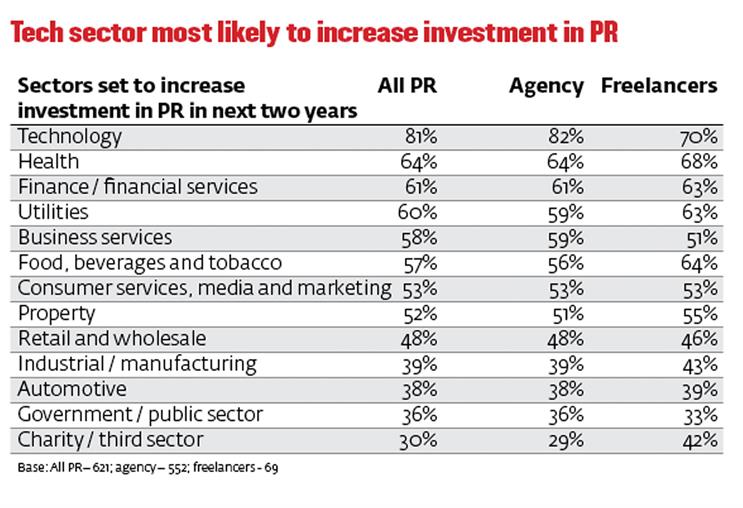 So if you don't fancy life as a freelancer, which seems to offer a pretty good quality of life, you might consider a move to the North West, where 12 per cent of PR people never have to send emails or take calls out of hours.
Failing that try the Midlands, Scotland, Northern Ireland and the Channel Islands as no one works more than 48 hours a week – the only areas to be able to say so.
A strong, vibrant industry to be proud of but work still to do
By Francis Ingham, PRCA director-general
It's incredibly pleasing to see that the industry has grown by more than £2bn since the 2011 Census. If ever there was proof that what we do is valuable, important and a true business imperative, this is it.
Not only is the PR industry contributing more to the economy; it is earning more, widening expertise and feeling much more optimistic than in 2011. We've earned that through sheer hard work.
What's really interesting is the increase in the number of PR agencies with £5m-plus turnover and 50-plus staff members. While most agency professionals still work for a small to medium agency, we're now seeing the medium to large taking a far greater share of the market.
Sure, the oft-discussed "long tail" of the agency world, where small agencies dominate the industry, is still the case, but it's shrinking. There is also positive growth for in-house teams, with teams of 51 and above leaping forward.
The average PR professional earns more than he or she did – by the princely sum of £5.5k. But there's a rather large caveat – many of the biggest pay rises have been handed to those at the top of the agency ladder, with board directors/partners gaining nearly £30,000 in two years. And at the lowest end of the scale, the average account executive is earning £50 less than two years ago. A rebalance seems in order.
For the first time, it appears the average PR agency member earns more that their in-house counterpart. While in-house salaries have risen by £1.5k in two years, no longer does the move in-house represent a hefty pay rise.
The average PR person is contracted to work for 37.9 hours a week, roughly the same as 2011. But it's startling to note how overtime continues to grow. They are actually working for 47.7 hours a week, over an hour more than in 2011. And the percentage of people fielding out-of-hours calls and emails daily has leapt from 35 per cent in 2011 to 54 per cent in 2013. More than ever, the PR industry is working during its own time, with the proliferation of smartphone technology being one blame, and the requirements of clients and the media another.
But the eternal thorn in the side of the PR industry – diversity – is sadly in largely the same position as before. While the gender split remains resolutely female-dominated, that split flips in favour of males at board level, with a 2:1 ratio of men to women in those positions.
Neither have we made great leaps forward in shifting the dominance of white people – again, the need is there for us to continue to push for increased diversity in the industry, and the findings here will help to inform future PRCA diversity activities.
So there's work for us to do, and changes to be made. But there's much to be proud of here – we're strong, we're vibrant and we're feeling good about the future.
Methodology
In summer 2013 PRWeek and the PRCA commissioned research agency YouGov to conduct a large-scale survey of the UK PR industry.
An online survey was created using two different sample sources: a targeted sample sent to PRCA members andPRWeeksubscribers. The website was live from August to October. A public link onPRWeekand PRCA websites was published, backed up by extensive media coverage to encourage PR professionals to participate.
Respondents had to fulfil the following criteria in order to qualify for the survey: work in a comms, public or corporate relations remit. This enabled us to talk to PR agency workers, those working in-house for any other organisation, as well as freelancers. More than 1,500 were received during August, September and October. The survey covered a wide range of topics/areas including:
- Sector of work/industry
- Organisations they work in (no. of employees, revenue etc)
- Changes in the industry over the past few years
- Thoughts on potential changes in the industry in the coming years
- Opinions on the PR industry
Not all percentages add up to 100 due to rounding up or down