Arise, McBusted, the best thing since they got a lion and a tiger to get it on and create a Liger. The question remains, though, just which of these comms pros is Dougie checking out? McBusted indeed...
W, the agency with possibly the most enigmatic but least SEO-friendly name in the business, got its mitts on Tinchy Stryder recently as he helped Chobham Academy work on its 'school anthem'. Now fair play to Tinchy, but everyone knows that 'Kumbaya (My Lord)' is every school's anthem. And that song, my friends, is unimprovable, tiny-stepping rapper or no tiny-stepping rapper.
OK, OK, Movember is over, S&E acknowledges this. But this shot, which features a veritable array of top bods from within the Porta empire, has so many perfect elements it couldn't be ignored. The senior figures with the dubious taches', tick; the mundane backdrop, tick; the awkward poses, tick; the dodgy lighting, tick.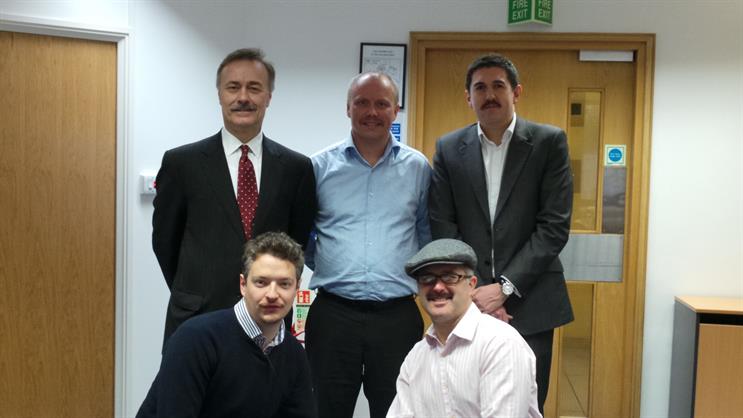 S&E could go on, but it will instead list the heroes involved: Left to right, from the back: Gene Golembiewski, Porta, Andrew Baiden, Thirteen, Andrew Jones, Newgate. Front row: Darren Howes, 24/7 Studios, Anthony Hughes, Newgate. Chaps, S&E doesn't care Movember is over – keep up the good work, you look splendid.