The more famous a person is, the nicer they can afford to be. D-listers are a royal pain to deal with - their assistants are too busy to take your call; they refuse to shake your hand when introduced, even though your primary function is to make them look good in print. People who have made it are adorable by comparison.
Michael Palin, for instance, at the end of his President's Lecture for the Design and Art Directors Association thought it only polite to introduce himself by his full name when the association's editor was presented to him for a follow-up hassle. OK, Palin might be a bad example as he is so nice that his wife has threatened to divorce him if he gets any nicer. But you take the point.
And with this in mind you would expect WPP CEO Sir Martin Sorrell, a colossus of the business community and the man who revolutionised the marketing services business, to be charm itself.
But everyone has off days.
Asked about the relative importance of PR in the sprawling WPP portfolio, he deadpans: "It is relatively important."
For clients and potential clients Sorrell gives great meeting. Former and current employees pen glowing reports of his commitment to clients wherever, whenever, however. "If I asked him to come to an event for an important client, he'd be there; no matter how busy he is, he makes time," one WPP-owned PR agency leader remarks.
Tapping into talent
Talent - finding it, nurturing it, retaining it - is one of WPP's stated strategic priorities, alongside developing revenues from the BRICs and the Next 11, which should grow to become 40-45 per cent of group revenues; new media, which should eventually account for a similar proportion; data investment and quantitative disciplines. And then there is what WPP calls horizontality, which is all about ensuring its people, regardless of their discipline, work together through client teams and country managers to the benefit of clients.
By all accounts, Sorrell is an incredible boss.
Heads of his PR businesses talk of him taking the time to drop new business leads into their laps - then chasing them up about them; of him being highly supportive, demanding but extremely loyal.
It is refreshing to hear that this emphasis on talent is more than just corporate waffle - he lives and breathes it.
And therein lies the rub. Sorrell is WPP and vice versa. The entrepreneur turned corporate behemoth and all-round business guru may only own two per cent of WPP's shares, but he owns 100 per cent of its share of voice.
It is impossible to imagine anyone else at the helm of WPP and not just for us mere mortals. Sorrell himself seems to struggle with the idea: "I'll do it for as long as I can and for as long as people want me to do it."
Harold Burson, the 92-year-old founder of Burson-Marsteller, recently remarked that he still goes to the office every day because no-one has told him not to. Sorrell says that sounds like a sensible approach: "When they bolt the door, I'll know they don't want me anymore."
There is a succession plan and mechanisms in place should Sorrell ever go under the front wheels of the proverbial double-decker, not that they will ever be shared with the outside world.
Insiders say Sorrell recognises that one day an institutional investor may tap him on the shoulder and tell him it is time to go, but you can only hope that they are wearing a flak jacket and a hard hat at the time.
WPP is Sorrell's baby. As has been documented a thousand times (more, probably), he bought a forlorn little shopping basket maker, Wire and Plastic Products, and created the biggest marketing services company in the world (at least it was until the Publicis Omnicom merger nudged it into second place). It was the product of his male menopause, at the age of 40 his last chance to run his own company, or so he felt. And it's personal. Hell, is it personal.
Sorrell is a young-looking 68, who shows no signs of relaxing his punishing schedule of meetings, travel, briefings, more meetings and more travel while surgically attached to email and phone.
A veteran business journalist recalls Sorrell calling from the back of a cab in Korea at 1am local time to drop titbits of information about a competitor.
Direct approach
Sorrell's open-all-hours approach is well known.
If anything, he is even more always on now than ten years ago thanks to technology, and answers email within minutes usually. And he never hides from journalists.
"I like to have direct relationships with journalists," he says. "It's best to communicate. If you don't communicate a minus ten article can become a minus 12. Usually, if you communicate, a minus ten can become a minus eight. You always do yourself a disservice by getting your PA or whoever to say you're travelling or in a meeting, or whatever.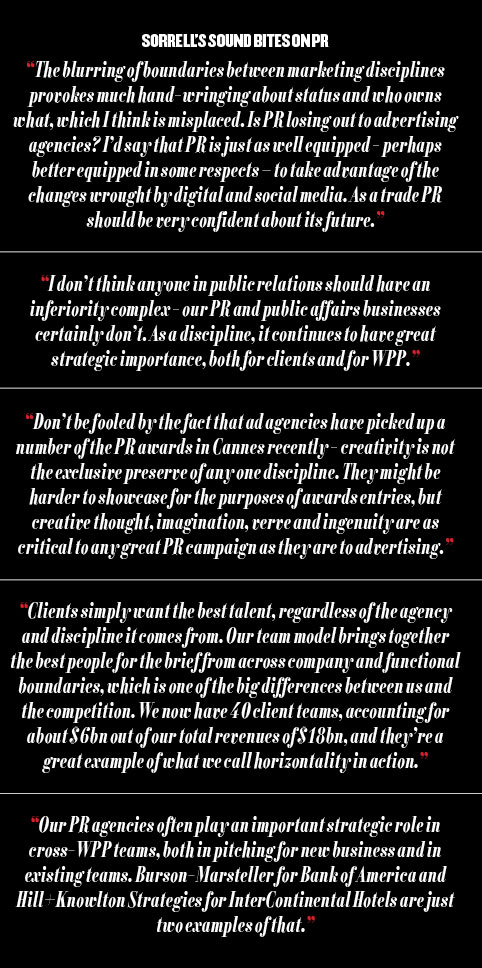 Almost without exception, it is better to communicate than not. Nothing drives a journalist more nuts than when they have the story and the person is not available to comment."
And nothing drives Sorrell into peevishness more readily than a journalist who has the discourtesy not to prepare in precisely the way he sees fit. And that, dear readers, is to read WPP's annual report. Hands up; I admit it - I read 130 or so pages of cuttings: profiles, comments, blogs, interviews post-annuals, post-interims, post-Publicis Omnicom merger, others' analyses of WPP's performance. I could go on.
What I wanted on your behalf was not in the annual report. Nor was it to be had from Sorrell that lunchtime.
Frankly, even when you've read the financials from cover to cover, he'll tie you up in knots. He likes to be in control (quelle surprise) and he often sets about it by making the writer feel a tad dim. He blinds with a blizzard of balance sheet detail (often going back years) and a grasp of global economic macro and micro trends that would give John Maynard Keynes a run for his money, and, having established his intellectual superiority, will proceed to explain why he is right and everyone else is wrong.
When in high dudgeon, multiply by a factor of ten and you are approaching an understanding of Hurricane Martin.
Charles Saatchi once remarked of him that in a room full of very bright people, Sorrell is always the brightest. His intellect is never in question, but for such a seasoned and frankly smooth PR operator his performance with PRWeek was a little odd.
Perhaps he is human after all - perhaps his extreme schedule got the better of him for once and he was too tired to be anything other than irritated.