PR budgets were revised upwards by a net balance of 3.4 per cent of clients – the highest figure over the past three quarters since PR has been specifically broken out in the IPA's quarterly report.
In the first quarter of 2013 PR budgets were revised upwards by 1.8 per cent of clients, and in the last quarter of 2012 were revised downwards by 3.8 per cent.
The internet continues to be treated as a priority by clients, with a net 17.4 per cent revising up their budgets.
Sales promotion, main media advertising and direct marketing also recorded upward revisions of 2 per cent, 1.9 per cent and 0.6 per cent respectively. Market research budgets were unchanged and the 'other' marketing sector recorded a downward revision of 3.2 per cent, as did events, falling 0.9 per cent.
Overall 7.3 per cent of clients reported a rise in marketing budgets in the second quarter of 2013, the biggest upward revision in six years.
Budgets were predicted to rise throughout 2013 by 13.5 per cent of clients, the most positive forecast in two years.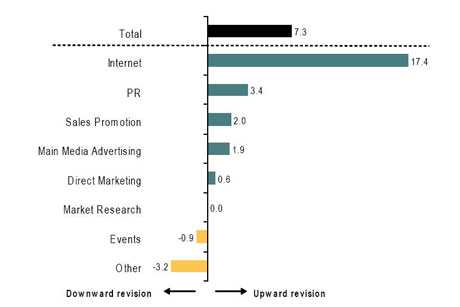 Perceptions of wider financial prospects were also positive with 27.6 per cent of clients reporting increased confidence, compared to 16.8 per cent in the previous quarter.
Markit chief economist and author of the Bellwether report Chris Williamson said: 'The second quarter is looking like one of the best we've seen since the onset of the financial crisis in terms of a positive signal for marketing budgets and the wider economy.
'The latest Bellwether survey shows companies taking an increasingly aggressive stance with regard to boosting their marketing expenditure, which in turn reflects their views on financial prospects having improved dramatically over the course of the year to date. Marketing spend looks set to rise in 2013 for the first time in six years as companies finally perceive a brightening business outlook at home and abroad.'
IPA director general Paul Bainsfair commented: 'This is very encouraging, with the upward revision of marketing spend in Q2 the highest for almost six years. Companies are beginning to shake off the cloak of recession and are becoming more confident in the economy.
'This bodes extremely well for continued growth in marketing spend for the rest of 2013. These figures should send a very upbeat message to the wider economy.'
The Bellwether report surveys around 300 UK-based companies across market sector and geographical location on marketing trends and the wider economy.
How I see it
Warren Johnson, founder, W

The results are no surprise. PR is famously quite recession-proof. As the media landscape changes, paid media are less important in people's lives and earned media are how consumers best like to engage with brands.
CEOs are placing increasing importance on corporate reputation and PR is a mandatory rather than a nice to have. Cutting PR budgets would be dangerous and when savings are needed it's easier to trim from media budgets.
The industry is also gaining an increasing share of internet spend. Digital agencies grabbed a lot of social briefs early on in the land grab but PR has done well in reabsorbing social briefs more recently.