It is a good time to work in a PR agency.
The average growth rate of the PR consultancies in PRWeek's latest Top 150 table was an inflation-busting 11.5 per cent last year, up from nine per cent in 2011.
As Kingston Smith W1's partner Esther Carder points out in her comment below, this was spread evenly across the table with around 80 per cent of agencies showing growth and more than half showing growth of ten per cent or more.
Although the total fee income of this sample was slightly lower than last year (£878m compared with £900m last year), this is primarily due to some of the larger agencies declining to enter figures, including Grayling, Citigate Dewe Rogerson, Exposure and Lexis. Last year, these agencies were worth a combined £58m, which would have brought the total fee income to at least £30m more than last year.
Growth has returned to the financial markets, aiding financial and corporate PR firms. For example, in its first full year of figures corporate firm Newgate managed a 345 per cent increase to £3.36m.
Digital work also continues to help agencies grow, as evidenced by We Are Social's 100 per cent rise in fee income last year.
Of course, as a mainly self-selecting sample, the Top 150 table will tend to offer a more positive reflection of the industry than perhaps its whole. There is still considerable pressure on agencies, particularly with clients shifting towards more project-based briefs. It appears the mid-sized agencies are finding the industry the toughest. The agencies that suffered the largest declines in income all sat between the £1m and £3.5m mark.
But both Bell Pottinger Private's chairman Lord Bell and PRCA director general Francis Ingham are optimistic about the industry's future. The key, as with many areas of business, is that the industry has confidence in its value and charges accordingly.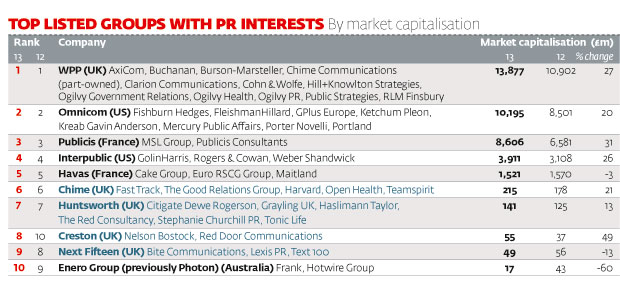 Notes: Individual companies listed are PR agencies; other marketing outfits are omitted.
Market capitalisation figures provided by Kingston Smith W1, as of 7 June 2013. Foreign currencies were converted to sterling using exchange rates on that date.
Blue denotes UK-listed PR-dominated groups