The report into the financial performance of the UK's largest agencies revealed an average fee income increase of 11.5 per cent, a higher rate than the nine per cent growth achieved in 2011.
However, the picture is more mixed for the top agencies able to supply their fee income figures (as they are not subject to the Sarbanes-Oxley Act).
For those agencies in the top 30, the average growth rate was five per cent, down from an annual growth rate of 9.2 per cent in 2011. The 2012 growth rate rises to 7.2 per cent if Bell Pottinger, sold by Chime in 2012 making direct year-on-year comparisons problematic, is removed from consideration. However, without Bell Pottinger in the 2011 table, the income increase of those same agencies was a significantly higher 16.7 per cent.
Of the 13 agencies in the top 30 that gave figures, only one – The Red Consultancy – bettered its 2011 increase in 2012.
The overall double-digit growth of the Top 150 seems to have been boosted by smaller, newer operations. For example, 17 agencies grew by more than 50 per cent last year.
Mike Morgan, CEO of The Red Consultancy, said: 'All downturns are tests of agency strength, but this one has been a marathon… The overall market remains tight and tense due mainly to downturn-driven caution.'
Tony Langham, chief executive of Lansons Communications, said: 'British business is reducing its costs to stay globally competitive – all advisers are on the receiving end of this. In 2012, the recession really hit the PR industry as agencies took on more work for no more money and sacrificed their margin.'
An analysis of the Top 150 agency profit margins, conducted by RealWire CEO Adam Parker, also showed contrasting fortunes across the industry.
Those agencies that supplied profitability figures achieved a weighted average profit margin of 17 per cent, an improvement of 0.1 per cent over the 2011 performance for these same agencies.
However, there was a huge disparity of results within the sample – profit margins varied from +69.2 per cent to -0.1 per cent and 46 per cent saw profit margins fall in 2012.
Click here to read a full analysis of Top 150 profit margins.
How I see it
Gavin Devine, CEO MHP Communications
There was new business out there in 2012 but business confidence was brittle, and it showed in the PR market. So we were pleased to maintain our history of growth in what was a tough marketplace. 2013 has been better so far: there is a lot of new business around at the moment.
There was no material change in the costs of running the business, other than that we are investing. I feel strongly that the PR and communications industry suffers from a lack of innovation. We need always to be looking over the horizon, thinking constantly of new ways of delivering for our clients.
Mike Morgan, CEO, The Red Consultancy
'The overall market remains tight and tense due mainly to downturn-driven caution. Add to that increased competition, some evidence of an overall raising of standards right across the agency marketplace and you've got a buyers' market. Good agencies are succeeding by responding to those conditions by working harder at keeping clients creatively and commercially satisfied.
All downturns are tests of agency strength but this one has been a marathon. When the upside comes you'll see creatively smarter and commercially sharper PR agencies set for strong growth during the rest of the decade.'
How the Top 150 stacks up against marcoms groups and quoted PR operations
The Top 150 average profit margin of 17 per cent is based on 37 agencies that provided profit and PR income figures for 2012 and their comparator figures for 2011, and where their gross turnover in both years was no more than 25 per cent greater than their PR income.
This compares with a weighted average profit margin for quoted PR businesses of 14.6 per cent, based on the combined profits of £172.6m on income of £1.18bn for Huntsworth, WPP and Next Fifteen's PR operations.
Chime's figures were excluded due to the disposal of a substantial part of its PR business. Marcoms groups' overall profit margins are shown in red.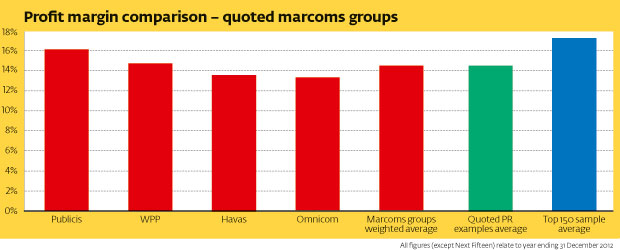 Key figures
11.5% Average annual rise in fee income across the Top 150 in 2012
17% Average profit margin of Top 150 consultancies in 2012
5% Average growth for those agencies in the top 30 that provided figures
1 Number of agencies in the top 30 that grew at a faster rate than in 2011
Profit margin explanations: PR groups "Huntsworth – Profit before highlighted items; WPP – Headline PBIT Margin for Public Relations and Public Affairs and Next Fifteen – Segment Adjusted Operating Profit." Marcoms groups "Publicis – Operating Margin; WPP – Headline PBIT; Havas – Income from Operations and Omnicom – EBITA"