The Cabinet Office has announced its planned comms outlay across departments and arms-length bodies for 2013-14 is £237m, 17 per cent down from the 2012-13 predicted total of £284m.
PR's move centre stage has been hastened by the arrival of executive director of government comms Alex Aiken, who joined in January.
He said: 'I've asked departments how best can they deploy their resources, and have they considered the PR options? We've changed our default position from marketing first to PR, and then building upwards around that to get better value for money.'
The Government's actual spend last year was lower than initially budgeted for, coming in at £233m. Aiken credited £40m worth of savings to the strength of centralised scrutiny of major departments' comms budget requests.
A senior government departmental source said the move towards PR-centric outreach was underpinned by a drive to 'wean people off getting their chequebooks out when they want to communicate with the public'.
'Marketing will always do things that other comms cannot, but now you've really got to sweat the other assets you have,' the source added.
The 2013-14 comms plan, which was published ahead of next week's wider Comprehensive Spending Review, outlined about 100 key activities for comms. Major areas of focus include the London 2012 sporting legacy and the UK's presidency of the G8.
It is understood that predicted spend for 2014-15 is unlikely to fall any further, representing a levelling out after sustained cuts to a budget that in 2009-10 under Labour was £532m.
Overall priorities for the coming year include increasing digital expertise and improving evaluation. Aiken said this would include efforts to 'move from the position of having separate digital teams and press officers', but emphasised this would not always mean full integration.
Recognition that the Government was 'behind the curve' on digital was welcomed by another government insider. However, the insider added: 'There's only a limited number of hours in the day and if the digital drive goes too fast, you risk pushing people too far and it failing.'
Departmental hubs central to comms overhaul
Efforts to increase work within seven departmental hubs, which were announced last year, are pivotal to the comms plan.
They were created to increase efficiencies and improve sharing of best practice. Their budgets and staffing breakdown shows the hub that includes the Ministry of Defence, Foreign and Commonwealth Office and Department for International Development has the most communicators, but one of the smaller budgets.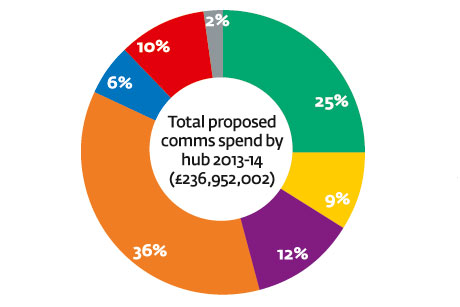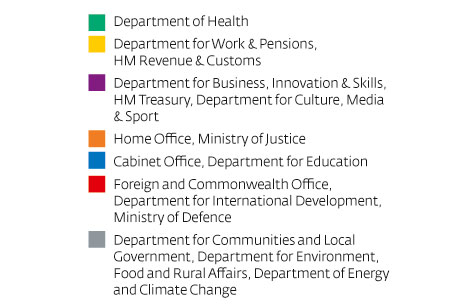 Comms timeline
May 2013 Rules on pairing up with the private and third sector for campaigns are relaxed.
April 2013 A sum of £100,000 is invested in Aspire, a new scheme to train 1,500 government communicators in a range of skills.
August 2012 The first of the post-COI frameworks is unveiled shortly ahead of the departure of comms head Jenny Grey (pictured). The frameworks are later hit by delays and criticism over agency selection.
March 2012 The Central Office of Information (COI) finally closes amid wider efforts to cut comms costs.
Key figures
1,910 Comms staff in central government only
3,304 Comms staff including arms-length bodies
£532m Spend (through the COI) on comms in 2009-10
£233m Actual spend on comms in 2012-13
Source: The Government