A review of the publicly available data on All Party Groups (APGs) has found public affairs firms are involved in the running of just 15 per cent of those that use secretariats, while charities account for 34 per cent and not-for-profit organisations 22 per cent.
In total, 388 of the 589 listed APGs use secretariat services, with 60 using PA agencies that would appear to be subject to the Government's forthcoming lobbying register.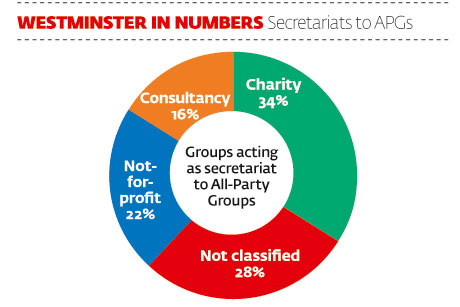 Media stings
Links between third-party organisations and All Party Parliamentary Groups (APPGs) have been scrutinised in recent weeks after two media stings targeted MPs with undercover reporters enquiring about the establishment of groups.
The distribution of parliamentary passes via APGs also hit the headlines last week after speaker John Bercow asked for a review of existing passes and whether they had been requested and allocated in the correct way.
Passes must be sponsored by the group's chair or joint-chair and are issued if the pass holder's work is primarily for the APG. The pass holder's financial interests and employment must also be registered.
Parliamentary disclosure documents revealed that just five per cent of APG pass holders work for public affairs or PR firms, none of which is a member of the APPC.
Staff of charities hold nearly 30 per cent of APG passes, with those working for think-tanks and non-profit organisations accounting for 12 per cent.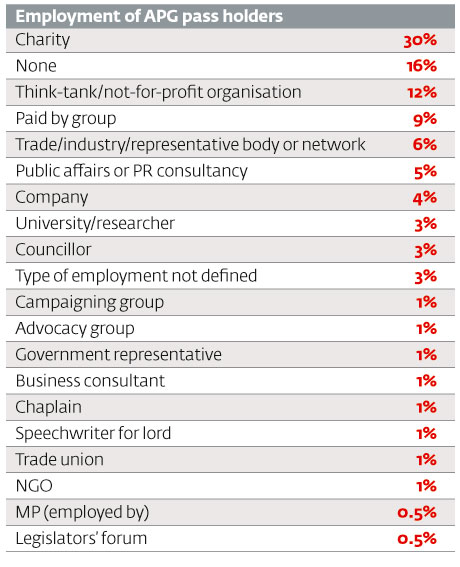 PRWeek's investigation found that one think-tank, Policy Connect, holds more APG passes than any other organisation. Six of its staff hold passes for the provision of secretariat services for four APGs. The think-tank acts as secretariat for eight groups - three APPGs and five Associate Parliamentary Groups.
The register of APGs also reveals that Barry Sheerman, the Labour MP for Huddersfield, is involved in all eight of these groups, as well as another 15 groups.
Sheerman is also the co-founder and chairman of Policy Connect, and received £26,600 from March 2012 to March 2013, according to Parliament's register of members' interests, which he donated to charity.
Head of comms Peter Barrett said that while Policy Connect did engage in lobbying activity, it did not lobby on behalf of clients.
'There is a big difference between our work and that of a typical public affairs agency,' he said. 'We do not represent single clients and never lobby on behalf of one organisation.
'In providing secretariat services, we help an APG's parliamentarians and associate members lobby government collectively on behalf of that entire sector or industry in question. Everything is parliamentarian-led, and non-parliamentary members do not have voting rights on group activity. We pursue a collective agenda.'
Range of lobbyists
However, APPC chairman Michael Burrell said PRWeek's figures reflected the breadth of organisations engaging in lobbying activity across Westminster, despite the narrow focus of the Government's lobbying plans.
'Think-tanks should be as transparent as we are,' he said. 'The lobby register should cover them too if they are doing the same kind of work.'
Unlike think-tanks and other organisations involved in APGs, APPC member consultancies are prevented from hiring serving parliamentarians, and agency staff are not permitted to hold parliamentary passes.
The only records of those involved in lobbying in Westminster are via the registers of APPGs, APG pass holders, the APPC's voluntary register of lobbyists, and the register of members' interests.
PRWeek's investigation found, however, that several organisations are able to label themselves as different types of business in various registers or not classify themselves at all.
There are 109 APGs using secretariat services from organisations that do not state what type of group they are, and no think-tanks are listed as such, referring to themselves as either not-for-profit organisations or charities.
The Government intends to push through a register of lobbyists before the summer recess.