For anyone thinking Heathrow Airport was still simply campaigning for just one extra runway - its third - a headline in the London Evening Standard last month might have come as something of a shock. 'Plan for 4-runway airport in Home Counties', it read, outlining a leaked blueprint drawn up for Heathrow bosses suggesting the building of a completely new airport on greenbelt land either between Reading and Heathrow or near Oxford and Aylesbury.
Lost battle
A concerted campaign against a third runway at Heathrow resulted in owner BAA being defeated in a high profile battle to expand three years ago.
The BAA name was dropped in October last year, leaving its airports as standalone brands, and Heathrow's argument now seems to have been redefined completely rather than simply tweaked for representation. In effect, it boils down to a stark either/or.
In an official document released earlier this year, Heathrow chief executive Colin Matthews set out his position simply: 'The choice is between adding capacity at Heathrow or closing Heathrow and replacing it with a new UK hub airport.'
Heathrow is certainly not dismissing the Berkshire/Buckinghamshire plan out of hand, but Nigel Milton, the airport's director of policy and political relations, insisted to PRWeek: 'That was a very early option.'
What is not in question is that Heathrow assesses the UK is losing up to £14bn of trade a year, a figure that might virtually double by 2030 because of lack of connectivity in the domestic aviation network - and it believes that only having a single UK hub airport would work.
Hubs allow long-haul passengers and short-haul 'point-to-point' traffic to combine and therefore provide the greatest connectivity for the UK to the rest of the world.
Heathrow is one of four hubs in Europe - Amsterdam, Frankfurt and Paris are the others - and competition is fierce, with hubs at Istanbul and Dubai poised to take commercial advantage of any dithering.
Ultimately, the Airports Commission, under former Financial Services Authority boss Sir Howard Davies, will decide how best the UK's aviation status should be maintained, although there is no guarantee that politicians will act on its recommendations. The commission will publish interim findings at the end of this year, with a final report expected in 2015, after the next general election.
Long-term options
Heathrow will deliver what it calls its formal long-term options to the commission in July. 'We're being driven by the timetable Davies has set,' explains Milton. 'We have been responding to the papers the commission has been putting out on various issues.'
London Mayor Boris Johnson agrees on the 'one hub only' point, but has long argued that it needs to be east, not west, of London.
He believes expanding Heathrow is not the answer, citing noise, air quality and space problems, and has slammed the Airports Commission's schedule as 'unnecessarily unambitious'.
'The time for action is now, not 2015,' trumpeted Johnson. In future, there should be growth at regional airports but the UK needs a new hub in the London area, and he has put his weight behind a new set-up in the Thames Estuary - dubbed by the media, inevitably, Boris Island or BoJo International.
Further proof that Heathrow is not the only game in town comes from its biggest established rival. Gatwick's comms has been about emphasising that the UK needs a trio of major London airports, each with two runways. Developing Gatwick in this way could double its current capacity of 35 million passengers a year, although building can only begin after 2020.
'We believe a second runway at Gatwick should come first and would provide the air connections the UK needs for a generation,' says Gatwick media relations manager Heather Griffiths.
Three competing airports in London would deliver improved service, better facilities, greater choice and lower prices, says Gatwick. Heathrow's 'one hub' airport argument falls down, it claims, because only seven per cent of journeys via London's airports involve transfers, thus negating the importance of the very transfer traffic that Heathrow claims is vital.
'The hub argument is disingenuous,' agrees John Morris, public affairs director for Birmingham Airport. 'There is plenty of space at London's airports, so let's use what we have. We need a network of national airports. Davies has got to look at what the needs of the UK as a whole are.'
Birmingham says the six largest airports outside the South East can handle 56 million more passengers by 2030 (nearly half of future demand) and that this has the potential to rise to an additional 116 million by 2050. This does not include spare capacity at airports such as Luton and Stansted.
Improve capacity
Complicating the issue further is that these are - by the Airport Operators Association (AOA) trade body's estimate - only a few of two dozen putative plans being seriously advanced to improve the UK's airport capacity.
Several of them involve Heathrow and include linking it and Gatwick via high-speed rail ('Heathwick'); developing the existing RAF Northolt airfield (and linking it to Heathrow); and even moving Heathrow's runways a mile or so further west of their current site. Then there is the possibility of developing other existing airports, including Gatwick, Birmingham, Manchester, Luton, Lydd and Stansted.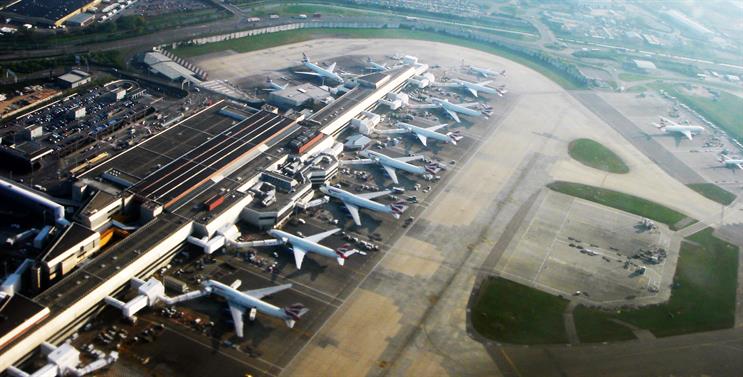 Another option would be to redistribute traffic to make use of the UK's existing capacity. The Confederation of British Industry has suggested that adding just one daily flight to each of the eight largest high-growth markets in the world would increase UK trade by as much as £1bn a year.
The grand plans to build a new airport from scratch do not stop with the Berks/Bucks option or Boris Island on the outer Thames Estuary either: there are suggestions that an inner estuary location would be a better bet.
So this is either fertile territory for PR professionals, or a complete mess - or perhaps both.
Darren Caplan, chief executive of the AOA, is in an invidious position since backing Heathrow would mean irritating 60-plus other members.
He claims the UK needs both point-to-point airports and hub capacity in order to prosper, and steers a diplomatic line by arguing for the Government to allow sustainable development for all UK airports wishing to grow, and to commit to implementing the recommendations set out in the Airports Commission report.
Whatever happens, environmental concerns, noise levels, pollution and impact on infrastructure, as well as the UK's global connectivity, are all going to be hot-button issues.
Heathrow's PR professionals will be fastening their seatbelts, aware of a bumpy ride to come.
---

AIRPORTS COMMISSION TIMELINE
December 2013: Interim report published, including recommendations on options for the short and medium terms, plus a list of the most plausible options for delivering any additional capacity required in the longer term.
Early 2014: Commission will work with sponsors of 'credible proposals' to develop and assess them.
Summer 2014: Draft proposal of each option published for 'public scrutiny and expert analysis'.
By April 2015: Final proposals submitted.
Summer 2015: Final report of Airports Commission published.