Thomas Cook has again emerged as the travel agent with the best overall reputation in PRWeek/OnePoll's latest survey.
This is despite the tour operator announcing mass redundancies and store closures in the UK and Ireland as part of plans to restructure, as it attempts to turn around a £485.3m pre-tax loss in the previous financial year.
Its reputation has remained robust, dropping by only one percentage point to 23 per cent since PRWeek's last travel agent reputation survey in 2011. The reputation of direct competitor Thomson has improved by 0.5 percentage points and First Choice has fallen by 2.5 percentage points, though the operators, both owned by TUI Travel, have embarked on major brand campaigns in the past two years.
While Virgin Holidays remains top overall for customer service, consumers said that lastminute.com offered the best value for money.
However, travel agents are becoming less relevant for consumers, with only 28 per cent of people preferring to book holidays through agents, and 54 per cent choosing to book holidays themselves.
Brand trust is more important to consumers than two years ago, as is the ease of booking and the accessibility of a brand's website. Booking holidays is much more likely to happen online now, with 61 per cent using a brand's site, compared with 22 per cent using a high street store.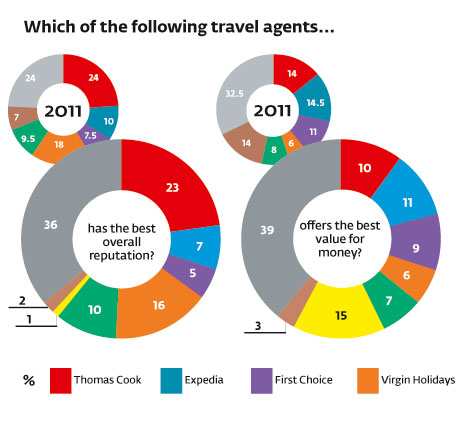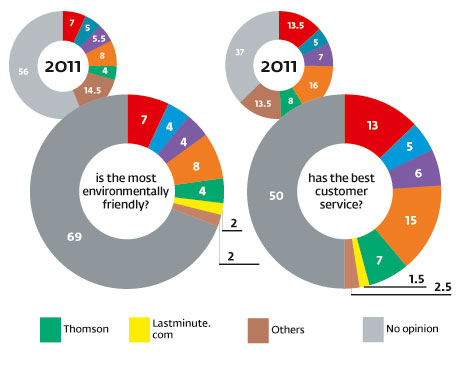 HOW I SEE IT
Paul Charles, CEO, Perowne Charles Communications, and ex-comms director at Virgin Atlantic and Eurostar
This sums up the public mood towards often unfashionable travel agents and tour operators.
But the ash cloud incident in 2010 proves why tour operators are often essential to our travel plans. The Icelandic volcano eruption left millions of passengers stranded worldwide. Those who had booked through tour operators were re-routed and hotels were found at short notice - tour operators were obliged to get customers home.
But tour operators that want to survive need to change their business model. Thomas Cook made the mistake of relying on the high street. Yet the reality is that more of us want to book online. In future, the best tour operators will offer a combination of online booking engines, bespoke tailoring and more adventurous places to escape to.
If they do all these things, travellers will value the expertise tour operators can offer. If they don't, further casualties will emerge.