Alcohol is perceived as less dangerous than cigarettes, but the drinks industry has yet to convince the public it cares enough about public health.
Following a call from doctors to ban the advertising of alcohol, a PRWeek/OnePoll survey has revealed that women in particular are worried about the issue.
Thirty-eight per cent of respondents perceived smoking to be the biggest threat to public health - 23 percentage points more than drinking. But 70 per cent said alcohol abuse was a growing problem.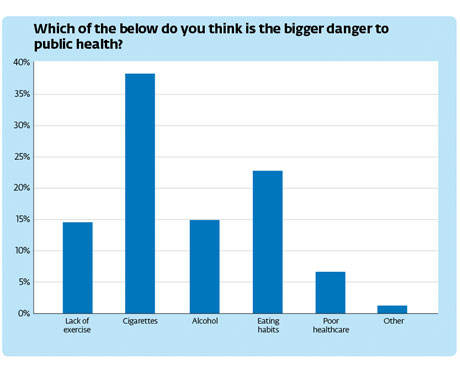 Though there was acknowledgement that the industry was doing more to tackle the issue, 63 per cent said there was still more work to be done. This feeling was particularly strong among women, with 46 per cent agreeing there should be a minimum price per unit of alcohol.
Many more women (46 per cent) agreed than disagreed with a recent call by the Alcohol Health Alliance, which includes groups representing GPs and nurses, to ban alcohol advertising.
However, only 35 per cent of men agreed with the idea.
Regionally, the North West was least supportive of this idea, with 35 per cent backing it.
Of all alcohol types, 41 per cent of the 2,000 polled said spirits were most associated with health problems.
This was more than twice as much as alcopops, which received the second highest proportion of responses with 18 per cent.
Those who responded to the survey pointed to the role of premium alcoholic drinks in improving a brand's image. Over half (55 per cent) said they would be more likely to buy a brand that offered such drinks.
Survey of 2,000 members of the public conducted by global research agency OnePoll
I WOULD BE MORE LIKELY TO BUY ALCOHOL FROM A BRAND THAT ...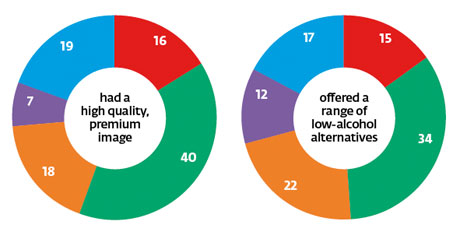 HOW I SEE IT
Chris Blackwood, senior consultant, Third City
This is not a 'horsemeat' scandal, but the alcohol industry will be sweating at the moment. Minimum pricing hangs in the balance, doctors have called for an advertising ban and The Lancet blamed booze culture for our nation's below-par health. It is clear the dangers of alcohol are recognised, but 59 per cent believed it was a personal responsibility, rather than for the drinks firms or Government to fix.
However, 63 per cent said the drinks industry was not doing enough to promote responsible drinking, hence why opinion on minimum pricing and advertising is up in the air.
For a brand, if it is not the root of the problem, it can be part of the solution. McDonald's did this following the Super Size Me crisis, taking action before the Government's hand was forced. Alcohol brands can do the same, but this can only be achieved through a long-term commitment to CSR that is well-publicised both above and below the line.
ALCOHOL ABUSE
70% of respondents said alcohol abuse was a growing problem in Britain
UNDERAGE DRINKING
60% said the drinks industry was not doing enough to tackle the issue of underage drinking
WEAK GOVERNMENT
46% said the Government was not taking a tough enough stance on alcohol consumption