Those who looked at the London skyline last month may have seen a surprise addition - a branded hot-air balloon. The balloon was parked next to the Financial Times' London headquarters next to the River Thames, and was one of a series of stunts scheduled to celebrate the 'pink un's' 125th anniversary.
The FT's comms team, headed by global comms director Emma Gilpin-Jacobs, had been planning the anniversary celebrations for almost two years.
Alongside the stunts, which will also include bathing the Empire State Building in New York in a pink light, activity will feature a series of Google Hangouts across the world and a Lunch with the FT book launch at Claridge's to celebrate this landmark year.
Gilpin-Jacobs says the activity is part of a wider move to be more transparent. 'One thing we've been trying to do over the past six or seven years is to open up the FT more. In this new social world, it's important that you explain to your readers and your staff what you're doing and why you're doing it,' she says.
The FT may be celebrating 125 years of print, but even as soon as next year, the product offering will be very different. In January, editor Lionel Barber clarified that the FT would now be a 'digital-first offering'. Indeed, last month he personally joined Twitter, after years of shunning the social medium.
Gilpin-Jacobs explains the move to the digital-first model: 'Last year our digital subs overtook our print subs, which is quite monumental. This year our sales revenue from content will overtake our advertising revenue.'
It may sound like a strong sales story, but the FT is also hitting headlines amid rumours of a £1bn sell-off by owner Pearson. Gilpin-Jacobs merely disregards this as 'speculation'.
What will be interesting to see is what the FT product looks like in another 125 years.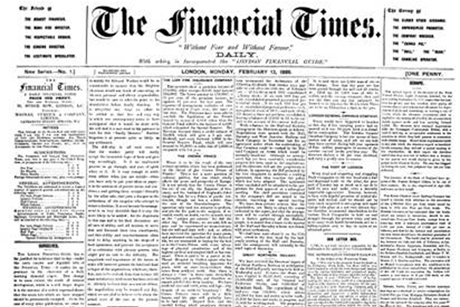 THE SOCIAL MEDIA CHALLENGE
Rebecca Heptinstall, FT social media manager
'The FT currently has 2.8 million Twitter followers, 1.6 million Google+ fans, 500,000 Facebook users and 23,000 LinkedIn devotees. The total across social media is more than five million,including crossover.
The FT has just launched a hub aimed at educating employees about social media, giving them the tools to go out and do it themselves.
It features a series of 'how to' guides, best-practice tips, industry news and statistics. The social media team also uses measurement tools including Radian 6 and Social Flow to monitor FT mentions, and manages the media owner's 55 Twitter feeds.
We are keen for employees to be able to offer their own personality, while working to FT guidelines.'
ORGANISING INTERNAL COMMS AT THE FT
Emily Gibbs, Corporate comms manager
'Neo is our intranet, which we launched in 2011. It was a move away from the previous intranet, which was static and information heavy.
The platform that we use now is much more interactive and collaborative. It really has transformed the way in which we communicate internally - not just top-down, but bottom-up and across the company.
We have groups where people can post discussions or answer questions and share content.
We also have a blog, which is owned by the FT.com team but is contributed to by people across the company. It's a core place where people go to get their news internally.'