It was a private moment made for public consumption and it leapt straight into the record books.
To break news of his re-election as US President, Barack Obama's team tweeted an image of him hugging his wife above the words 'Four more years'.
Within 12 hours, it had been retweeted nearly 700,000 times.
The role of imagery has always been central to PR, from creating eye-catching stunts to ensuring celebrities are snapped with a brand. But the power of visual communication has rocketed with the rise of digital and social media.
Mainstream media brands are looking for more visual ways of communicating ideas, whether through infographics or picture galleries for iPad apps.
The popularity of Instagram, Pinterest and Storify, and the recent launch of Twitter's Vine, show that pictures are thriving in an area where short and snappy messages are the key to effective communication.
A recent survey by ROI Research found that 44 per cent of respondents were more likely to engage with brands on social media if they posted pictures - more than any other means of connection, whether memes, links or status updates.
But are PR professionals evolving their offer quickly enough to take advantage of an increased appetite for images?
There is certainly no shortage of images being sent into media outlets. Ten years ago, The Daily Telegraph received about 5,000 images a day. Now, according to the newspaper's picture editor Matthew Fearn, it can receive up to 50,000 on a busy day. 'The sheer volume of images coming in means it takes a lot for a PR shot to get through now,' he says.
Broader approach
Photographer Andrew Parsons is co-founder of i-Images, an editorial pictures agency that wires pictures to media across the world. He was hired by both David Cameron and Boris Johnson during their respective election campaigns.
Parsons believes that PR professionals need to broaden their approach to images. He has found it is behind-the-scenes pictures rather than posed corporate shots that deliver real cut-through.
This makes sense in an age where transparency is seen as an increasingly important value for companies.
Parsons argues that pictures should help humanise a brand and allow it to tell its story. 'Many are doing too many formal event-type pictures. Picture editors and the public are bored of seeing a man on a stage. They want a different angle,' he says.
MasterCard's head of comms for UK and Ireland Neil Henderson agrees that he often sees a lack of flexibility in the approach of PR agencies in delivering image-led content. He adds he often sees fixed packages 'with the same template that has been rolled out over the past ten years. Come and ask me what the creative brief is and then put together a package'.
He argues that a public overexposed to messaging 'is getting bored easily and now wants to touch and feel experiences. Pictures allow this'.
Social media have also allowed the public to take their own pictures and upload them immediately. Some more savvy brands are embracing this change.
For the Olympics, MasterCard ran a visually-led campaign capturing the reactions of people to major events.
Meanwhile,Lego ran a campaign asking its consumers to take creative pictures of Lego and submit them to the firm online. The best one was used in a Facebook campaign.
As Lego's head of social media Lars Silberbauer said at Brand Republic's Social Brands conference last month: 'At Lego, we are at a stage where we would rather build a stage around our customers' content than a campaign using fixed assets.'
Authentic content
InHouse Communications co-founder Jo Tanner believes that rather than seeing the rise of the amateur photographer as a threat to controlling the story, the PR industry needs to take advantage of the authenticity offered by such shots, which show popular support and engagement with a brand.
'There are times when the availability of authentic images is a powerful tool in itself and can be shared effectively. It offers a break from the manufactured PR approach,' she says.
Henderson believes football clubs are an example of where PR professionals are missing a trick. 'Football clubs will have thousands of spectators in the stadiums and the pictures they take will truly capture the atmosphere, but they are not being used to their full potential,' he says.
Fresh opportunities
Some agencies are responding to this changing environment by putting more resource into image creation.
PicPR's founder David Barrett includes photography in client packages. He says: 'Opportunities are opening up. For example, media quite often won't have the budget to send out a photographer. But good photography still feels like an afterthought for many agencies.'
Meanwhile, We Are Social has expanded its design and creative team in recent months as online preferences switch to more visual comms. But the agency also works with advertising heavyweight Mother to create effective images.
We Are Social account director Clementine Hancox argues PR needs to be careful not to lose ground to ad agencies. 'One can see a threat from the advertising industry because ad agencies have been set up to produce visuals in a way that PR agencies have not,' she says. 'However, PR agencies are often more agile in their structure and do not have the same long lead times.'
This means PR agencies can make the most out of the public's desire to capture a moment - such as Obama's re-election.
Whether the PR industry is able to fully exploit this opportunity remains to be seen. But one thing is clear - the opportunity for more visual content is there and it is growing.
USING CONSUMER CONTENT - HUNTER BOOTS
Hunter Boots called in We Are Social to launch a global Facebook campaign in January. The agency was asked to raise awareness of the boots during a time of the year when many countries, the UK included, experienced some of their most extreme weather conditions.
The campaign,Together Through Any Weather, offered fans an opportunity to win Hunter Boots prizes by creating and capturing a picture based on the daily weather theme.
Fans had to upload their images to a Facebook app. Hunter Boots then selected its favourite images and put them on its wall.
The scheme, which ran for one month, attracted 2,000 photo entries, 7,755 visits to the app and 8,000 Facebook fans. Facebook sales during January, usually a slow month for the company, were the third highest since Hunter Boots joined the network in July 2008.
BEHIND THE SCENES - CAPTURING THE MOMENT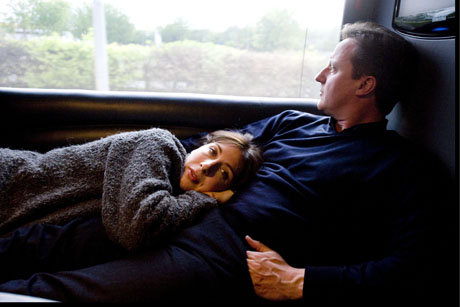 Andrew Parsons, co-founder of i-Images, took this image of Samantha and David Cameron during the election campaign in 2010 on the Conservatives' campaign coach travelling to Blackpool.
It made the front page of The Times. 'Its power is in how unusual it is,' says Parsons. 'I was not instructed on what shots to take and they were relaxed in my company. It reminded me of a similar shot of Barack and Michelle Obama and sums up that behind-the-scenes approach.
'It reflected another side to the campaign trail, as well as how tiring it is, and is a picture that doesn't need any words below it. That is why it stands out.'
TOP TIPS FOR PR PROFESSIONALS FROM A NATIONAL NEWSPAPER PICTURE EDITOR
Matthew Fearn, Picture editor, The Daily Telegraph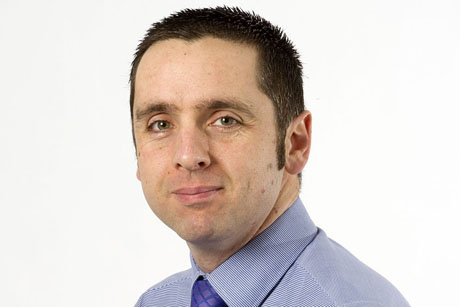 - Don't waste time chasing Calls come in from PROs to check if we have seen their images. If they have been submitted, we will have. Noone has ever talked a picture into the paper, no matter what their contacts.
- Get the image right If you are using a photographer, use one with newspaper experience and be open-minded. Discuss what would work with them and allow them some freedom. The photographer's motive will always be to get their picture, and yours, into the press.
- Offer a good package Don't expect a story to run carrying a weak picture, or vice versa. A picture may punch above the weight of the story it represents, but it has to be a knockout image.
- Easy on the branding Branding in an image is acceptable, but heavy branding will kill its chances of making it into the newspaper or online.
- Keep an eye on the calendar Diaried events such as The BRIT Awards or major launches will always make it more difficult to get cut-through.
- Think timing If you have a great image come through at 4pm that can hold until the next morning, then hold. Also, be aware that newspapers are always looking for content to be sent in on a Sunday.
- Get the format right If they are sent over correctly, images will drop directly into our picture browser, but we cannot use zip files.
- Quality counts People say that everyone is a photographer now. They're not. Unless it is breaking news, if the quality is poor it won't stand a chance.
- Exclusivity counts If you are able to provide a shot that no-one else can, it will only help the chances of the picture being used.
- Keep your options open Take a variety of pictures that can be sent to different media outlets. What works for one newspaper will not work for another.