Just in Time PR writes that Daisy will take charge of all consumer accounts at the agency 'reporting into nobody because she doesn't have a clue what's going on'. Having read the whole blog, Flack is none the wiser as to why the agency has thrust the Jack Russell into the spotlight, but admires it for paving the way for a good 'the dog ate my creds document' excuse ...
To celebrate the Financial Times' 125th anniversary, the comms team has been keeping staff happy with a series of stunts, including a branded hot air balloon and lighting the London HQ at night. Well, most of the staff that is. A source tells Flack that the FT's CEO John Ridding only allows the building to glow pink after 6pm, so as not to disturb his work ...
BT has put itself in contention for this year's weakest Valentine's Day PR hook. Cunningly intertwining romance and broadband, it sent out a release on the day complete with a big heart and the declaration that it 'loves wifi'. Inspired ...
As well as being a big corporate fish at Edelman, it seems that Nick Barron is also the Most Powerful Man in Brockley©. Having gained thousands of followers for his Brockley blog spot, it seems efforts to claim it as a cultural hotspot are paying off. The phrase 'Dalston of the south' may even have been used. Be careful what you wish for, Nick ...
Flack's impressed. Blue Square Bet PR manager Alan Alger and marketing executive Tom Hall got their pose on with the FA Cup recently, looking for all the world like a new punditry pairing.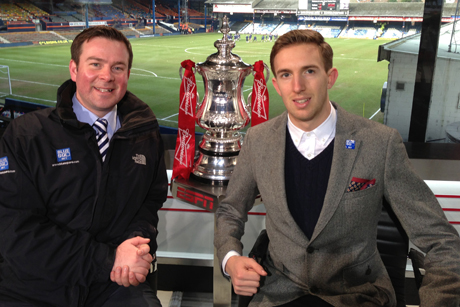 Just brush up on your cliches, give it 110 per cent and you'll be ready to wipe the floor with Lineker and Co, fellas ...
Judy Collins of agency Propel Technology is no Jock, but she nevertheless got into the spirit of the recent England vs Scotland rugby game by sporting this tartan number.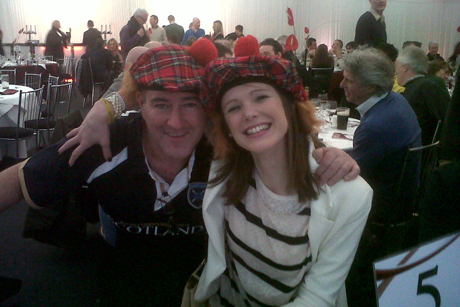 Something to do with the fact the chap with her in the picture works at client Viessmann? Surely not. Flack just hopes he was still sporting a smile by the end of the game ...
Being the prima donnas of the jet-set animal fraternity, penguins are all about the extra luggage, while lions tend to pack light, preferring to skimp on the additional charges.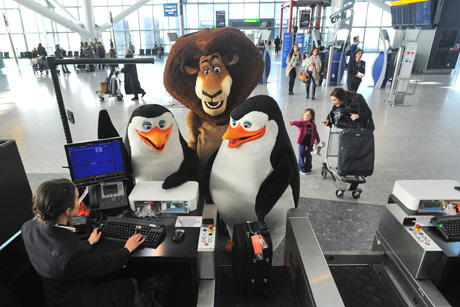 These lessons and more were no doubt learned by the Shine team while promoting Madagascar 3: Europe's Most Wanted. Just beware the hippos when it comes to security checks - they take it personally ...