The majority of British voters agree there should be a referendum on EU membership, research has revealed.
Following David Cameron's announcement that he would hold a referendum on EU membership in 2018 if still leading the country, a PRWeek/OnePoll survey found 63 per cent supported a referendum. This figure has risen by six percentage points since a similar PRWeek/OnePoll survey in November 2011.
The issue of EU membership may have a key impact on the 2015 general election, with 46 per cent of respondents saying the issue could affect how they vote, compared with 30 per cent who said it would not.
But support for the PM's announcement may not translate into more success in the polls - only one in five said the move had made them more likely to back the Tories.
Feelings towards the EU have become more favourable since the survey in 2011. Only 39 per cent stated they did not want to be a part of it - down seven percentage points from PRWeek's previous poll. Male respondents were more likely to support British membership of the EU than females.
But despite the Tories' longstanding internal divisions over Europe, their main rivals are failing to capitalise on the issue.
There was widespread ignorance over both Labour and the Liberal Democrats' positions on the EU. Only 20 per cent of those aged 18-24 knew the Liberal Democrats' position on the EU.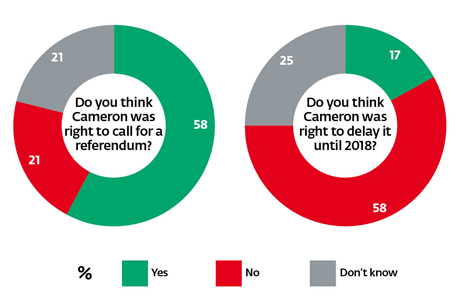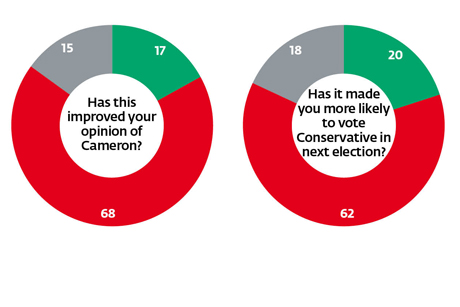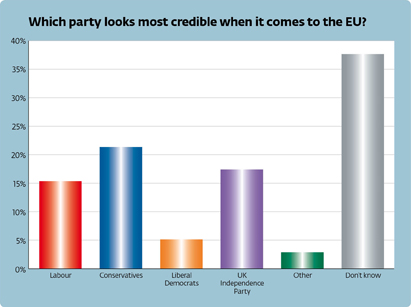 How I see it
Chris Rumfitt, MD, public affairs, Edelman
As the poll bears out, Britain is split down the middle on Europe, with 40 per cent backing EU membership and 39 per cent opposed. But on a political level, it's easy to see why David Cameron opted to go for a referendum, with a clear majority backing the decision.
That doesn't mean this isn't a huge gamble from the Prime Minister though. The bounce he received in voting intention polls has already disappeared, showing the reality that this is much more an issue for the political class than for the electorate. He's also given Ed Miliband the chance to build an alliance with the (mostly) pro-European business community - an audience he's struggled to reach. Perhaps the most important question is the impact the speech will have on the economy over the next two years. If the uncertainty causes a hiatus in inward investment, the political impact will be dwarfed by the economic one. And in 2015, it really will be 'the economy, stupid' that matters more than policies on Europe.
Key figures
80% of respondents were aware of David Cameron's pledge to hold a national referendum on EU membership
63% believed there should be a referendum on UK membership of the EU
49% were not aware of Labour's position on Europe
Survey of 2,000 members of the public conducted by global research agency OnePoll