The offending tweets were hurriedly deleted, but not before several messages had been posted informing the 68,500 followers of the HMV Twitter feed at twitter.com/hmvtweets of the plans and were shared online.
Tweets included mention of the "mass execution of loyal employees who love the brand" and "sorry we've been quiet for so long. Under contract we've been unable to say a word or - more importantly - tell the truth".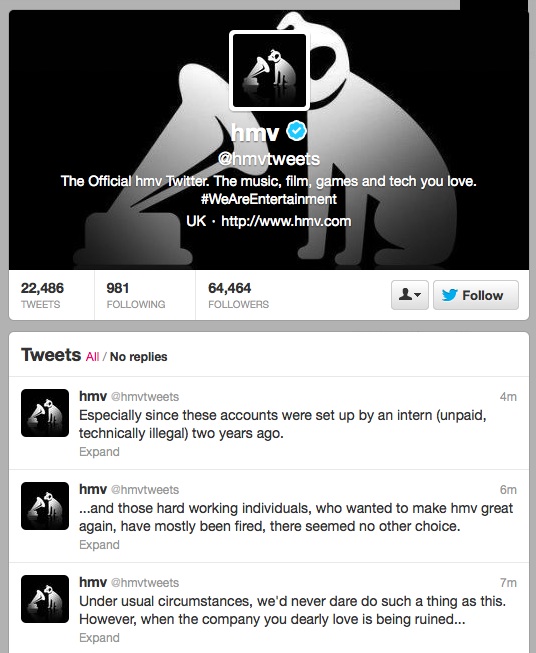 HMV went into administration this month after a difficult Christmas trading season and received criticism almost immediately for not honouring its gift vouchers and cards. The administrator reversed the decision after a storm of protest from consumers and has now said gift cards and vouchers could be redeemed in stores.
A spokesman for HMV referred all calls to Deloitte.
Deloitte has now confirmed the redundancies, which total 190, in a statement from administrator Nick Edwards, who said: "Since our appointment as administrators over two weeks ago, we have been assessing the financial position of HMV.
"Following this review, a number of redundancies at the head office and distribution centres have been made.
"Although such decisions are always difficult, it is a necessary step in restructuring the business to enhance the prospects of securing its future as a going concern."
The retailer is the lastest in a long line of high street stores to call in the administrators, as the past few months alone have included the closing of photographic equipment chain Jessops and electrical retailer Comet.
UPDATE: 6.30PM
Responsibility for the tweets has been claimed by a Twitter user called Poppy Rose, who tweeted:
I hoped that today's actions would finally show them the true power and importance of Social Media, and I hope they're finally listening.

— Poppy Rose (@poppy_powers) January 31, 2013
The @hmvtweets feed has since published these three tweets acknowledging the attention, clarifying the situation and admitting 'one of our departing colleagues was understandably upset'.
Our @hmvtweets picked up a lot of attention today, it's clearly been a tough day for us all at hmv, please stick with us#hmvxfactorfiring

— hmv (@hmvtweets) January 31, 2013
There have been job losses today, but not in our stores. We are still open for business, thx for your continued support #savehmv

— hmv (@hmvtweets) January 31, 2013
One of our departing colleagues was understandably upset. We're still here thou, thx for supporting hmv thro these challenging times

— hmv (@hmvtweets) January 31, 2013

OPINION: Pete Sigrist, managing director of 33 Digital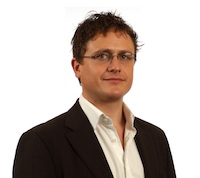 According to HMV's official Twitter feed, January seems to have been a quiet month. Tranquil even, with nothing tweeted since 14 January. Or so the company would have you believe.

Sadly for HMV, I happen to have been on planet earth for the past few weeks, so I know that HMV has not had a gentle January. Having recently called in the administrators, today the venerable music store downsized its marketing department without changing the password to its corporate Twitter feed. Someone with a grim sense of humour live tweeted their being "fired". These tweets were then deleted, but not before they spread like wildfire across the internet.

It's hard to imagine that there are still companies operating in the dark when it comes to social media. Today's "live firing" tweets contain three valuable lessons. The first is the most obvious and isn't new: make sure when you make people redundant that they can't publicly humiliate you. That means be humane, be honest and change the passwords to your website and social media channels when you break the news.

The second is probably more of an investment: make sure you're using the appropriate tools to manage your social media channels. That means, if you're a big brand, or especially, a regulated company, you need tools like Meltwater Buzz, Hootsuite or Syncapse to maintain control over who publishes what on your official feeds.

The third lesson is that information is hard to keep in, so it's probably best to let it out. Deleting those tweets is symptomatic of an attitude to corporate transparency that is no longer fit for purpose. Don't delete the tweets – take back control and explain what's happened. Social media and the behaviours they foster are no longer the new kids on the block, so boardrooms need to start taking them more seriously.