Cameron delivered the line in a speech at the World Economic Forum in Davos yesterday that called for international governments to co-ordinate action over tax avoidance.

In a speech covered by broadcast media [highlights here] the Prime Minister said: 'There are some forms of [tax] avoidance that have become so aggressive that I think it is right to say these raise ethical issues and it is time to call for more responsibility and for governments to act accordingly.

'Clamp down in one country and the travelling caravan of lawyers, accountants and financial gurus will just move elsewhere. So we need to act together, including at the G8.'

He went on to reference Starbucks' appearance in the tax avoidance spotlight, which provoked a public backlash that forced it to contribute £20m towards corporation tax in an effort to regain trust. While he avoided putting other controversial companies such as Amazon or Google in the frame, he cemented Starbucks' reputation.

'Individuals and businesses must pay their fair share, and businesses which think they can carry on dodging that fair share or think they can keep on selling to the UK and setting up ever more complex tax arrangements abroad to squeeze their tax bills right down, well they need to wake up and smell the coffee. The public who buy from them have had enough.'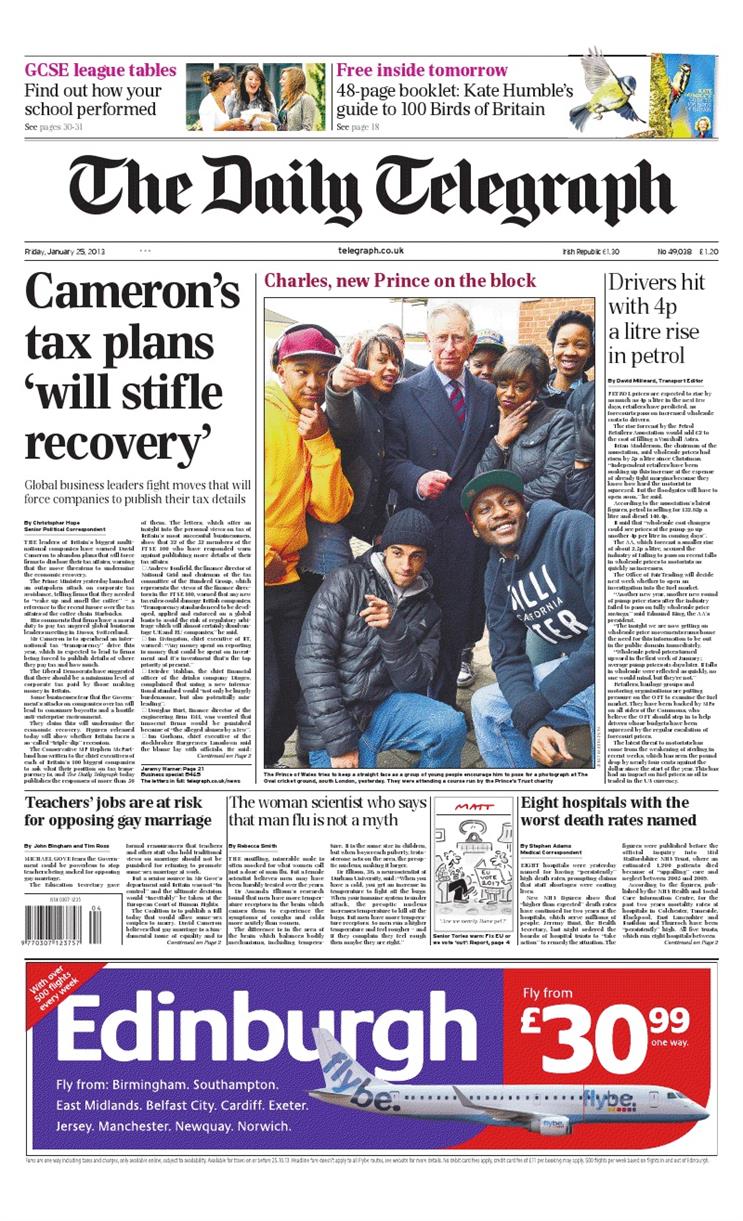 There was a riposte from business in the lead story in The Daily Telegraph, which described how 'the leaders of Britain's biggest multinational companies have warned David Cameron to abandon plans that will force firms to disclose their tax affairs'.
Asked who was winning the media battle between Cameron and business, Interel's Whitehill said: 'If there's a media battle then Cameron is winning because he is speaking over the heads of business to the electorate in their sitting rooms.

'The thing about David Cameron is he is a very effective performer. No-one in business is going to get the same coverage on Sky or the BBC, they don't have a leader as such and they certainly don't have anyone with the charisma and authority and the skill at making a speech that Cameron does. Politicians are masters of the sound bite after all.'

'Cameron's calculation is that tackling business sends out a strong signal to the electorate that the Tories are no longer the "nasty party".'

Whitehill added that the fact that 56 business leaders had written a letter to The Times that praised his stance on the EU as being good for business this week played into Cameron's hands.

'I imagine the commitment to that letter was wrung out of them through gritted teeth. I would imagine that what business will also be thinking is "that's five years of uncertainty about decisions about whether to invest in the UK".'
Mike Robb, head of corporate communications at agency Cicero, warned that while business had 'got its point of view across in this morning's coverage, it needs to engage in a wider conversation on this issue over the long-term'.

'This is too complex an issue on which to stay silent, and without all voices in the debate being heard we could sleepwalk our way into reform that drastically hurts the British economy, something we can ill-afford in the present climate,' he added.