The media spotlight recently placed on corporation tax has had a major impact on public awareness of tax avoidance, with consumers ready to act against firms perceived not to be paying their fair share.
A PRWeek/OnePoll survey of 2,000 people revealed that 76 per cent had become more aware of firms minimising their tax bills, with nearly three in four believing the practice was getting worse.
Though 71 per cent had not boycotted a firm because of its tax practices, 46 per cent said they had considered doing so.
Older people are most passionate about the subject; 36 per cent of those aged over 55 felt the issue was 'very important' to their perception of a brand, compared with 18 per cent of those aged 18 to 24.
Firms looking to bounce back from negative publicity around the issue may care to look at the example of Starbucks, which was by a margin of 41 per cent the brand most associated with the practice.
Its £20m tax donation, a move that followed RLM Finsbury being drafted in to advise on the issue, succeeded in generating 60 per cent awareness. However, 66 per cent said they were not more likely to visit the global chain as a result.
Despite its efforts to lead the campaign against firms minimising their UK tax liabilities, UKUncut still has a long way to go to become a mainstream campaigning organisation, with only 15 per cent of those polled having heard of the group.
The not so good, the bad and the very ugly OnePoll's word cloud reveals the public's view of firms that avoid paying their fair share of corporation tax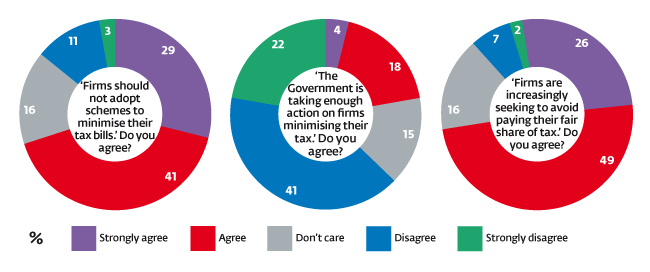 KEY FIGURES
GREATER AWARENESS
76% of respondents said they were more aware of the tax avoidance issue than they were 12 months ago
MORAL OBLIGATION
71% said firms had a moral obligation to pay significant corporation tax, even if they were not breaking the law
COMPANY LOYALTY
71% said they had not boycotted a firm because of its position on tax
TAX OFFER CUTS NO ICE
66% said they were not more likely to go to Starbucks despite hearing about the £20m voluntary corporation tax payment the firm has offered to make
STARBUCKS SHOULD PAY
62% said Starbucks' offer to pay £20m in tax was the appropriate thing to do
HOW I SEE IT

Michael Robb, head of corporate comms, Cicero
What is the 'right' amount of tax?
The blanket coverage of a number of organisations in recent months has catapulted corporation tax to the very top of the news and policymaker agenda, and in a way that will be stickier than ever before.
This survey findings convey one unequivocal message: the comms challenge is huge.
Sixty per cent of respondents had heard about the voluntary £20m payment from Starbucks, for example, yet just 20 per cent said they were more likely to frequent the chain as a result.
But the Starbucks move opens up real questions about just how a tax regime should operate.
Despite the survey showing that the majority of respondents believed companies had a moral obligation to pay, there is undeniably a duty on the part of the Government - blue, red or yellow - to put in place a regime that works. And, crucially, a regime that ensures Britain remains competitive in a global marketplace.
Survey of 2,000 members of the public conducted by global research agency OnePoll