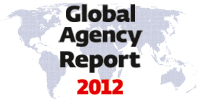 Global head Christopher Graves
Ownership WPP
Fastest growing offices London, Chicago, Beijing
Key clients BP, Intel, Ford
After partnering with analyst relations strategy firm KCG, it launched ACE (Analyst Community Engagement), a global service designed to give technology companies a strategic and measurable approach to industry analyst relations.
Aside from these developments, the agency won accounts with LG Electronics, Boehringer Ingelheim and IRS Free File.
Ogilvy added to its senior team by poaching Edelman's global chief creative officer Mitch Markson for a dual leadership role - president, global consumer marketing and chief creative officer, purpose branding. ABC News business
correspondent Betsy Stark was appointed MD, content and media strategy. Meanwhile, in the UK, Michael Frohlich took on the MD role in April.
Ogilvy topped off the year with four wins at the PRWeek UK Awards including the trophy for Global PR Campaign for its work for The Gnome Experiment with Kern & Sohn.