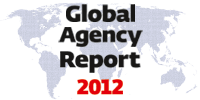 Global head Michael Ramah
Ownership Omnicom Group
Fastest growing offices Mexico, San Francisco, Seattle
Key clients Bayer, Hewlett-Packard, McDonald's
This includes 24 years with HewlettPackard, 18 years with McDonald's and 18 years with Procter & Gamble. However, in October 2011, Porter Novelli parted ways with 20-year incumbent client Gillette.
Porter Novelli's acquisition of Voce Communications nearly two years ago appears to have been a success.
In the 12 months to September 2012, Voce achieved double-digit growth on the strength of organic and new business wins in the technology sector.
Meanwhile, new business wins for the agency have included work with LG Mobile, FHI 360 and Dun & Bradstreet.
Key hires for the agency's New York office included Fleishman-Hillard's Karen van Bergen, who was brought in as senior partner and MD. Yahoo's director, marketing insights, Joseph Shantz was also hired as senior vice-president, digital analytics.