The Kingston Smith W1 annual survey of the top 40 PR consultancies released this week added further weight to hopes the worst of the recession may be behind the PR industry.
The accountancy firm studied the UK's largest agencies' most recently filed accounts at Companies House - typically to year ending 31 December 2011.
The research pointed to an industry in recovery, with the top 40 consultancies reporting a total increase in gross income of eight per cent (higher than the five per cent increase seen in the firm's last survey) and profit margins creeping back up to 12.8 per cent, from 12.5 per cent last year.
Kingston Smith partner Esther Carder said the results suggested market conditions continue to improve, though she noted that improved profit margins were still significantly down on pre-recession levels (see chart).
'PR is performing better than most other market disciplines, but the market remains tough. Agencies are still finding it difficult to win new business and procurement is getting more involved and driving fees downward,' she said.
The survey's figures backed up the high single-digit income growth in 2011 recorded by PRWeek's Top 150 Consultancies in May.
Carder said she expected to see this modest improvement in profit margins and revenues continue when results are tabulated for 2012.
But she acknowledged that the 'really telling figures' would be in 2013 as there are no huge event-driven opportunities such as the Olympics next year to boost business.
However, she believed the PR market would continue to 'slowly and softly' recover during 2013, and PR bosses remain cautiously optimistic.
Eulogy MD Adrian Brady said: 'While events such as the Olympics and the Jubilee promoted business confidence, the lack of similar celebrations in 2013 should not be seen as a sign of imminent doom.'
Weber Shandwick's UK & Europe CEO Colin Byrne added: 'The Games were a boost for many consumer businesses, including ours, but the underlying trend is still positive going into 2013. PR should continue to well outperform GDP growth.'
Elsewhere, the survey reported that independent agencies grew income at a significantly higher rate than group-owned consultancies (21 per cent against 4 per cent growth).
However, group-owned agencies had a higher operating profit margins (13.7 to 10.2), suggesting that independent firms have more flexibility to accept tighter margins to enable them to invest and generate growth.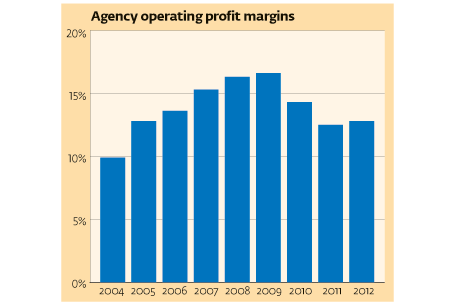 Director pay at top 40 agencies rises by 3.5 per cent
The Kingston Smith W1 survey revealed a mixed picture for executive pay in 2011.
While the average remuneration package for the top paid director at each agency (see table) fell by an average of 4.3 per cent across the top 40 consultancies, total director pay rose by 3.5 per cent.
The survey also revealed stark pay differentials across the industry. The highest paid director, earning £2.98m according to Companies House figures, was at RLM Finsbury, though this figure was for 2010 rather than 2011.
There has been some significant contraction in director pay. Bell Pottinger saw its best paid director's package cut by 21 per cent to £899,000. The highest wage paid by Daniel J Edelman fell almost 50 per cent to £194,000 and City firm Maitland's top pay package slumped by 70 per cent to £184,000. Total employment costs rose by 7.8 per cent, but this was matched by a 7.7 per cent rise in headcounts across the top 40 agencies.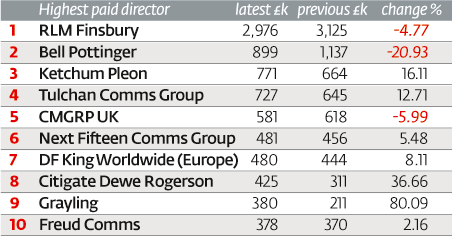 HOW I SEE IT
Graham Goodkind, Group CEO and founder, Frank PR
In my experience, this year has been far more challenging than any other, one where you had to graft twice as hard for the same result.
We're both a boutique and a big agency with international scale, so we must play to our strengths in 2013, when I feel the market will be similar to how it is now.
Avril Lee, CEO London, Ketchum Pleon
As footie pundits often say, 2012 has been 'a game of two halves'. An exceptionally strong start to the year was followed by a slowdown post-Olympics, but is now picking up. Clients are cautious, so it's hard to call Q1 2013. New business has never been as competitive as it is now.
Key figures
27 Number of top 40 agencies reporting an increase in gross income
12.8% Operating profit margins in 2012, a 0.3 per cent rise on last year
£109k Average gross income per head across top 40 agencies
7% Increase in combined operating profit across top 40 agencies
Source: Kingston Smith W1 annual survey