Wikipedia's co-founder Jimmy Wales claims his online encyclopaedia is edited by 'nice' people who want to make the world a better place. He defines his vision as 'a world in which every single human being can freely share in the sum of all knowledge'. It is certainly a romantic idea, but as recent events have shown, PR professionals may not hold such a rose-tinted view of the site.
An unintended consequence of the site's rapid growth is its powerful influence over the reputations of individuals, companies, charities and public sector bodies. This power is something that many in the PR profession do not believe is being taken seriously enough by the site.
As Edelman Digital's senior vice-president Philip Gomes wrote in his open letter to Wales on 4 January: 'Wikipedia is on the first page of search results for nearly every company, brand, product, personality, captain of industry, etc. This shoulders Wikipedia with a great level of responsibility, whether asked for or otherwise.'
Yet, for a site with such global exposure, there are not the same methods of redress that a similar high-profile media organisation would offer. The site is a charity, so the legal route is not advisable. There is no regulatory body. No right of reply is given prior to publication. Wales will not give a guarantee that a correction will be made within a specific timeframe. As Gomes writes: 'You can imagine why a company might consider its entry to be a high priority (perhaps even to the point of distraction) and task its comms staff to "do something", especially if the entry is inaccurate.'
On 9 June last year, PRWeek broke the story that a senior PR figure had been 'fixing' Wikipedia entries for clients including Carphone Warehouse co-founder David Ross and billionaire Saudi tycoon Maan Al-Sanea. In recent weeks, Wikipedia found that Bell Pottinger had been secretly changing client entries, and Portland was caught trying to remove Stella Artois' 'wife beater' nickname.
When Wales visited Bell Pottinger's offices two weeks ago to discuss ethical editing of the site, Wales conceded that there were weaknesses in the site's editing process: 'Our policy around paid advocates is a bit mushy and we need to tighten it up. It's a bit of a grey area at the moment.'
Speed was a major bone of contention. As Chime Communications' chairman Lord Bell said: 'You can destroy someone's reputation in one minute and it will take years to rebuild.' Although Wales argued that anything that was defamatory would be picked up quickly, he added in other cases, the editors could be a little slow to make changes.
Transparency was another bugbear. Wales argued that all PR professionals should be transparent about who they are and their clients. But this same level of transparency is not demanded of others - including the site's editors.
'It's important for Wikipedia to recognise we are a valuable source for accurate information,' said Bell. He argued there was a perception that 'apparently if you are not-for-profit what you say is true' but that if you are a paid-for advocate 'you are lying'.
During the next few weeks, the CIPR is meeting with WikiMedia, which runs Wikipedia, to create a best practice guide for PR professionals. The topic is also being discussed in industry forums.
PRSA chair and CEO Gerry Corbett says: 'One thing we hope will come of this initiative is a better understanding by those from Wikipedia and others that PR is not about "spin" but about accurate and truthful information in accordance with an established code of ethics.'
In the meantime, here is PRWeek's guide for PR professionals based on Wales' advice at the Bell Pottinger session.
FACT FILE - WIKIPEDIA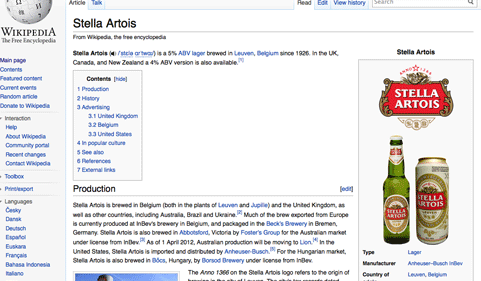 How big is the site?
It has 20 million articles, is in 282 languages and expects to reach 500 million global unique users a month in 2012. It is likely to become more influential as young people grow up with the site, using it as a default encyclopaedia.
Who are the 'Wikipedians'?
Educated young males seem to make up the majority of the Wikipedia editing community. According to Wales, 87 per cent are male, the average age is 26 and they are educated. He says the percentage of editors who have a PHD is double the ratio of that in the general public. 'It's a fairly geeky community,' he says.
What are their principles?
Wikipedia has three policies for content: that it is written from a neutral point of view, that all information is taken from reliable published sources and that these sources can be verified by others (i.e. source references are in the copy).
What will it remove?
Unsourced negative information or defamation will be removed immediately. But anything that has come from a reliable published source will remain. 'We won't remove criminal convictions, but we will allow you to have a response or offer a follow-up statement,' says Wales. He adds: 'If the complaint is about something like the US State department saying a company has links to terrorism that later gets dropped, we will keep all of this information. It is part of the history of the world and the company.'
Any key advice?
In short, don't edit anything yourself without asking the community first. Make sure you are open about who you are and your interest. This is not just about ethics, but about protecting you and your client's reputation in the future. Wales gives an example of one PR agency that edited an entry for an oil firm but was transparent by explaining its interest and the changes it would make, waiting a month, and then telling the community it had made them. If it had not been transparent about this, Wales says this could have caused problems for it in a future crisis. 'A journalist will look at the oil firm's page, see that the PR agency is the most active editor and think it whitewashed the entry,' he says. That attack may be unfair, because the agency may have made innocuous changes. 'But you don't want to give the appearance of impropriety,' he says.
CONTENT - HOW TO CORRECT ENTRIES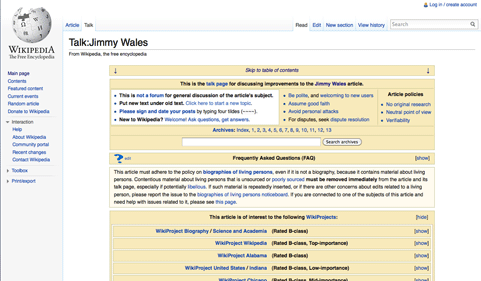 1. First go to the Talk section of the article (tab at the top of a page). 'If something's been written about your client, tell them your client has a response, or a response that has been published elsewhere and should be on the site. This is effective almost always,' says Wales. He adds: 'Talk to the community with respect. State your job title, identity, interest and company. Escalate with kindness.'
2. If you get no response from the Talk pages, go to the relevant Wiki Projects. These are groups of people with a particular interest in a subject. According to Wales, these pages are very active and provide help quickly. If you are concerned about an entry for an individual, you can go to Biography of Living Persons (http://en.wikipedia.org/wiki/WP:BLPN). Or if you want to make changes to a company page, or you think that someone editing the article is biased, ask someone from the Conflict of Interest project to have a look (http://en.wikipedia.org/wiki/WP:COIN).
3. Email info@wikipedia.org in a situation where it may be hard to disclose yourself as a PRO on the talk pages, because it might inflame the situation. There are select people who manage this inbox who will act as your advocate within the community.
4. See who wrote the article originally and go to their own Talk page. Say you have got some tips or suggestions for the article and ask them to have a look.
5. Go to Jimmy Wales' Talk page. 'You will get 20-30 of the most active editors to look at it. I'm also very accessible. In my spare time, I am a Wikipedia addict,' says Wales.
6. If a subject is controversial, or there are continual 'edit wars' occurring, then you can apply for the page to be protected. There are various stages, from full protection, where only a Wikipedia administrator can make an edit, to semi-protection, where only Wikipedia editors who have been registered on the site for more than four days and have made at least ten edits are allowed to make changes. To apply, ask an administrator, email info@wikipedia.org, go to the biography of living persons page or ask Wales on his user page.
7. There is also an arbitration committee that tends to deal with major issues with activists on all sides, such as scientology and climate change.