Unwatchable. It is an appropriate name for a film that shows an armed militia raping a teenage girl, brutally murdering her father and feeding his mutilated genitalia to her mother. But by far the worst thing about the film is that it is based on the real-life experiences of a Congolese woman called Masika.
It was posted online in September by charity Save the Congo, in an attempt to increase awareness of the link between minerals used in UK mobile phones and the use of rape and murder as weapons of war in the Democratic Republic of the Congo. It has used events from Masika's life but changed the setting to the leafy Cotswolds, to increase its impact on a UK audience.
The film - which has heavy warnings surrounding it - has provoked the desired outcry but some, including The Guardian, have asked if it is a step too far. Forster has been handling PR for the campaign.
Senior consultant Cheryl Campsie says: 'The aim of the film was to be totally uncompromising, to jolt UK consumers out of complacency about the horrors being perpetrated.' Save the Congo's director Vava Tampa says: 'Statistics and reports can convey something of the physical and emotional pain and trauma that continues to engulf the Congo, but they may fail to bring to life the human aspect of this tragedy. Unwatchable brings the ongoing wars and rape of women in the Congo into our homes and living rooms.'
But how far is too far? In an age when some of the most gruesome pictures circulating are on TV news channels, one can understand why charities may be trying harder to compete amid concerns that society has become desensitised to suffering. Yet the hundreds of complaints Ofcom received after pictures of Colonel Muammar Gaddafi's bloody body were widely broadcast show graphic images can turn the public off.
It is hard to argue with a tactic when it has the desired effect - increasing donations or support for a cause, or a change in the law or company behaviour. Unwatchable received 20,000 views in the first two weeks after launch; the charity has been invited to discussions with UK Government policy makers and the campaign was featured on BBC Radio 4, in The Guardian and on Reuters.
But shock tactics can have limited impact. To be used effectively they need to be properly and sensitively integrated into an overall campaign.
Race to the bottom?
As PRWeek reported last month (News, 18 November), the use of simplistic, negative imagery was repeatedly criticised at a panel debate at the London School of Economics. The Disasters Emergency Committee CEO Brendan Gormley warned there was a danger that aid charities that used shocking images 'could be in a race to the bottom'.
Despite calls from audience members for charities to continue to expose the harsh realities of life in places such as the Horn of Africa, panel members urged charities to respect the dignity of those being represented.
Panellist and Plan UK director of advocacy, campaigns and comms Leigh Daynes told PRWeek afterwards: 'The aid sector can be very 1980s about images due to the success of Live Aid. But Africa has moved on; there is so much more to Africa beyond those images of emaciated kids with flies around them.'
Indeed, Christian Aid's head of comms and brand Steve Buckley says he was shocked when he recently carried out a review into the charity's use of photos dating back to the 1970s. 'There was one taken of someone with very thin legs in a photographic studio. It seems unbelievable now that they would do that,' he says.
Since then Christian Aid, like Plan UK, has been keen to make sure it adheres to the International Red Cross code of conduct (see below).
Tamsin Maunder, Water Aid's acting head of comms, explains that most charities have an ethical policy around the use of images and include a story and quotes from those being photographed. 'We have just reviewed our policy to give greater explanation to issues such as dignity,' she says. One area this addresses is ensuring that even if a potential donor does not read the story, the image is powerful enough 'to show the reality of the situation' while still protecting their dignity.
High emotions
The panel discussion was informed by a three-year research project being led by LSE and Birkbeck College into the public's perceptions of and response to comms by aid and development agencies.
Daynes summarised the findings: 'What members of the public are saying to us is they're just so sedated with suffering. They say we are charming them or disarming them into acts of compassion. They are also saying we're abusing their emotions.'
Indeed, in PRWeek/OnePoll's latest survey (overleaf) 47 per cent of the public said seeing shocking images or stories did not make them more likely to donate or support a cause.
But what they think and what they feel may be different things. A recent survey by the University of Colorado Boulder and Dresden University of Technology found that people often donate in response to events that play on their immediate emotions.
In a release, study co-author and CU Boulder psychology professor Leaf Van Boven wrote: 'We demonstrated that people act on what is immediately emotionally arousing to them. In other words, they respond to what makes them upset in the here and now.' He added: 'It also has broader implications in that if you don't do something to keep an issue present in people's minds - such as famine and genocide in Africa, which tend not to be at the forefront of attention - then they won't be compelled to act on that issue.'
Tough love
Save The Children has received criticism from other charities over its use of shocking images. The charity's head of film and photography Jess Crombie admits its images can be 'tough', but says their use is backed by those being photographed. The charity recently conducted research with donors, potential donors and the people it helps in developing countries.
'In our research into our use of images the overwhelming message we got back from those in developing countries was that they wanted the world to see the situation as it is and to help,' she says.
She adds that UK donors also told the charity they were more willing to give money after seeing the charity's more shocking images. The latest financial figures from the charity back this up. Total donations reached £291.5m in 2010, its highest ever level.
Save The Children responds to emergencies on a larger scale than many of its competitors, so the charity feels the need to use shock tactics to generate more significant donations. But if the aim of a campaign is a more long-term behavioural or perception change, other tactics may be more effective (see below).
Ultimately, reality may be the most shocking tactic of all. Readers of Masika's full story on the Unwatchable microsite or those who watch the film would surely agree with The Guardian's Jane Martinson, who wrote: 'Isn't it enough to realise that during its transmission five men, women and children were raped in the Congo?'
THE LONG-TERM CAMPAIGN: BARNARDO'S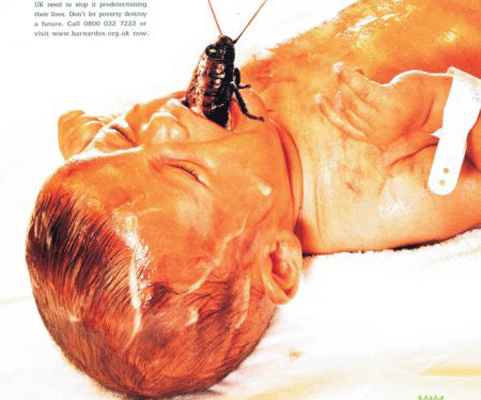 Barnardo's has extensively used uncompromising images in the past decade. This included pictures of a baby with a cockroach in its mouth in a 2003 child poverty campaign.
The charity's comms director Diana Tickell says shock tactics can be successful when revealing a hidden issue or for an initial awareness campaign. She credits the 2003 campaign with improving understanding of the charity's work.
'At the time awareness for Barnardo's was low and it was affecting our influence politically. That was about putting us on the map. We may use shock tactics again but you can't do that all the time. You need to take people with you long-term,' says Tickell.
She cites the charity's most recent campaign as an example of telling a powerful story without the shock factor of previous campaigns.
Called Telling a Life Story Backwards, it involves an advertising spot starting with a well-adjusted man being interviewed and then transforming back into the child abuse victim he was when he was first referred to Barnardo's workers.
Tickell explains: 'Our brand awareness was very good, but when we asked people what we did there was some confusion. This was showing that we make a clear difference to lives.'
Matt Grainger, director at Black Sheep PR and a former in-house charity PRO, suggests aid agencies can learn from the charity's thoughtful use of shock tactics in recent times. He says: 'Shock tactics can only get a charity so far. It may raise money quickly, but in the long term you have you to take supporters with you and develop the messages.'
TARGETED ADVERTISING: BEATBULLYING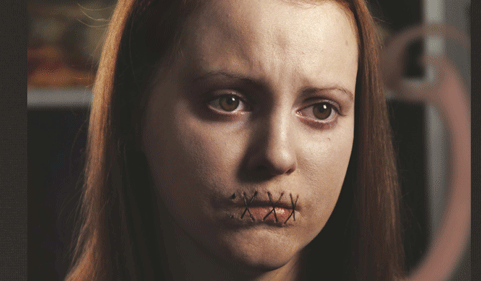 Shock value helped Beatbullying's 2010 campaign You Can Speak Out Now become its most high profile to date.
This integrated PR and advertising campaign, to promote its Cyber Mentors support service for young victims of internet and mobile phone bullying, included a shocking TV and cinema advert showing a young bullying victim sewing her mouth up.
Accompanying PR activity explained how victims too often suffer in silence. It was also designed with the support of young people and, crucially for media coverage, the family of teenager Megan Gillan, who took a fatal overdose after being bullied on a social networking site.
The advert was banned from TV, which also added to the media coverage, with the News of the World and ITN among those to pick up on the story. In the first day of the campaign's launch, Beatbullying's website received 50,000 hits. Since then 1.5 million young people have accessed the Cyber Mentors service.
Sherry Adhami, the charity's comms director, says: 'This was designed with input from young people. Some adults may have found it shocking but the powerful images resonated with the young people we were targeting.'
Since this campaign the focus of promotional activity has been far more on case studies and releasing latest research into new trends in cyber bullying.
'This campaign was not just about one image. It is long term and has been about research, case studies and images all saying that victims do not have to suffer in silence,' she says.
CODE OF CONDUCT - for the International Red Cross and Red Crescent Movement
ARTICLE 10
"In our information, publicity and advertising activities, we shall recognise disaster victims as dignified humans, not hopeless objects."