Two years ago, the use of Twitter in PR was in its infancy. The Times Online was free to access for all - as was PRWeek and the Brand Republic group. The Guardian was not talking about 'digital first' and most PR campaigns seemed to involve an event featuring former Atomic Kitten Liz McClarnon.
The role of the PR professional has changed dramatically in the past two years. When PRWeek and the PRCA asked the industry how it thought job roles had changed in the PR Census 2011, the findings were clear. Online comms came top of the list as the area that had increased in importance the most over the past two years - and the area that would continue to increase in importance over the next two years.
'Our census conveys a very clear message - the rise and rise of online PR is set to continue,' says PRCA CEO Francis Ingham.
Reputation management was also right up there as an area that had increased, and would continue to increase, in importance, along with SEO and comms strategy development. By contrast, however, the more than 1,300 PR professionals canvassed for the PR Census felt that event planning and organisation, sales promotion and publishing and editing were areas that had, and would continue to, decrease in importance.
The rise of online comms
It comes as no surprise that online comms topped the list of elements of the PR role that would increase in importance. The online world has fundamentally changed the way PR professionals do their jobs. 'Time was, we narrowly focused our attention on a select cadre of journalists who were the gatekeepers to the audience we wished to reach, using the press release, the phone call or the expense account,' says Michael Molcher, PR co-ordinator at publishers Rebellion. PROs now need to monitor far more areas of content, such as Twitter, Facebook and online communities, as well as keep up a steady flow of information, which Molcher admits 'is difficult and often tiring, but ultimately rewarding'.
The consequence of rapid change is that 'the PR role is much more robust', says Melanie Seasons, account planning director at Onlinefire. 'We've always needed to be experts in media, but media now is a much broader term, and PROs need to understand how a story that was born online can make it into the papers, just as a story born in the papers can make it online.'
Reputation, reputation, reputation
Arguably, PR has always been the business of reputation management, but the digital revolution has brought this area front of mind for the PR professional. 'There are now so many ways for audiences to engage with, comment on and criticise brands, organisations or authorities,' says Kevin Taylor, founder of Robertson Taylor PR. 'Comments and criticisms go viral in a matter of moments.' This makes reputation management a 24/7 job. 'We are only at the beginning of learning how to adapt to this new age where anyone can have a voice and be heard,' says Beth Carroll, head of social media at Threepipe. 'Learning how to give best practice advice on how to manage this will become critical to operating as a comms professional.'
Sue Grant, managing director of boutique PR consultancy Onechocolate, says boardrooms have also become much more aware of the damage that can be done to a brand through PR gaffes, citing BP's former CEO Tony Hayward's inappropriate comments during the Deepwater Horizon crisis as an example: 'Reputation management has become a way companies attempt to take back control at a time when they see they can no longer dictate the brand's messages or control everything that is said about them.'
Adam Vincenzini, head of digital at Paratus, agrees: 'Nobody wants to "do a BP".' But he says the movement towards participatory media has reinvigorated the PR profession: 'The required role is more continuous and fluid now, whether that's moderating an online discussion or re-purposing content for a community.'
The event horizon?
According to the findings of the PR Census, events have decreased in importance and will continue to do so. Should Liz McClarnon retire now? Perhaps not, says Onechocolate's Grant. 'For the time being events are getting less attention as it's just not as fashionable to talk about them, but they still have an important role in the comms mix. People like to meet and hold conversations - exhibitions, seminars, industry events and conferences are some of the best places to do that.'
As budgets have tightened, events have definitely suffered. 'It's becoming increasingly hard to justify one in isolation,' notes Threepipe's Carroll.
'But creating that touch point with consumers through events, particularly around launch moments, can actually make or break a product. It's how you show you can extend the reach of that activity into other channels, in a measurable way, that will secure the budget.'
Benjamin Webb, MD of Deliberate PR, says consumer-facing brands should consider if a grand launch event is really justifiable, 'particularly when a clever digital PR campaign can provide much more targeted and relevant editorial results. That's not to say there is no longer a place for events, but they should not just be a champagne-fuelled jolly staged to make the CEO feel like he or she has famous friends.'
How will the role evolve?
According to the census it is more of the same - more online work, fewer events. 'The PROs at the top are keeping their fingers on the pulse of the online industry, understanding and advising how social media should fit into a company's overall comms strategy,' says Onlinefire's Seasons.
Rebellion's Molcher borrows from Tolkien hyperbole, saying: 'We stand at the turning of the tide and PROs currently have to be both masters of the old and the new ways of doing things.'
The job of a PR professional will continue to become faster-paced and more immediate as the media landscape evolves. 'PROs need to think harder about what's really going to work,' says Onechocolate's Grant. The sheer scale and number of opportunities available through online means that instead of the same old tried and tested publications, 'you are now faced with a range of influential people talking about your brand. The PRO who knows how to communicate with them in more subtle, engaging ways will be successful,' she adds.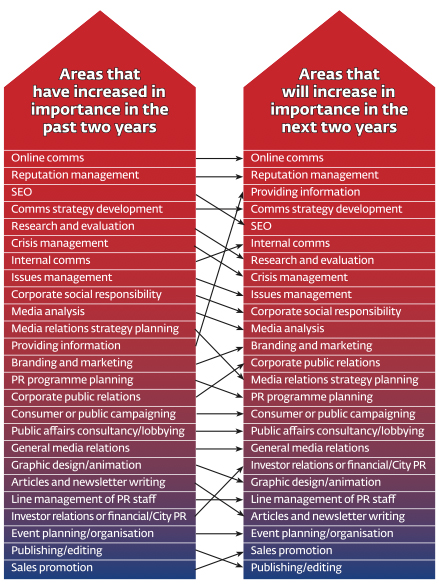 HOW I SEE IT GINNY PATON, MD, HOUSE PR
Online comms and social media is the real growth area at the moment.
Clients know they need to take their communication online but aren't sure how to do it - or who should do it for them.
So it's a bit like a 'land grab' as PR agencies go up against the ad agencies, the media buyers and digital agencies for briefs.
The reality is that PR agencies are best suited to do it as it's just another channel for the conversation to take place and so a natural extension of the PR campaign. This presents a massive opportunity for PR agencies to get in there, educate clients about how their brand will benefit and help them get online. The communication landscape simply bears no resemblance to how it was five years ago, so this can sometimes be daunting.
Brands now have so many new ways to talk to their consumers, from Facebook to Twitter, Foursquare and Google+. Brands are using apps, QR codes, Tumblr, Flickr and I'm sure there will be something new before this is even printed. They are all potentially powerful routes for a brand to have dialogue with its consumers and to discover who is talking about them and what they are saying. The skill is for marketeers to work out which of these channels work best for their brands rather than trying to do everything. A good PRO's job is to help guide clients through this process.