Copyright theft has been challenging the UK audiovisual sector for decades. By 2007 it was approaching endemic levels, with an estimated 80 million counterfeit discs sold in 2006 alone and illegal sellers trading openly in public spaces. They were even welcomed in many business premises. A study of public perceptions noted that in certain London boroughs illegal DVD traders were akin to the ice cream man, bringing cheap joy to communities.
In more recent years physical piracy has been rapidly converting to digital downloading and streaming from unoffical sites. This has enabled millions of illegal film files to be shared, often without money changing hands. This shift from physical to digital piracy has been a game-changer for the industry, threatening to undermine the commercial viability of projects and jeopardise the long-term sustainability of the sector.
In a major overhaul of strategy, the industry sought an umbrella approach to comms, where creative materials could speak to audiences on behalf of the many sectors that make up the UK audiovisual industry, spanning cinema, video and broadcast.
Over the past four years we have implemented a range of integrated campaign messages designed to take our core audience of 16- to 34-year-old males on a journey of attitude and ultimately behaviour change. The start point of this journey was indifference. The end, we hope, will be a heightened appreciation for the value of creative works and a level of respect that reduces engagement in piracy.
Behaviour change
Up to 2007 the audiovisual industry's anti-piracy comms were focused on illegality, with a paternalistic, top-down approach instructing people not to consume pirate content and wielding the threat of criminality. After running these for two years, three-quarters of the population agreed that piracy had criminal implications but one-third continued to participate in it as they didn't see it as immoral. The challenge was to translate campaign awareness into reduced demand for pirate content.
It was clear that to achieve this behaviour step change, a message with personal relevance would be key. Enter Knock-Off Nigel: a humorous embodiment of the social unacceptability of pirate behaviour - the cheapskate 'friend' we all know who is first out of the taxi, last to the bar to buy a round, and who is happy to consume poor quality counterfeit discs (and later illegal downloads) in his spare time. By attaching a social stigma to the purchase of counterfeit content, the Knock-Off Nigel campaign sought to create that all-important self-interest element.
Importantly, the multi-channel campaign was executed in a way that not only guaranteed high reach among 16- to 34-year-old males, but also encouraged our audience to spend time having fun with the message, so as to marginalise and degrade the association with knock-off content. Share-ability was the central, guiding thought behind every execution, in every channel, and using humour was invaluable in achieving this share-ability.
In practice what this looked like was a national TV campaign that revolved around a deliberately catchy song, designed to generate maximum awareness while giving young men a fun, memorable shaming mechanism to use against their Nigel-like mates. This was supported by targeted radio and magazine partnerships, and a number of online games and applications.
Each tactic wove the counterfeit content messages artfully and unobtrusively into the messaging. Later research would show that radio performed the best of all paid-for media; perhaps because the shaming was very personal (real listeners apologising for their knock-off ways live on air) yet public (in front of millions of listeners) at the same time. Compelling listening.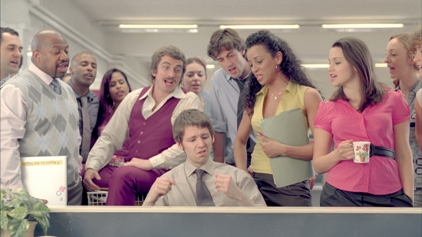 Trusted advocates
PR played a central, supporting role in this. It enabled us to seed the 'knock-off' terminology into the social vernacular in a credible way that advertising could never have achieved, often via the voices of trusted ambassadors (as opposed to the industry). It knitted each of the strands of activity together to create a powerful whole; winning ambassadors, creating advocates and ultimately making people embrace paying for official content.
After two years, the number of people who thought copyright theft was 'nothing to be proud of' more than tripled from 22 per cent in May 2007 to 75 per cent in December 2009.
Having established this degree of social unacceptability we moved on to converting our central message from anti-piracy to pro-copyright. We gave consumers positive rationale for purchasing official content in recognition that as piracy goes digital, the industry's most loyal customers are often also the worst offenders. The You Make the Movies campaign, which launched in 2009, set out to recognise and reward those who support official content.
The campaign cemented the public as stakeholders in the content they love. Support it now, get more in the future.
The positive message meant You Make the Movies could also feature in DVD i-dents and cinema trailer reels; valuable owned-media estate where it resonated far better than any finger pointing. The campaign strapline created a wealth of positive PR opportunities to amplify the core message. Hundreds of the audiovisual industry's 150,000 creative workers joined an inspirational army of pro-copyright ambassadors, participating in TV, print and radio interviews. Involving the often modestly paid, hidden heroes of film and TV production helped counter the common perception that copyright theft only affects 'industry fat cats'.
Simple steps
This year we have moved the positive, pro-copyright theme on again with Moments Worth Paying For. The creative plays to self-interest by reinforcing the emotional pay-back of great film and TV, and positioning that as something worth supporting and protecting. We have added one central go-to point, findanyfilm.com, for consumers searching for official film and TV; simple steps to the right behaviour being vital for behaviour change.
Consumer outreach is just one of many tools the industry uses to tackle copyright theft. It seeks to strengthen the legislative framework and drive down the supply of unofficial content. The sum of all the parts is a unique collaborative effort that we hope will move us ever closer towards resolving this most pressing issue.
Liz Bales is director-general of the Industry Trust for Intellectual Property Awareness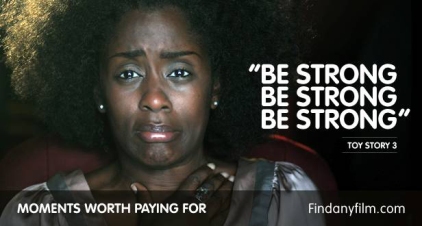 CHANGING PLACES
Has your blend of marketing disciplines changed in the past two years?
PR has remained the central discipline, driving the strategy and pulling layered messages together to work across multiple channels. However, we have made two fundamental changes to how we blend other disciplines. First, we have increasingly selected mechanics that enable our audiences to interact with the messaging in positive, influential environments. Social media has proved invaluable in bringing our pro-copyright message to life. It has enabled film fans to share their moments worth paying for and the official sites where they choose to enjoy them. It has also provided a platform for our real-life creative ambassadors to spend time speaking directly to our audiences: live webchats, for example, which provide compelling insights into life as a stunt co-ordinator or make-up artist and breathe life into copyright's supporting role. Second, we have increasingly realised the potential of the industry's owned-media channels, which enable us to deliver a high-value campaign on a modest budget. For every £1 our members contribute to the trust, we deliver around £5 of media value.
What prompted that change?
Campaigns over the past four years have trialled and tested most marketing disciplines. Performance has been consistently evaluated so we have a good degree of insight into which channels are most effective at driving behaviour change. This has to start with campaign awareness and move into attitudinal change before there is any impact on behaviour. Experience shows the messaging is most effective when audiences have an opportunity to spend time with the campaigns. Cost is always a factor, so having access to cinema advertising not only gives us great value but more importantly it's a fantastic platform for an uplifting, emotive message. It has helped us to set the tone for our Moments Worth Paying For campaign, with supporting PR and partnerships then amplifying that and bringing in richer, pro-copyright messaging.