Heathrow Airport is a national asset. It is the world's busiest international airport, and the UK's only hub airport, connecting the UK directly with 82 long haul destinations daily.
As a recent arrival at Heathrow, I am impressed that eight in ten of the long-haul visitors to the UK passing through Heathrow contribute £4.4bn to the UK economy. But Heathrow is much more than that - it is quintessentially British, and for many visitors it is their first and last experience of the UK.
Yet, in recent years, Heathrow as an organisation has lost some of the pride and confidence in the value it creates for the UK. Engaging, integrated comms can play an important role in restoring that pride and confidence. By integration, I mean aligning the rational and emotional reasons to support Heathrow, and telling a consistent story across all our channels and audiences.
Clear parallels
I came from government comms, and before that was in the energy industry - an industry that has faced similar challenges in communicating the critical role it plays in the UK. Whether investing in keeping the lights on, or in keeping flights on time, there are clear parallels where stories need to be told across a complex nexus of audiences about how major investments in capital infrastructure translate into clear customer benefits, to improve people's lives and support UK plc.
Heathrow, owned by BAA, needs to make the case for its contribution to UK plc and the continuous improvement it is making to the passenger experience. We cannot expect support for that rational case for Heathrow without telling the same story, consistently, to all our audiences - political stakeholders, media, passengers, local residents and environmental pressure groups. And we are getting better at doing so.
We recognise the aviation industry must embrace an honest debate that growth has environmental impact - and that this needs to be balanced against the contribution it makes to economic growth. Equally, we look to Government to provide a credible aviation policy and strategy that will ensure we do not slip behind our European rivals in securing valuable trading routes to emerging markets.
Recent research we commissioned from Frontier Economics has estimated the UK may already be missing out on £1.2bn of trade benefits each year as a result of supporting fewer direct flights to emerging markets (see graphic opposite).
Operational challenges
A key comms challenge is to show that we can run Heathrow well today, before asking for support for the Heathrow of tomorrow. Some of the operational challenges we have faced have been well documented - from the initial opening of Terminal 5, to the ash cloud last year and problems with snow in December 2010.
Since joining, I have been struck by the genuine commitment from the CEO to the airport floor to right any operational wrongs that let passengers down, and to make every journey better than the last. We are investing £1bn each year for the next five years in upgrading the Heathrow experience. Whether investing £1bn in a new Terminal 2, £10m on snow clearing equipment, or providing dedicated family lanes at security, real improvements have been made in the past year. That message rings loud and true from our media relations - but most importantly from passenger experience.
Heathrow now needs to be more ambitious and confident in communicating the role it plays as a valuable catalyst for export-led trade growth and economic recovery; and as the biggest private sector investor in capital infrastructure projects creating jobs in the UK, with the construction of Terminal 2 and our ambitious plans for further redevelopment in the next five years.
To achieve all of these things, however, Heathrow will need passengers, customers, business media and Government to get behind it. In the UK we are very good at talking down our national assets - from Wembley Stadium to the Olympics. The risk if we don't back Heathrow is not that it will stop being a hub airport - but there is a real threat that if we do not value what we have at Heathrow, it could slip down the premier league of international hubs, reducing the frequency of long-haul flights to important new markets.
International businesses like marketing, PR and advertising are not alone in relying on face-to-face meetings to close global deals - and risk missing out.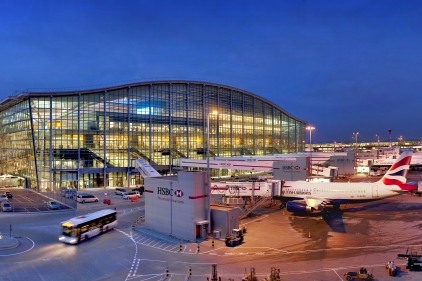 Proactive approach
So how can comms rise to this challenge? The lessons of the past show that now, more than ever, Heathrow must adopt a more proactive and integrated approach to marketing and passenger comms; improve our media profile (recognising that many people only visit once or twice each year - so what they read will be a proxy for their own experience); focus on comms with businesses and get their endorsement; engage local pressure groups and residents; influence Government policy; and, of course, bring our staff with us.
We need to appeal to the emotional as well as the rational reasons to back Heathrow. Proving the economic importance of strong trade links is vital. But so too is delivering a more consistently pleasurable experience as we travel through Heathrow for business or leisure - which is why we are investing in dedicated family lanes in security, state-of-the-art laser guided pods to transfer between terminals, and privacy friendly body scanners.
Most recently, our advertising, media relations and monthly passenger statistics (which we publish for our regulator) have all been used to tell a story of how while Heathrow is operating at 98 per cent capacity, we are striving to make every journey better than the last.
Trust is fragile and takes time to build. But if we can tell the Heathrow story in a positive, consistent, integrated way, backed by a steadily improving passenger experience, then there is no reason we should not all become proud once again of the national asset we have at Heathrow.
Clare Harbord is corporate affairs director at Heathrow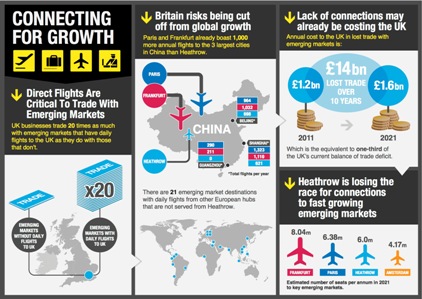 MY MANIFESTO FOR HEATHROW'S VALUE
To value what we have at Heathrow, the public, policy makers and passengers need to understand how Heathrow is different. It is our only hub airport, where transfer passengers support network airlines. Without those transfer passengers, direct long-haul connections between the UK and many important business destinations are not viable. Edinburgh's, Belfast's and Manchester's businesses alone cannot sustain demand for a daily flight to Sao Paulo, but by pooling demand from the UK and beyond, a hub can. It is a gateway for business, tourism and passenger flow to, from and through the UK.
We have been working with Blue Rubicon on the current truly integrated campaign - Connecting for Growth - that seeks to demonstrate the value to UK plc in Heathrow sustaining trading links to emerging markets, and to show that without support from Government, we risk slipping behind our European competitors in accessing these markets.
The central narrative for this campaign has been grounded in talking to business and leisure passengers, and hearing from politicians the case they would like us to make on the relationship between transport links, trade and growth. It will involve media relations, stakeholder-facing advertising, digital and Government relations - to stress the urgent need for a credible UK aviation strategy.