In an era of increasingly diverse and complex routes to audiences, the synergistic power of a well-planned, integrated campaign really can ensure the whole demonstrably outweighs the sum of the parts.
Integrated campaigning is not simply about blowing a series of identikit messages through every conceivable comms channel at your disposal. You'll create noise, but will you be heard? Will you get your message embedded?
The best integrated campaigning is a more complex challenge. It involves deploying complementary messages at precisely timed points to steadily build your brand with cross-supporting activity. It's an approach to comms with a strong, interdependent architecture.
You can't strike up a successful integrated campaign at the implementation stage, bolting on agencies or actions along the way. It begins with strategy.
The strength of your team is paramount. You want the best, most skilled professionals you can find, capable of contributing as equal partners. You want them to work together for a sustained period, and ensure they are well managed by the client organisation. It is unfair to expect a group of agency people to be entirely self-governing.
Meet the team
At British Gas our 'core planners' meet regularly. They are drawn from our advertising (CHI), media buying (Carat), direct response (Ogilvy), social media (Outside Line) and PR consultants (Blue Rubicon). Through this group we have evolved our previous success with combined above-the-line advertising and marketing campaigns, developing those that incorporate social media and PR activities.
British Gas operates in a complex market and, like all utilities, it faces a range of issues. Regulation, volatile wholesale energy markets affecting consumer prices, care of the vulnerable and the demand for alternative, low-carbon power sources are just some of the topics that provoke debate and require complex engagement to create depth of understanding.
PR is crucial if we are to understand how best to engage with customers. Blue Rubicon helps us interpret the underlying mood of our audiences. It advises on ways in which we can present our 'case' in the court of public opinion with integrity and clarity.
PR is central to ensure our paid campaigns 'land' in the right environment, and it plays an important role in amplifying a particular campaign message.
British Gas was the first energy supplier to tackle quarterly estimated bills with EnergySmart, which allowed customers to submit monthly meter readings, see their energy use through a free electricity monitor and predict spending with calculators and text reminders.
The insight behind the integrated campaign was that estimated bills represented the lack of control customers felt about their energy use and their relationship with their supplier.
But simply putting this proposition out without recognising the context of rising energy costs and the need for better customer service would have reduced its impact. The integrated campaign ensured innovation was combined with a demonstration that the business was in touch with consumer concerns.
To support the above-the-line messages about the end of estimated bills, we used direct comms and PR to create the 'We're Listening' campaign. It acknowledged that customers would be concerned about the costs of their bills, and apologised for the industry's poor communication in the past. We took out full-page ads in the form of open letters from our chief executive, Phil Bentley, to our 12 million customers, and invited people to join a customer panel. Phil also took part in interviews with the BBC, Sky News and GMTV to explain how British Gas was responding. The end of estimated bills was the first proof point that British Gas was listening and wanted to hear more.
We embarked on a city tour, engaging senior management with customers face-to-face and inviting feedback in a British Gas 'living room'. This also provided a mechanism to demonstrate EnergySmart in the home. An above-the-line TV, print and outdoor campaign also brought the 'end to estimated bills' campaign message to life.
The campaign demonstrated how PR can be essential in an integrated campaign, building trust to create a receptive environment for innovation and new customer propositions.
The EnergySmart campaign exceeded expectations with sign-ups for the proposition 29 per cent above target.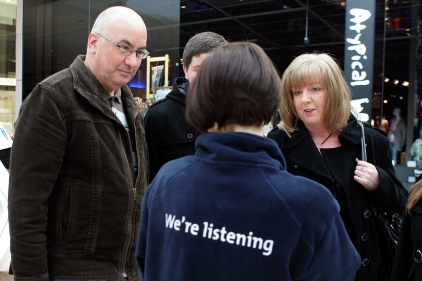 Nurturing credibility
While your brand or company may enjoy a good and steady reputation, integrated campaigns can help cultivate a credit bank of goodwill that will help mitigate potentially adverse periods of negative media exposure.
The release of our financial results in February 2011 brought with them a set of comms challenges. We had to show consumers why energy companies must be profitable so they can invest in the future. We also had to deal with a potential backlash because we were announcing solid profits when consumer spending was under pressure.
We developed an integrated campaign that showed directly how we were responding to consumer needs, and explained the need for future investment.
We created a programme of activity that amplified the central premise - higher prices do not have to mean higher bills. We announced flexible monthly direct debits and payment holidays for our customers. We launched the UK's largest energy consumption report, which showed how British Gas is helping its customers reduce their energy use. Finally, we unveiled a partnership with Sainsbury's to offer innovative solutions to cutting energy use.
Our above-the-line activity complemented this work, underlined by a corporate ad setting out why a healthy British Gas is good for Britain. It explained how we were investing in the country's future energy needs. We also promoted the free insulation offer.
In our subsequent tracking we were able to see clearly that those who had been exposed to the combination of PR and advertising were less likely to have a negative view of our profits.
Above-the-line creates a door to your brand. But if a customer opens it and sees nothing behind it, they'll simply walk away. In an integrated campaign, PR is part of promise fulfilment. It puts the context and evidence into your messages and brings validity, vitality and personality to your product, service or company. When used effectively it creates trust and confirms in a customer's mind they have made the right choice.
Intangible quotient
These qualitative, emotional nuances are sometimes thought difficult to measure. PR is often cast as the intangible quotient of the comms mix, while paid-for advertising enjoys the benefit of more established tracking and monitoring techniques.
But for integrated campaigns this silo approach to measurement is outdated. Any gauge of impact must reflect the achievements of all the comms channels as part of a unified strategy.
We invested in research to look at the power of integration and to identify the best ways to approach our complex message delivery and value-added engagement. The results showed the power of mitigation and that having a credit bank of messages helped inoculate consumers against a challenging environment. It also showed that combining advertising and PR created an additive effect on recall.
Reaching audiences is now, more than ever, best accomplished using a fusion of disciplines. Whether you're aboveor below-the-line, paid-for or editorial, traditional print or social media, in advertising, direct marketing or PR, you're one team now.
Will Orr is marketing director at British Gas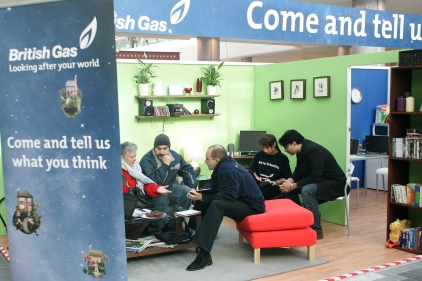 FIVE PRINCIPLES FOR SUCCESS
Integrated campaigns need clear concepts and direction, so start with strategy every time.
Your integrated campaigns will be as good as the people you bring around the table. Make sure you've got a group of top talent and ensure you have a complement of skills that represent all the comms disciplines. Don't chop and change your team members unless you have good reason. Like any team, consistency delivers efficiency and results.
PR is a versatile, multi-purpose gadget in the comms toolbox, so give it the weight and consideration it deserves. Correctly planned and targeted, PR techniques can reach your key audiences through channels that will underpin and enhance your 'paid' media. PR can set the scene, provide further depth of knowledge, and nurture a more detailed perception of your brand or service.
A company with a well-tended reputation and profile is a company with a credit bank of goodwill that will help it weather periods of unfavourable criticism. Use integrated campaigns to communicate how and why your success is good for customers. Tell people how they can use your products or services more easily, cheaply and efficiently, or how your investment in research is contributing to a better future.
Measure an integrated campaign in an integrated way. Ask your researchers to use or develop the right tracking and monitoring tools for the job. A successful combination of advertising, marketing and PR will have an additive effect on customer recall, so make sure you can quantify this impact and present it to the people at the top of your organisation with hard data.