If you want to see the future in action, keep reading.
Work from some of the brightest and best in-house comms teams featured here will shine a light on the direction in which PR and marketing are travelling - and show an increasingly convergent path as brands attempt to navigate unpredictable terrain.
These are the winners of the Future 5, an initiative between PRWeek and Octopus Communications, set up last year to identify future PR trends. In 2011, it has extended its reach to encompass the entirety of marketing comms.
In 2010, we unearthed the five key trends that were shaping the industry and our judges picked the campaigns they felt best tapped into each. This year, PRWeek and sister brands Marketing and Brand Republic asked entrants to show us their most innovative output from within each of those Future 5 categories: research/planning; brand partnership; audience participation; technology and the big creative idea.
The Future 5 project is all about experimentation over ROI, says Octopus Group CEO Sandy Purewal. 'We want to highlight those brands that are trying to create campaigns that have cut-through and can signpost the future.'
A shortlist of 25 were whittled down to find the gold standard of which any comms department can be justly proud.
Find out more about Future 5 including video and details from the breakfast briefing held on 27th Sept 2011.
THE JUDGES
Nicola Green, Head of PR, O2
Shakila Ahmed, Comms director, Travelodge
Danny Rogers, Editor-in-chief, Brand Republic Group
Sandy Purewal, CEO, Octopus Group
Jon Lonsdale, Managing director, Octopus Communications
Suzanne Bidlake, Consultant editor, Marketing
1. RESEARCH/PLANNING Shelter - Housing Benefit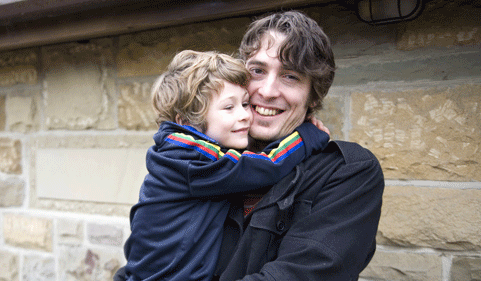 PR is often outplayed by advertising in its use of research and planning, admits Danny Rogers, editor-in-chief of PRWeek and the Brand Republic Group.
'Research - to build credibility and measure campaign results; and planning - to work out your audience and plan a campaign depending on what they consume and how.'
Shelter's housing benefit campaign used both data-heavy research and meticulous planning to give major traction on a limited budget.
The aim was to water down the proposed coalition Government cuts to housing benefit for households in private rented accommodation - cuts Shelter believed would push many into rent arrears and homelessness.
First, it commissioned independent research into the impact of the cuts from Cambridge university housing experts. Shelter used this to deliver a robust report with strong headline statistics likely to gain widespread coverage and parliamentary attention.
A series of national stories were fed into high profile news outlets and magnified locally by more than 100 tailored local press releases and a bank of powerful case studies.
MPs were also briefed on the research in advance of key debates. Localisation of stories helped Conservative and Liberal Democrat MPs look beyond party loyalties in support of their constituencies.
The result? More than 700 pieces of coverage later, all of Shelter's objectives had been met in terms of government policy amendments and a rebalancing of the debate away from negative stories about claimants.
'This was a thorough research-based, structured, cohesive, news agenda-leading campaign that delivered real results,' says Travelodge comms director Shakila Ahmed.
2. BRAND PARTNERSHIP - Samaritans - National Rail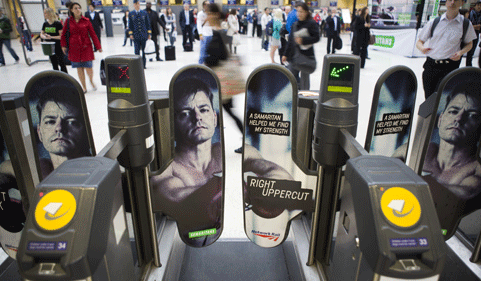 For Samaritans, getting comms right can be a matter of life or death.
Last year, the charity, which offers confidential emotional support 24/7 to anyone in distress or at risk of suicide, embarked on a far-reaching partnership with Network Rail.
Cast over five years and with a £5m investment from Network Rail, the initiative set a target of reducing railway suicides across Great Britain by 20 per cent over the period.
By April 2011, the number had declined by 11 per cent in a year, from 233 to 207.
The collaboration included: training for rail staff and British Transport police in how to identify and approach those who might be at risk of suicide; a Samaritans call-out service to stations; support for train drivers after a trauma; support for railway suicide witnesses; and an awareness campaign targeting those most at risk - working-class men aged 30 to 60.
Samaritans took ad space at 200 stations across the country. Its Men on the Ropes campaign, featuring a real amateur boxer, aimed to encourage recognition that it is not a sign of weakness to talk about problems. It also gained traction in media such as The Sun and Sky News.
Another partnership, with T4 Media which owns Ad Gates advertising on ticket barriers, secured three two-week-long airings for the campaign, for which Samaritans paid only production costs.
'This partnership is really clever,' says Octopus Communications managing director Jon Lonsdale. 'There's a good audience understanding and it gives the charity a place in which to do things.'
As for all marketing professionals, it is no longer 'all about the logo and my brand,' notes Danny Rogers, editor-in-chief of PRWeek and the Brand Republic Group. Rather, marketers are needing to work collaboratively with others.
3. AUDIENCE PARTICIPATION - Electrolux Design Lab - The Second Space Age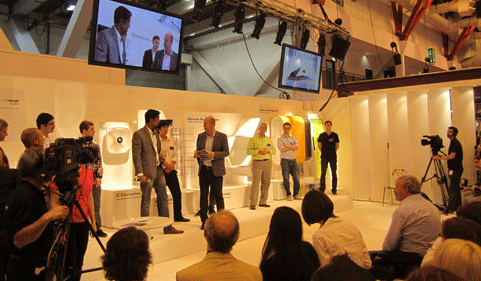 It is some challenge to make white goods sexy.
So the work by Stockholm-based manufacturer Electrolux to give a competition widespread appeal is worthy of praise indeed.
The Electrolux Design Lab is an annual contest that began in 2003. But in 2010, the in-house Electrolux PR Studio really rolled back the boundaries of audience participation.
A YouTube video by head designer Henrik Otto called for students to design products to cope with the ultra-compact spaces we might be inhabiting in 2050.
A blog followed on electroluxdesignlab.com, plus a Facebook page and a partnership with well-regarded blog Yanko Design.
In 2010, the contest attracted 1,300 entries - a rise of nearly 50 per cent - providing Electrolux with a print reach in Europe of 190 million people.
'We made an effort to push the project further this time, bringing channels together and going out to a broader spread of countries,' says Electrolux PR manager Europe Tom Astin.
The eight shortlisted entries were mocked up into high quality concept designs, to scale, and presented to the world's press at the flagship Oxford Street John Lewis store. They remained in-store for a week-long display to consumers, who were encouraged to watch the presentation online and vote for a 'people's choice'. They cast 2,500 votes.
Winners were chosen in a Pop Idol-style final in front of a jury and global audience at the 100% Design Fair, before the shortlisted designs embarked on a global tour.
There was crowd sourcing too - asking Facebookers what annoyed them in the kitchen. Media coverage included CNN and the Financial Times.
'They pushed this further than you might have expected, going well beyond the traditional design niche,' says Marketing consultant editor Suzanne Bidlake.
4. TECHNOLOGY - Lundbeck - 'Lean On Me' Friend-Clip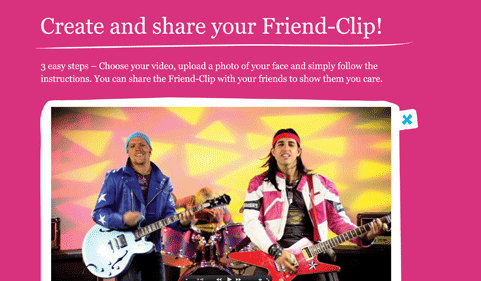 There are times when making the medium the message is more than just an interesting technique.
When it came to encouraging people to talk about feelings of depression, the Friend-Clip technology opened up conversations with friends and family.
As makers of Cipralex, a treatment for depression, Lundbeck wanted to raise awareness of the condition as part of its European expansion strategy. It built a campaign based on the insights that people find it difficult to talk about depression and that approximately half of the 33 million people in Europe who are affected by depression are not diagnosed.
A further fact - that recovery is heavily dependent on the support of friends and family - added weight to the decision to create a conversation on the subject via a digital channel.
The result was Friend-Clip, an interactive face recognition application in which people could star in a video accompanying the Bill Withers track Lean On Me and then share with friends and family via Facebook, Twitter or email. The patented technology allows for movement of eyes and lips within the user's photo as the track plays.
As they created the Friend-Clips, users were exposed to messages of support and by uploading their photo to the Wall of Friends community, they pledged to be a friend to someone affected by depression. Those who received the videos saw similar messages of support.
The campaign piloted in Ireland in October last year and rolled out to Switzerland in April 2011. By the end of July, 9,709 Friend-Clips had been made.
Fredrik Jerre, head of global marketing for Cipralex at Lundbeck, says the Friend-Clip technology has 'proven to be a valuable tool for engaging with our target audiences'.
'It's an incredibly interesting way of using technology at the heart of a campaign,' notes Octopus Group CEO Sandy Purewal.
5. BIG CREATIVE IDEA - National Trust - MyFarm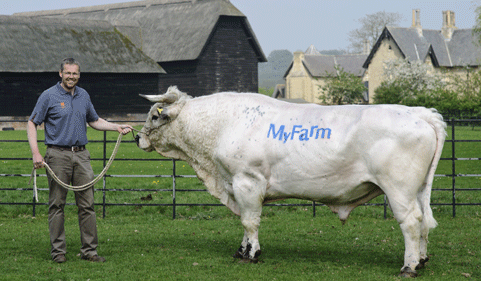 You may not think that oats grow on trees and bacon comes from sheep, but this is what nearly a third of under-16s would tell you.
For the National Trust, this is particularly worrying. If people do not understand how the land is farmed, then they will not understand the organisation's role in looking after it.
Only 26 per cent of people know the National Trust is the country's biggest farmer. So the charity set about increasing awareness through the world's first mass engagement farming experiment.
In MyFarm (my-farm.org.uk), it tapped into the popularity of the online game Farmville by recruiting 'farmers', at £30 per entry, to help make all the major, real-life decisions at one of its working farms in Wimpole, Cambridgeshire. They were then carried out by the farm managers.
The campaign's main targets were 'explorer mums' who like to get out and about with their families.
With a £45,000 budget, the campaign was PR only, consisting of two press conferences and otherwise engaging journalists, bloggers and tweeters, with the backing of senior figures from other rural organisations.
Eye-catching imagery, supported by a trailer drawing a comparison between real farming and online farming games, resulted in 26,906 unique hits on the MyFarm site and 106,990 page views within the first 48 hours of launch last May.
Between 4 and 13 May, there were 88 million opportunities to see MyFarm coverage across papers, TV, radio, trade press and online.
On launch day, the National Trust trended on Twitter in the UK for the first time. The project went global with coverage in Australia, Canada, India and the Far East. Impressively, 1,300 paying subscribers signed up.
'MyFarm made farming interesting and engaged children who are often most into technology,' says Travelodge comms director Shakila Ahmed.
O2's head of PR Nicola Green also notes: 'The campaign virtually paid for itself with entries.'